Qualcomm has released a turbocharged version of its popular Snapdragon 800 mobile processor, adding support for dual active SIMs and boosting graphics performance by 28 percent.
The Snapdragon 801 is pin-compatible with its predecessor yet can run the same software up to 14 percent faster, said Michelle Leyden-Li, senior director of product marketing for Snapdragon, speaking on the sidelines of Mobile World Congress in Barcelona.
Phones that contain the Snapdragon 800 include the Galaxy Note 3 from Samsung Electronics, and the G2 and recently announced G2 Pro from LG Electronics.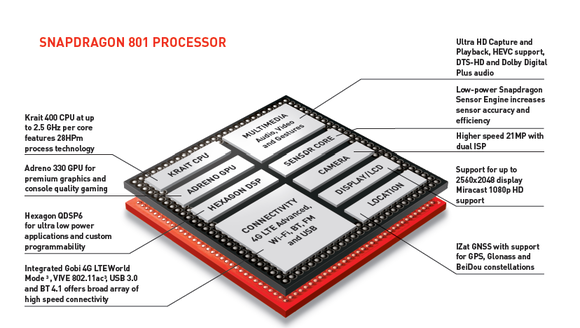 Leyden-Li hinted that Qualcomm customers could announce speed-bumped phones containing the new chip at the show. "We are shipping the product now, and devices will come very soon," she said.
One factor driving Qualcomm to update the chip is demand from phone manufacturers for faster, higher quality image processing capabilities to help them differentiate their products.
Compared to the Snapdragon 800, the 801 can process camera sensor data up to 45 percent faster, allowing it to handle higher-resolution images. Memory speed has also been increased 17 percent, with a move to an eMMC 5.0 interface for embedded flash memory, Leyden-Li said.
The new chip's graphics and CPU performance boosts, and a faster DSP (digital signal processor) also mean it can encode H.265 video streams at 1080p in software.
Not everything has changed though. The Snapdragon 801 contains the same quad-core Krait 400 CPU as the Snapdragon 800. The GPU—an Adreno 330—is also unchanged, and the two chips have the same integrated LTE capability (Category 4, for speeds of up to 150Mbps) and 802.11ac Wi-Fi.
The new chip's power performance is largely unchanged from its predecessor's, but Leyden-Li could not say what impact it would have on the battery life of phones: "We expect it to have just as good a power profile as the Snapdragon 800," she said, but "We don't optimize battery life, we optimize the processor. We don't have control over the rest of the device."