The ever-popular Windows file compression utility WinZip is moving to the cloud with a new website called ZipShare.
As you might expect, ZipShare offers an online file compression utility that lets you zip and then share files with others via download links. But ZipShare, currently in beta mode, isn't a cloud storage service the way Dropbox or OneDrive is. Instead, it's a mix between file sharing services like Hightail (formerly YouSendIt) and a central dashboard for accessing and managing your various online storage accounts. ZipShare currently works with Box, CloudMe, Dropbox, Google Drive, Hightail, OneDrive, and SugarSync.
Current plans for ZipShare will include a basic free account, and a more fully functioning service for paid users.
Free vs. paid
A basic ZipShare account lets you directly upload and compress files from your PC or various cloud storage accounts to ZipShare. You can then share the compressed files with others as a download link sent via email, Facebook, LinkedIn, and Twitter. Basic accounts are limited to a maximum 50MB limit per zipped file or folder. Files uploaded to ZipShare will be shareable for a maximum of five days.
Paid account users have a few more features at their disposal, and for the duration of ZipShare's beta period all users can use the paid features for free.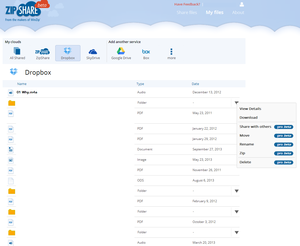 Most notably, you can use ZipShare Pro to move files directly from one cloud storage service to another—something that cloud management competitors like Jolicloud don't allow. The ZipShare site also lets you share, move, delete or rename files inside each cloud storage account. And in true WinZip style you can also zip larger files already uploaded to save on cloud storage space limits. Pro users can also password protect shared files.
ZipShare is the second time that WinZip has experimented with cloud service integration. In late 2012, WinZip 17 debuted offering integration with a similar roster of cloud storage services.
There's no word yet on when the ZipShare beta period will end; however, TechCrunch reports WinZip plans to continue the beta until the company has finished optimizing ZipShare for mobile devices.
Once it does leave beta, ZipShare's pro features are expected to cost $40 per year, or $10 per month, the latter of which bumps the maximum zip file size to 1GB. You can see the current breakdown of ZipShare plans here.
WinZip in the post-PC era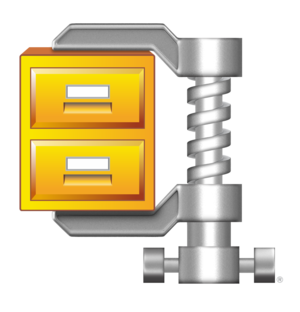 A mainstay on Windows PCs for more than two decades, WinZip's relevance as a paid utility has been threatened for years now. Windows has offered its own free compression utility since Windows Vista and there are also popular free alternatives such as 7Zip.
The growing popularity of cloud storage services that offload big files to the cloud where they can be easily shared also threatens WinZip's relevance on the desktop. But the good news for WinZip is that even cloud storage space has its limits, meaning there's always going to be a need for file compression utilities—and a helpful storage management service could be a major draw in a world gone cloud crazy.
Article was updated to erase a stray word at the end.