At a Glance
Expert's Rating
Pros
Very thin and light
Great benchmark performance and battery life
Touch-sensitive Windows button
Cons
Too few I/O ports
Screen too bright for nighttime reading
Speakers distort at high volume
Our Verdict
Lenovo's Miix 2 8 delivers great performance and battery life, but these upsides are tempered by a dearth of extra features.
Best Prices Today: Miix 2 8
Intel's Bay Trail-class Atom processors make it easy for PC manufacturers to build powerful tablets with a key feature that competitors like Google's Nexus 7 and Apple's iPad mini can't deliver: The ability to run Windows 8.1 and all the apps available for that OS. Lenovo's Miix 2 8 has that to its advantage. But while it delivers impressive performance, it falls short in features.
Lenovo picked Intel's quad-core Atom Z3740, pairing it with 2GB of low-power DDR3/1066 memory and 32GB of storage to power its Miix 2 8. Surprisingly, the Miix 2 8 delivered a WorldBench 8.1 score of 164, outperforming Dell's Venue 8 Pro by a margin of 12 percent, even though Dell's tablet is equipped with a very similar Atom processor and faster memory (it uses an Atom Z3740D and low-power DDR3/1333 RAM).
The processors in both tablets have the same base clock speed—1.33GHz—but the Atom Z3740 in the Miix 2 8 has a slightly higher burst frequency of 1.86GHz, compared to 1.83GHz for the Atom Z3740D that Dell chose. That's a very small difference, which leads me to conclude that the bigger factor is the dual memory channels in the processor Lenovo picked, versus the single memory channel in the processor that Dell chose.
The Miix 2 outperformed the Venue Pro 8 in terms of battery life, too, lasting more than 10 hours, compared to 7 hours and 44 minutes for the Dell. Here again, much of the credit goes to the processor: The Atom Z3740 in the Miix 2 8 has a "scenario design power" of 2 watts, while the Atom Z3740D in the Venue Pro 8 has an SDP of 2.2 watts. You can read all the specs for the two CPUs on Intel's website.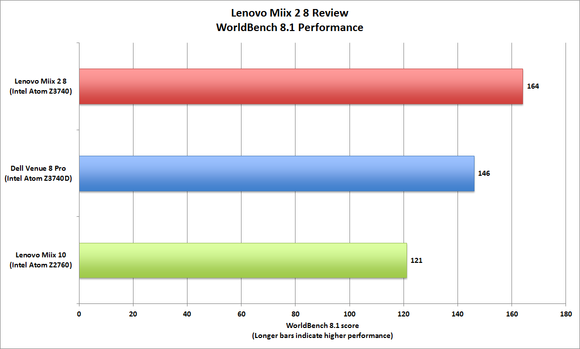 Scenario design power, SDP for short, is a formula that Intel devised to measure the heat generated by CPUs in "thin, thermally constrained designs." As with the TDP—thermal design power—numbers expressed for desktop and laptop CPUs, a mobile CPU with a higher SDP will generally consume more power than one with a lower SDP.
The Miix 2 8 has all the horsepower it needs to run Windows 8.1, and its battery delivers enough juice to provide more than a full day's productivity away from an AC outlet. But you should think long and hard about spending the extra $50 to move up to the model with 64GB of storage, because the 32GB model reviewed here leaves very little room—about 7GB—for your own apps and data. You can slip a memory card into the MicroSD slot in either model to expand its capacity.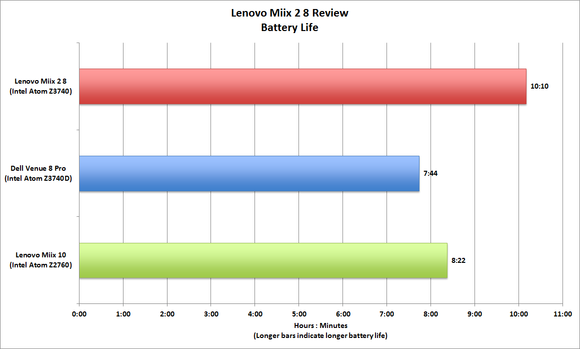 The Miix 2 8's touchscreen display delivers resolution of 1280 by 800 pixels. That's not as high as the 1080p screen on the $269 Nexus 7, or the crazy-dense screen of the $499 iPad mini with Retina display (2048-by-1536 pixels), but it's enough that text, graphics, and video are crisp and clear. On the other hand, with an 8-inch screen, you may find that once you zoom text to a readable size, you'll still be scrolling around quite a bit.
Reading books is one of my favorite applications for mini tablets like this one. I've tried several dedicated e-readers and a horde of smaller slates in pursuit of the perfect balance between doing one thing or everything on the same device.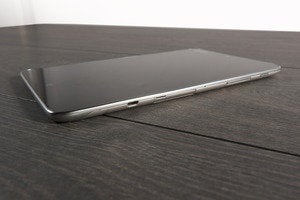 With so many previous generations of screen technology, my biggest complaints were that the screen was dim, or that the touch layer ruined the clarity. That's not a problem here. The Miix 2 8's IPS panel is bright and clear. In fact, I found it a bit too bright for reading in a darkened room, even on its dimmest setting. My eyes tired much sooner than my wrist, thanks to the tablet's thin profile (it measures 0.3 inch thick) and light weight (just 0.77 pounds).
If videos are more your thing, you'll be in better shape. The built-in stereo speakers are loud enough to fill my home office with the sounds of Netflix binge-watching, but they begin to distort if you really crank them up. Lenovo's optional Flip Cover with Stylus ($30), meanwhile, will both protect the display and fold into a handy stand while the tablet is in landscape mode.
Years of using Android phones and iPads have taught me to press something at the center bottom of the device to get to the home screen, and the Miix 2 8 didn't leave me hanging: There's a capacitive Windows button on the bottom bezel. Sure, I can get used to swiping in to pull up the charms bar, or finding a home button on the side, but it's nice to work with the muscle memory I already have.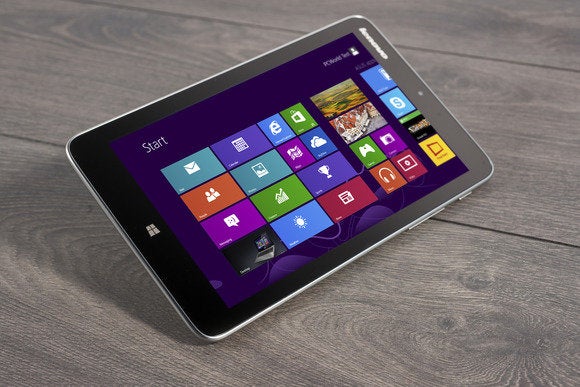 Any Windows tablet can run any program that can get by with less than 2GB of memory, but you'll be happiest with apps that have been optimized to run on a tablet. The Windows store remains sparse compared the iOS or Android app markets, but the basics are there and the ecosystem is growing. And since the Miix 2 8 runs Windows, you can watch all those Hulu videos that aren't available on mobile platforms—at least when you're not being productive with the copy of Microsoft Office Home & Student 2013 that comes preinstalled.
So maybe now you're wondering if this thing can replace a laptop. With the only I/O being the micro USB 2.0 port that's also used for charging, I wouldn't recommend trying that. You could pair it with a Bluetooth keyboard, but there's no way to connect an external display, hardwired ethernet, or any other peripherals.
The Miix 2 8 is an excellent tablet, but this market is expanding rapidly and details matter. For me, the more dimmable screen on Dell's Venue Pro 8 makes it a better nighttime reader. For others, the micro HDMI port on Toshiba's Encore 8 , or the active Wacom digitizer in the Asus VivoTab Note 8, will be must-have features. The Miix 2 8's great performance isn't enough for it to rise above comparably priced competitors with more features.
Best Prices Today: Miix 2 8