It's a common scenario: you have a document on which you need to get input from a team. After circulating it via email or the cloud, you gather comments piecemeal from various email threads, copy revisions, and maybe even phone calls. By the end you need a flowchart to keep it all straight.
ReVu.Me, a new cloud app from the web-based project management service Volerro, makes it easy to gather feedback on all sorts of documents from stakeholders while they chat or converse via an integrated teleconferencing service. It's a potentially useful tool for people who need input—but not actual edits or changes—from multiple team members.
Free for single documents (a Pro version supporting multiple documents in a single session, useful for complex projects, costs $3.99), ReVu.Me is a snap to set up on the fly. Simply upload a document (by dragging and dropping it or navigating to it), enter your email address and the addresses of collaborators, and you're in business. You can also simply email a document. ReVu.Me's invitation to collaborators includes a link to the document within the service.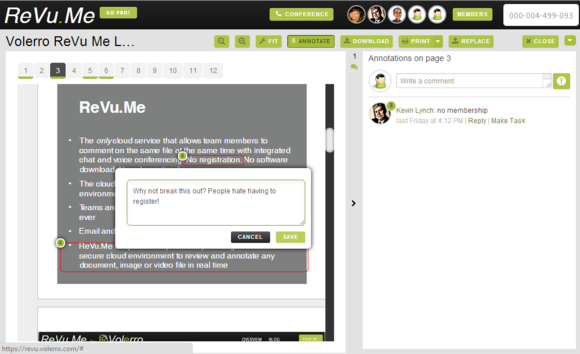 The service supports not only Microsoft Office and Adobe documents, but popular image and video formats. Creating a note is as easy as highlighting text or dragging the cursor to outline an area in red. Both actions produce a pop-up window in which you type a comment.
Comments are then saved in a right-hand pane, and links underneath a comment allow the comment creator to edit or remove the note. Other links support replying to a note (creating a thread underneath it) or assigning tasks based on the note—a reminder of ReVu.Me parent Volerro's robust project management service, a paid offering with calendars, screen sharing, a dashboard for accessing ReVu.Me documents, and other features.
A toolbar above the document and notes panes has buttons that let you zoom in or out of the document or fit it to the window size. Other buttons let you hide (or unhide) notes, print or email the document with notes, download the annotated document, or replace it by uploading a new version. The service supports versioning so you can see earlier incarnations of documents.
Collaborators—anyone invited to create notes—appear in small circular icons above the document and note panes; hovering over an icon shows whether the individual is online or not. Other buttons let you create chat windows or set up a conference bridge line, also free.
What you can't do in ReVu.Me is actually edit a document. The document's author must make any changes offline and then upload the revised document if further feedback is required. This can be annoying if you're dealing with a lot of small edits that could be dealt with on the spot.
There are, of course, many situations in which document authors don't want others to be able to make changes, they just want or require feedback and/or signoff. For these scenarios—marketing teams come to mind—ReVu.Me provides a great, feature-rich platform for gathering input from a large number of concerned parties. That it's free is the icing on the cake.