Breather, a startup offering a mobile app that lets users rent private rooms on demand, is looking to break ground in New York City.
The Canadian company said Tuesday that it had launched in the Big Apple, after going live in Montreal last year. Breather's service operates almost like Airbnb, but with a short-term twist focused around work.
"Think of us as your second home or office, wherever and whenever you need it," the company proclaims on its website.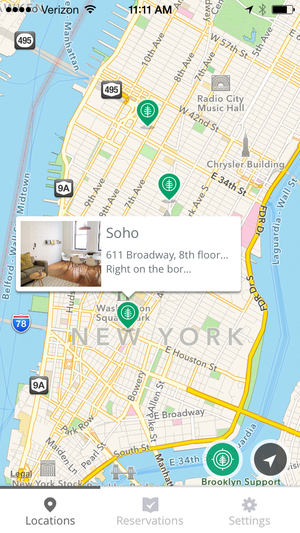 But it doesn't have to be about work. The rooms, the company says, are designed to help people focus, meet clients, work, or relax. They can be reserved for as little as 30 minutes, a few hours or an entire day. In Montreal, rates for the rooms are $15 per hour, and $25 per hour in New York.
Limited office space
So far, only a handful of rooms are available to be booked with the service in Manhattan, in areas near Penn Station and also in Soho and the Flatiron District. But the company is looking to add a few more next week, with more rooms hopefully coming on board every couple of weeks after that, said Julien Smith, Breather's chief executive.
Breather's rooms are located in commercial office space, but are tastefully upholstered with modern furnishings to facilitate relaxation. There's a reason, after all, the company is named Breather.
In some cases, "it's a weird living room lounge feel," said Smith, who is scouting out locations this week in San Francisco for the company's hopeful launch there.
The app uses the geo-targeting capabilities on a person's iPhone to display nearby available rooms on a map. The user selects a room for a certain period of time, and when the reservation begins, a code appears on the phone that he or she can use to unlock a keypad on the door to the room. Users are charged to the credit card they have on file with Breather for the length of their stay.
The app is only available on iOS; a version for other platforms like Android could come later. The app is seeing some early action—it has tens of thousands of downloads so far, Smith said, although he could not cite off-hand the number of bookings done through the service.
No porn, please
Breather wants to keep its service professional, even if people may seek it out for reasons other than work. The app's terms of service bans the use of Breather for any "illegal or immoral purposes," including pornography, drug use, gambling or prostitution. Breather says it sends its cleaning staff to its rooms after every reservation, but users are also responsible for leaving the rooms in a clean and tidy condition.
Users may be held liable for the repair cost for all damages to the room or its items, the company's terms of service says.
Breather has a contract or lease with the owners of each of the rooms in its system. But the app comes as some other startups like Airbnb, Uber and Sidecar face questions and rising interest from regulators over their legality, safety and underlying technology. In New York, the attorney general has issued a subpoena to Airbnb demanding information about its users, stemming from a law related to "apartment sharing."
Breather, because it does not bill itself as a hotel or bed-and-breakfast, may be able to avoid legal issues related to hotels or apartments. A bigger issue may be liability concerns over how the service is used, said industry analyst Jeremiah Owyang, founder of Crowd Companies. Companies like Airbnb face the same issues.
But the concept of a "third space," or a place between the home and the office where people can get work done, is a trend, Owyang said, especially as consumers become more mobile. For that reason, Breather could take off, he said.
Other companies that already provide accommodations geared toward work include Regus, LiquidSpace and PivotDesk.