Desktop who? Windows what? The classic Windows-based PC remains Intel's bread and butter, but it's needed to diversify its diet for a long time. At an event on Monday morning at Mobile World Congress, the company announced two new Atom chips, code-named Merrifield and Moorefield, that could be its first truly competitive mobile solutions. And not a product cycle too soon.
In case you didn't know how high the stakes were, Intel President Renee James laid it out in her remarks. "About 50 billion connected-computing somethings"—yes, that's what she called them—"will be online by the year 2020." Even a small slice of that pie would be pretty sweet. But competitors like Qualcomm and Samsung have enjoyed a long head start, so Intel has a lot to prove to prospective customers.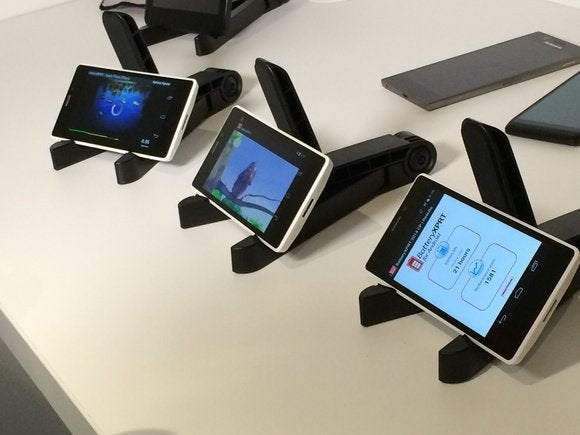 The new chips have two big selling points. Their 64-bit architecture enables faster performance. At the same time, Intel wrings more battery life out of the chips by designing them to power down quickly after executing a task.
They're also designed to work with operating systems beyond good ol' Windows. Hermann Eul, Intel's Mobile and Communications Group czar, called the chips "complete platforms… that can support multiple operating systems and multiple segments in the market." Like Android, which—if the green robots strutting around Intel's booth on the show floor are any indication—the company is eager to associate itself. Who can blame Intel? It's a much bigger market.
In a small, sterile room tucked discreetly into that booth, Intel showed me a bank of reference Android mobile phones in action. Using the Battery XPRT app for Android, the phones have lasted as long as 19 or 20 hours on a full charge, according to Intel. The tests simulate real-world cell-phone use, which is sporadic, as opposed to the relentless run-down tests traditionally conducted for PCs (including at PCWorld).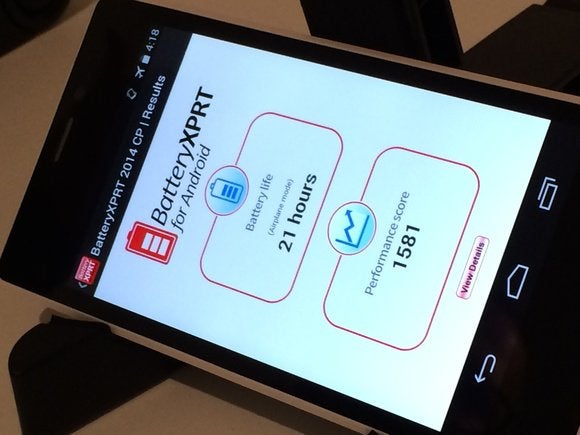 The demo also included two identical Windows tablets, one running Windows at 32-bit, and the other at 64-bit, "just to show we could do it," said a spokesperson.
But the real test of these chips will be in design wins. Whose phones and tablets will they get inside? Eul named several at the event—ASUS, Dell, Lenovo, and Samsung—and promised there would be more partners to come. We'll see. The lack of onboard LTE has long been a sticking point, for instance, but the new chips remain LTE-free (though Intel sells a separate LTE solution).
Eul also aimed some trash talk at Qualcomm, whose 64-bit ARM chip isn't due until the end of the year. Intel got there first, Eul emphasized: "We ship. That is the difference."