I talk a lot about the Oculus Rift VR headsets and its video games. After all, it's my job to write about video games, and the Rift is the most exciting thing to happen to the medium since someone said, "Hey, why don't we work in polygons instead of 2D sprites?"
But it's worth remembering that the Rift has great potential even outside the hallowed halls of gaming. When we talked to Oculus's Nate Mitchell back in October, his exact quote was, "Any industry you can possibly think of, they're using the Rift. Automotive, medical, simulation and training, architecture, film—every industry."
We can now get an initial glimpse at that final category with Zero Point, the first built-for-Rift film. The trailer is below, though as with all-things-Rift it doesn't really convey what's special about virtual reality. There's also this interactive trailer, which allows you to pan around a bit—it's at least closer to a real Rift experience.
Matt Hawkins over at Attract Mode has a full interview (absolutely worth reading) with Zero Point director Danfung Dennis, who also produced Academy Award-nominated documentary Hell and Back Again about the war in Afghanistan.
"I want to bring people into the story and let them be there, to witness things firsthand. Instead of just shooting a frame and presenting it, I want to put people inside of that frame, completely," says Dennis.
What will you experience firsthand in Zero Point? One segment of the film puts you into the action during a military training exercise, while another details what it's like to be at E3.
In a way, Dennis's Rift experiments follow the same path as the earliest experiments with film, which were dedicated to capturing everyday events in what was at the time a new medium—trains rolling into a station, people kissing, and the like. The novelty of the film experience was enough to make up for the lack of narrative structure.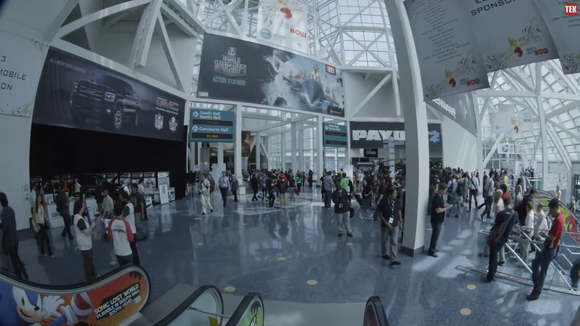 "Everything that's applied to filmmaking in the past no longer applies to VR. We're trying to develop a new visual language, invent the syntax and grammar of how you can tell a story effectively in this new medium," says Dennis. And it comes down to the simplest of film techniques: the cut. Dennis says cutting between scenes is too disorienting in the Rift, taking away one of film's fundamental features.
"There's no question that anyone who tries the Rift knows that this is the future. They get it immediately. But the more traditional filmmaker I think they…how would I word this…they may feel slightly threatened," says Dennis.
Again, you can read the full interview transcript at Attract Mode. Highly recommended if you have any interest in film as a creative enterprise.