At a Glance
Expert's Rating
Pros
1080p display
Strong CPU (for a tablet)
Great optional accessories
Cons
A little thick and heavy (for a tablet)
Optionaly keyboard dock is nearly essential for productivity
2GB of memory can be limiting
Our Verdict
Dell's Venue 11 Pro shines as a hybrid when you add its mobile keyboard and desktop docks. The Atom processor is sufficiently powerful–and power efficient–for performing day-to-day tasks all day long.
Dell's Venue 11 Pro is the first Atom-powered computer that I can picture as a replacement for my current laptop. With its two optional accessories, this 10.8-inch tablet can transform into either a small notebook or a diminutive all-in-one PC. The two-day battery life—with the optional keyboard dock—is amazing. But I do wish it had more memory and storage.
The model reviewed here is powered by an Intel Atom Z3770 processor (Bay Trail class) paired with 2GB of RAM and a 64GB SSD. Most of the tablets I've had my hands on recently are based on the Atom Z3740, and the bump up to the Z3770 seems to make a difference. This might be more perception than reality: The Venue 11 Pro's WorldBench scores are only modestly higher than what Asus's Z3740-powered Transformer Book T100 delivered. Still, with the Venue 11 Pro, I felt like I wasn't waiting as long for things to happen.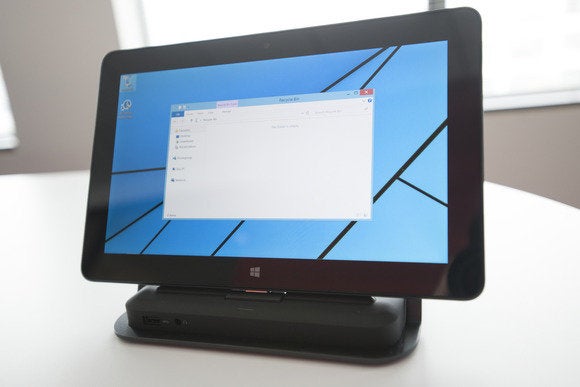 Video-game performance isn't counted as part of the WorldBench 9 score either, but I just had to see if the Venue 11 Pro could run Sims 3 (my guilty pleasure). Most Atom tablets will launch the game, but frame rates are frustratingly slow, and background calculations bog down the gameplay even more. To my delight (and the delay of finishing this review), the game ran smoothly at medium settings.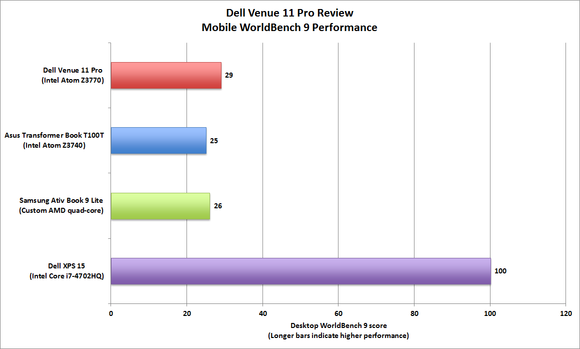 Atom-based tablets are typically saddled with lower-resolution screens (1280 by 800 being the most common). To its credit, Dell outfits the Venue 11 Pro with a full 1080p panel. Netflix movies look great on this device, and Windows 8's modern UI and apps scale nicely. The text in Chrome looked a little fuzzy, though.
The entry-level Venue 11 Pro is outfitted with just 2GB of DDR3/1066 memory and 64GB of storage. While the norm among cheaper tablets is just 32GB, 64GB still doesn't quite suffice if this were to be my only computer. You do have options, of course: You can supplement with a microSD card, store data in the cloud, or use something like SanDisk's clever Ultra Dual USB Drive. Two gigs of RAM, on the other hand, is a limitation that can't be mitigated. Each time I ended a session of Sims 3, a notice on the desktop informed me I was running out of memory.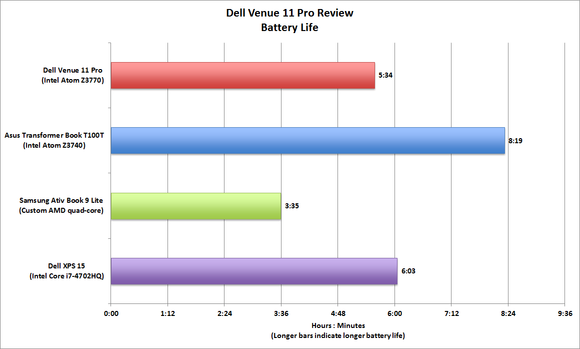 Still, 11 inches is a lot of tablet. You'll need both hands to hold it in tablet mode, but the improved readability of the large, high-res screen fully justifies the 1.57-pound weight, especially when you're looking at it from a desktop or in your lap.
The touch screen is responsive for navigation, but it registered double taps with annoying frequency when I used its on-screen keyboard. The $160 keyboard is an essential accessory for writing longer emails and documents—in fact, that's how I used the Venue 11 Pro most of the time.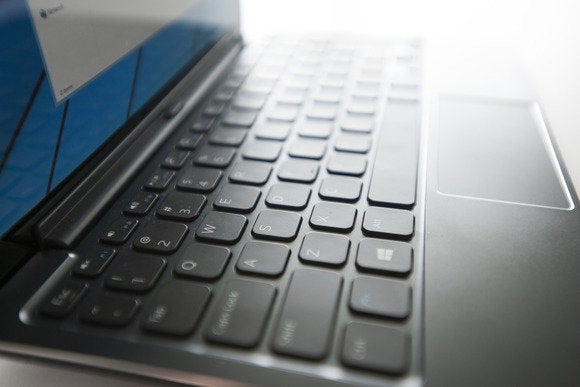 The keyboard has its own battery, which drains first. I managed to watch several hours of videos, play a few hours of games, and surf for several more, draining only the keyboard's battery. I worked the whole next day off the tablet's battery without plugging it in overnight. The keyboard is comfortable, too, which makes the combo a pretty good laptop.
Things aren't perfect, though. The pair is heavier than many 13-inch laptops: The keyboard weighs 28 ounces, which puts the total carry weight at 3.31 pounds (not including the power adapter). And the dock provides very little play to tilt the tablet backward, which can be problematic if you're using the system in your lap. The keyboard's trackpad, while small, is adequate. And you can always just reach up and touch the screen.
The tablet sits at a fixed angle in Dell's Tablet Dock, and that worked well enough for me. This $140 accessory provides three USB 3.0 ports (two in the back, one in front), both HDMI and DisplayPort connectors for attaching a second (or third) display), 10/100 ethernet, and analog audio and video connectors. The dock charges the tablet when the two are paired, freeing up the tablet's power adapter to charge the keyboard. Alternatively, you can charge both the keyboard and the tablet while the two are paired, but this takes a really long time.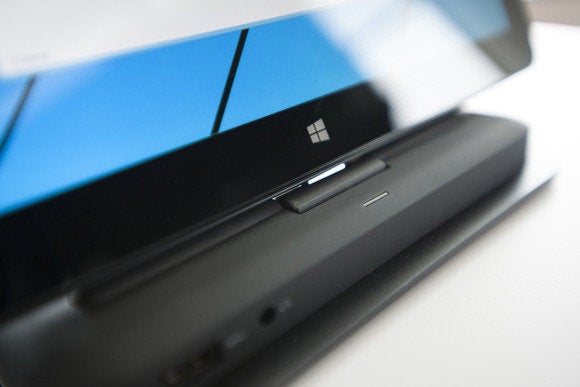 Dell's Venue 11 Pro ups the ante in the hybrid arena, thanks to is versatile accessories. The hardware isn't strong enough for hardcore games or producing the next great animated short, but its three combinations were more than adequate for my entertainment and routine computing needs.
Editor's note: Dell offers two higher-priced models that we did not review: One has an Intel Core i3-4020Y processor, 4GB of memory, and a 128GB SSD. It's priced at $800. The other has an Intel Core i5-4210Y processor, 4GB of memory, and 128GB of storage that goes for $850.