For years, our offices have been dominated by two types of computers: PCs and Macs. Fans have compared, dissected, cheered, and mocked desktops and notebooks from both camps—and the debate over which is most useful has simmered down to an uneasy truce.
But now new entrants have entered the field. Chromebooks, Android tablets, the Apple iPad, and Microsoft Surface all promise productivity features to one degree or another. This week, we tested the Samsung Galaxy Note Pro, a massive Android tablet designed for professional office work. Coincidentally, we also received a Microsoft Surface Pro 2—complete with Docking Station—on the very same day that Samsung's tablet arrived.
The obvious test: Which tablet would emerge as the best productivity machine?
What I hoped to determine was whether either tablet could provide everything I need in an office environment. Was there some stumbling block, either via hardware or software, that would impede or prevent me from doing my job? Was it more efficient to use the Surface Pro 2, or the Galaxy Note Pro? And which would I choose, if I were spending my own money? Price-wise, the two are relatively comparable: the Note Pro is priced at $750 for a 32GB model, or $850 for 64GB of onboard storage. The Surface Pro 2 costs $900 for a 64GB model, with options up to 512GB of storage for $1800.
The short answer: Windows won. Barely. And that, to me, was the most surprising result of our head-to-head comparison: that Android has come so close to productivity parity with Windows in just a few short years.
Screen real estate, battery life, accessories
In terms of raw, productivity-boosting screen real estate, you have to give the edge to the Note Pro. Samsung's 12.2-inch, 2560×1600 display is both larger and higher in resolution than the display in the Surface Pro 2, which clocks in at 10.6 inches and 1920×1080. Perhaps even more importantly, Samsung offers a larger display in a lighter chassis, as the Note Pro weighs 1.65 pounds to the Surface Pro 2's 2 pounds. Samsung also bests Microsoft on battery life, with the Note Pro lasting over eight and a half hours in our video rundown test to the Surface Pro 2's 6 hours, 9 minutes.
But don't count out Microsoft yet, as Surface Pro 2 wins hands down in terms of replicating a desktop productivity experience: Not only does Microsoft have an integrated keyboard solution via its Type Cover accessory, but the Surface's $200 Docking Station adds significant value—if you can get one.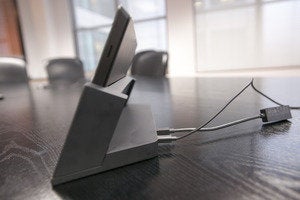 Although it appeared briefly online last October, the dock is still "out of stock" on Microsoft's online store. Regardless, in terms of raw industrial design, it's delightfully over-engineered. Pulling the dock from either side spreads it wide, cradling the tablet inside. Once closed, the dock provides three USB 2.0 ports, a mini-DisplayPort connector, and power.
Samsung does sell an HDMI dongle that lets you connect the Note Pro to an external monitor, but it wasn't bundled with our review unit. As far as all-important document printing, the process is relatively straightforward on the Surface Pro 2, whereas the Note Pro's pre-installed Google Cloud Print service is full of quirks.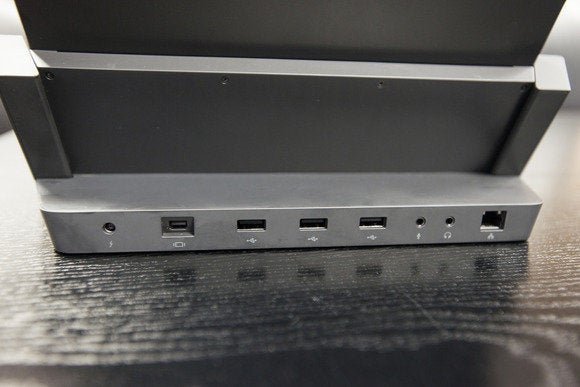 Both tablets come with covers, but the Note Pro's Book Cover simply can't compare to either of Microsoft's keyboard covers. Samsung's cover does nothing more than protect the display and serve as a kickstand, and in kickstand mode it has a tendency to slip and fall flat on slick desks. And, of course, if you want to use a keyboard with the Note Pro, you'll have to buy a Bluetooth keyboard—and find a handy place to stow it in your backpack or carry-on bag.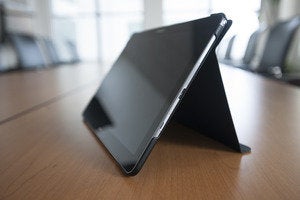 Frankly, neither tablet was especially comfortable to hold, especially on my long, twice-daily train ride between San Francisco and the east bay. Still, I favored the lighter weight of the Note Pro during these trips.
In all, I preferred the Note Pro's weight and display dimensions, but really appreciated how the (admittedly pricey) Surface Docking Station boosted my productivity. In theory, the dock went on sale last October, but we haven't actually seen it on sale since that time. Will you ever be able to buy it? Microsoft says it's still a shipping product, but good luck finding one. And if you do find one, you'll pay $240 for the combined privilege of owning the dock and requisite mini DisplayPort adapter.
Office work: Edge goes to Surface Pro 2
While businesses differ greatly, the office tools they use have become increasingly standardized. You'll need a mixture of productivity software (including tools for calendaring, email, presentations, and spreadsheets); CRM and other sales applications; and media editing and production tools.
Obviously, if your business needs are dependent on a particular CRM platform, or if you're a creative professional, you'll need a PC or a Mac. Most people, however, will spend most of their work lives in basic productivity software—which is what we'll focus on here.
My workflow is relatively simple. My employer, IDG, recently standardized on Microsoft Office, and I use Outlook, Word, and PowerPoint on a regular basis. Our online content (like the story you're reading now) is edited and published via an internally developed web app. And I use a number of other apps—from Spotify to HipChat to SnagIt—for a variety of specialized tasks.
Once set up on my physical desktop, comparing the two tablets became more of a matter of software. I obviously can't use Internet Explorer on an Android tablet, and Microsoft has inexplicably delayed a native touch version of Office for Android. But everything else is relatively comparable.
I generally use more than one monitor at work, referring to notes or other source documents on one display while writing a story on the other. Both the Surface Pro 2 and the Note Pro support a multi-window view, "snapping" up to four apps or windows into the corners of the screen. When I did so, however, the Surface Pro 2 felt slightly too cramped—like I was peering at the screen, and not looking at it. However, I felt like I could take full advantage of the Note Pro, even when four apps were open at once—due to Samsung's better resolution and screen size, I think. That said, the Surface Pro 2 experience doesn't feel cramped when you add an external monitor, so spring for that Mini DisplayPort dongle.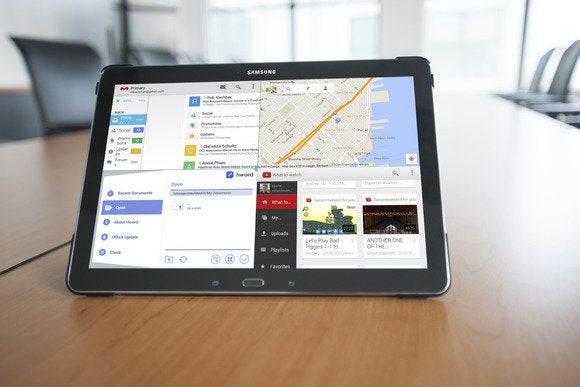 As I noted earlier, most of the apps on each platform are directly comparable: Chrome is available for both tablets, and most apps have web versions available even if they aren't natively available in Google Play or the Windows Store. Microsoft has yet to release a version of Office for Android tablets, however, so if you insist on using a native Android app for productivity tasks, you'll be forced to use either Quickoffice or the Hancom office suite, available through the app store built into the device. Both are perfectly functional, albeit with a few quirks.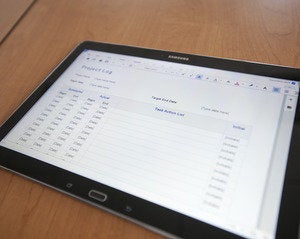 Even under the weight of four multi-tasking apps, the Note Pro ran like a champ, and familiar keyboard commands (such as Alt-Tab) cycled through the list of open applications. I thought the Hancom productivity suite was especially competent. It opens all of Microsoft's Office formats, and I believe it would grant me all of the efficiency of Office if I were forced to work with it for a prolonged period. Still, I found myself simply accomplishing more on the Surface, only because my fingers simply understood what to do.
So for now, I prefer the familiar Windows environment. And if you use a specialized application for customer relations management or media editing, you may be hard-pressed to find either an Android or web equivalent. Your best bet is to evaluate what software you currently run, and whether you'll find something comparable for an Android tablet like the Note Pro.
Almost a tie
With phones, tablets, phablets, and ultrabooks available in a staggering array of sizes and configurations, true road warriors can order up pretty much what they want. And that includes operating systems. I worked for a prolonged period on a Chromebox, just to see if it could be done, but in the end I returned to Windows.
But what about Android? Can the Note Pro finally break Microsoft's lock on my productivity life? Well, I preferred the Note Pro's light weight, generous display, battery life, and access to the Android and Google app store. But the Surface Pro felt like a true PC—especially when connected to an external monitor—with the apps and settings I'm accustomed to. Price-wise, the battle is a wash, especially because cheaper options are available on both platforms. Just remember that if value an external monitor, you'll need to spend much more with the Surface.
In the final analysis, if I were forced to spend my own money, I'd pick the slightly cheaper Note Pro. But if I could charge the bill to my company, I'd ask for the Surface Pro 2. But in the end, I mostly chose the Surface Pro 2 based on subjective preference, rather than any technical roadblocks on Android's part. And that's a flimsy ledge for Microsoft to cling to.