U.S. National Security Agency director General Keith Alexander has called on Congress to pass new legislation focused on protecting the country's cyber assets while at the same time defending his agency's cybersurveillance programs.
Alexander told members of the U.S. Senate Armed Services Committee Thursday that the lack of new cybersecurity legislation, presumably focused on crafting new standards for some businesses, may be hurting the country's cybersecurity defense efforts.
"I am concerned that the lack of legislation will impact our ability to defend the country," said Alexander, testifying in his dual role as director of the NSA and the cyber-defense agency, U.S. Cyber Command.
Alexander faced few tough questions about NSA surveillance programs during the hearing. He defended the NSA's efforts, although he seemed to soften his previous stance about the NSA's need to collect U.S. phone records in bulk. Following President Barack Obama's proposal in January to change the NSA surveillance and data collection programs, Alexander said Thursday that one option for the phone records collection program would be for his agency to collect a more targeted group of records.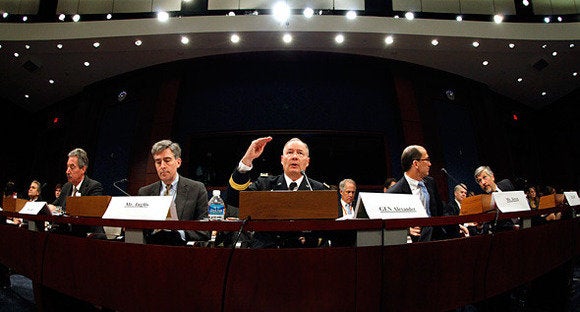 Alexander and other administration officials have previously defended the bulk collection of phone records, saying it was necessary for the NSA to hold those records as a way to track the past activities suspected terrorists.
Asked by Senator John McCain, an Arizona Republican, about the impact of leaks by former NSA contractor Edward Snowden, Alexander said he's concerned that terrorists have learned too much about the agency's surveillance practices. "I am concerned that they are learning how we stop them, and they're going to get through," he said.
McCain gave Alexander time to respond to critics who say "we're invading every home, every individual, we're gathering all this information."
NSA employees are "doing quietly what our nation has asked them to do," Alexander responded. "The nation has to have NSA—working with foreign partners—to ensure that wars don't go on in the Middle East, that we stop terrorist attacks, and that we protect this nation."
It's a "true tragedy" that the media has portrayed NSA employees as villains, Alexander added.
While some senators defended the NSA during the hearing, Senator Mark Udall, a Colorado Democrat, questioned if it was appropriate to keep secret the U.S. Foreign Intelligence Surveillance Court's interpretations of the Patriot Act that led to the bulk telephone records collection.
Udall, a long-time critic of NSA surveillance programs, said he continues to be concerned about the legality of the programs. "Secret laws undermine trust and authority," he said. "When the public learns that government officials have been rewriting the law in secret, confidence is undermined, and that makes it more difficult to do the job you want to do."
Committee members also asked Alexander about the U.S. government's efforts to deter cyberattacks from other countries. Officials are still developing a deterrence policy, he said.
"I think we need to evolve a deterrence strategy to draw some lines on what is acceptable in cyberspace and what actions we'd take," Alexander added. "That does not yet exist."