Windows Phone 8.1's incoming digital assistant has long had a name, but now we've caught a glimpse of Cortana's face.
Cortana the digital assistant (see below) isn't a mirror image of Cortana the AI (see above), the faithful partner found in the legendary Halo video game series, but it will call you Master Chief if you'd like. The Verge reports that the digital assistant sports the Siri-like ability to call you by the name of your choice, and the circular blue icon will animate while it speaks to lend it a bit of personality.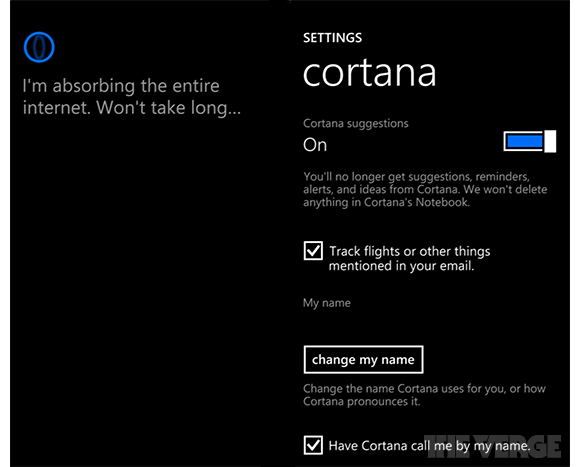 Siri isn't the only digital assistant Microsoft's gunning for. Cortana will reportedly draw in data from Bing and Foursquare to deliver contextual information in a Google Now-esque fashion. That'll be augmented by tidbits it learns about you from your interactions with the assistant, the Verge reports, along with the customizable information—such as flight info, reminders, contacts info, and more—you choose to store in Cortana's "Notebook," which will add even more individualized flavor to her informative interactions.
Cortana's context clues
Microsoft's been beefing up Bing behind the scenes with the gentle development of a full-blown knowledge engine dubbed "Satori." The company wants Satori to become the "world's largest repository of knowledge" and the big brains Bing—and, no doubt, Cortana by extension—leans on for information.
Windows Phone's definitely late to the digital assistant party, but if the company manages to mix Google Now's usefulness with the fun personality of Siri (and Cortana's own namesake), the wait may have just been worth it—especially if Microsoft mixes in the killer features we're hoping to see in Cortana. (Individual app controls and Moto X-style active listening capabilities, anyone?)
Between Cortana, the long-awaited notification center, and the flood of business-friendly features coming to Windows Phone 8.1, this spring's update may just be the one that sees Windows Phone finally achieve functional parity with iOS and Android, "app gap" aside. Microsoft's expected to reveal Windows Phone 8.1 more fully at April's developer-focused Build conference. Until then, you might want to check out PCWorld's article on everything we know about Windows Phone 8.1 thus far. There are a lot of changes and features inbound.