In a bid to distance itself even further from a number of third-party office productivity apps, Microsoft on Monday announced the Office Graph, bringing social capabilities into Office at large.
Microsoft's new project, code-named "Oslo," (top) builds on the concept of the Enterprise Graph, which Yammer introduced by trying to show how users were related to one another. The new app takes the Office Graph and shows content, for example, that "might be most relevant for each individual based on what they're already doing in Exchange, Outlook, SharePoint, Office, Lync, and Yammer," Jeff Teper, the corporate vice president for Office Service and Servers, said in a blog post.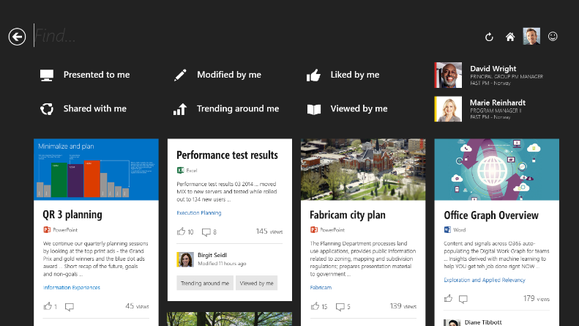 "To be more responsive, we need to evolve," Teper wrote. "We need to flatten the information flow so that we can work better together and serve customers better, using a network of highly informed and highly connected people."
Microsoft already has indicated that it plans to bring more "live data" to apps like Excel, with enhancements like PowerBI for Excel tapping into publicly available data sources. Now the next frontier for Office appears to be the social space. Microsoft officials did not say, however, when "Oslo" or other social-enhanced apps would enter the Office suite, but told IDG News Service that it plans to release it in the second half of the year. The company hasn't yet decided which Office 365 editions will have it, nor has it yet determined if it will cost extra.
But the announcement was just one in a laundry list of significant enhancements to the platform, including:
Groups: a new feature that unifies people, conversations, calendars, emails and files across Office. Once a Group is formed, it provisions a corresponding Yammer conversation feed, calendar, document library and inbox where members can collaborate and work as a team, Microsoft said.
Inline social experiences: SharePoint and OneDrive for Business will add social conversations within each platform, allowing users to collaborate more easily.
Office 365 secure video portal: As the name suggests, the portal will support uploading and storage of videos in a secure manner, streaming the videos to desktop and mobile devices, with Office 365 doing all the compression and optimization work.
OneDrive for Business: In April, businesses can purchase OneDrive for Business (formerly SkyDrive Pro) as a stand-alone providing secured file, sync and share in the cloud with all the benefits of integration with Office, Microsoft said.
Data-loss prevention: Microsoft also said that it would introduce capabilities to better manage, track, and audit content
Microsoft also announced several enhancements on the developer front, including the release of the Office 365 SDK for Android, which will let third-party app makers connect to Office 365 data and services. Microsoft has not provided a version of Office Mobile for Android tablets, and the company did not say when such support is planned.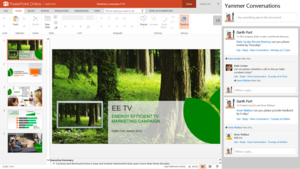 Microsoft also said that enhancements to Office 365 APIs to PowerPoint and Outlook includes Outlook Compose, which can provide users contextual information alongside an email as it is written. Office 365 documents also include app information that can now be more "seamlessly activated by recipients" —as an example, Microsoft said native PowerPoint apps now will be accessible via PowerPoint Online, with Excel getting the same treatment later this year.
Last week, Microsoft hinted that new apps for the Office suite would be forthcoming; on Monday, we got the first hints of what they'll look like.
Additional reporting by Juan Carlos Perez of the IDG News Service.