Samsung on Monday launched the Chromebook 2, a Chromebook noteworthy for its use of a powerful ARM processor and the option of a full HD screen.
Samsung's Chromebook 2 is actually more advanced than the Series 3 Chromebook that Samsung launched last March, so don't the name confuse you. From the Exynos 5 dual-core chip used by the Series 3, Samsung has bumped up the processor to a full 2.1-GHz Exynos 5 octa-core processor, adding a bit more oomph to a system we already felt was pretty speedy for the Web-surfing tasks Chromebooks are usually used for.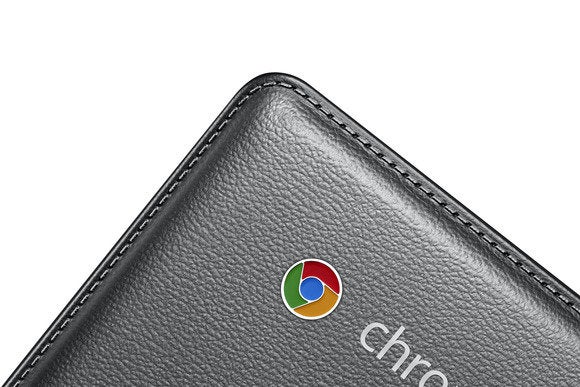 The new Chromebook 2 is offered in two display options: an 11.6-inch, 1,366 x 768 display for $320; and a 13.3-inch, 1920 x 1080 Full HD display for $400. Other than the slightly larger size and battery life of the larger model, all the other specs are the same: 4 GB of DDR3 memory, 16 GB of embedded flash storage (with 100 GB of Google Drive storage on top of that); a 720p Webcam; and one HDMI out, USB 3.0, and USB 2.0 port, respectively. There's also a microSD slot, as well, plus headphone and mic jacks.
The larger model measures 12.72 inches x 8.80 in. x 0.65 in, and weighs in at just over 3 pounds, with just a gray color option. The smaller option measures 11.40 in. x 8.06 in. x 0.66 in., and 2.43 pounds. Color options include black and white. One of the more Noteworthy additions (yes, pun intended) has been the faux stitched-leather backing of the Note 3.
The two new Chromebooks will ship in April, Samsung said.
If the hi-res display and octa-core internals don't entice you, however, you may want to try out the existing HP Chromebook 14, which offers a bigger screen at a lower price, but with a less powerful processor.
Chromebooks aren't traditional PCs; they run Google's Chrome OS, which for years has been used to access the Web and not much else. In July of last year, however, Google launched packaged apps, which offer true offline functionality. Now called Chrome Apps, they still aren't nearly as useful or ubiquitous as the apps written for Google's mobile OS, Android. Still, Google continually enhances Chrome and Chrome OS, with the latest enhancement adding Android-like voice search.
Amazon has called Chromebooks one of its most popular sellers during the holiday season. If you work frequently on the Web (and who doesn't these days?) Chromebooks make a good alternative to traditional Windows PCs.