Normally, an unexpected popup is a reason to worry: is my PC infected with a virus? Is this an ad? In this case, yes, you're supposed to worry—but the message is legit.
In its ongoing bid to push users from Windows XP to Windows 7 or Windows 8, Microsoft will push a popup to their machines on March 8. But the company has also partnered with LapLink for a free migration tool to assist with the transition.
By now, PCWorld readers and those who consistently keep up with tech news should be aware that the expiration date for Windows XP is April 8, 2014. On that date, support for Windows XP will end, meaning that any vulnerabilities that Microsoft hasn't patched by then will remain open for malware writers to exploit. A few contingency plans will help mitigate that somewhat; Google will support Chrome for Windows XP through 2015, for example. And while Microsoft has ditched support for Internet Explorer 8 (the last browser for XP), Microsoft Security Essentials will support Windows XP until July 14, 2015. Still, that's like wrapping duct tape around the Titanic.
So how to move users off of XP? The tried-and-true popup.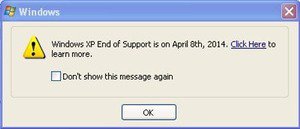 According to Brandon Leblanc, the chief blogger for Microsoft, the popup notification will only be displayed for users who who have elected to receive updates via Windows Update. It will include a link to the Windows XP End of Support website, where Windows XP users can learn how to stay protected against security risks and viruses after April 8th. The notification will recur on the 8th of every month unless disabled by the user, Leblanc wrote.
Son, am I supposed to click this?
The problem, of course, is that the popup looks like every popup, complete with a link, that decades of computer use have taught us not to click—including the time-honored advice that every tech-savvy son or daughter has given their parents. The alternative, of course, is for those kids simply to step in and encourage their parents to buy a new PC. Or a Mac. Or a Chromebook.
For those that do want to step in and provide family tech support, Microsoft will provide a free copy of PCmover Express for Windows XP, which will copy files, music, videos, email and user profiles and settings from the old PC to your new device, including across a network. It also allows Windows XP users to customize exactly what they want to bring over to their new device.
The free software wil be available later this week from WindowsXP.com. If users want to transfer applications over from Windows XP, they can do so, but they'll need PCmover Professional. Normally, users would pay $59.95 for this version; after a Microsoft-sponsored discount, users will pay just $23.95, Microsoft said.
If you want to avoid any added stress, just text the URL to your aged relatives, or use the Facebook button above. Chances are it will be a lot less stressful than the inevitable phone call.