Microsoft Office doesn't want you to be alone. Productivity should be a shared experience, apparently, and now the vaunted Office suite wants to integrate your social circles into all your spreadsheets, Word docs, and presentation decks.
Imagine your co-workers, gathered virtually around your desk, showing you how to get more from Office, and helping you improve your work. That's the next-gen Office that Microsoft envisions, and it's a trick that none of Microsoft's competitors—Google and all the other freebie upstarts—have yet to attempt.
Announced on Monday, Microsoft's description of the future of Office 365 shows an evolution from an individual user's application into a shared workspace. Yes, Office can help traditional customers, like college students, with traditional documents. But in this new, group-hug world view, the value of Office increases as the number of linked users increases. And that value can be summed up in two words: real-time context.
Office's evolution is, in many ways, running parallel to the evolution of most search providers: moving away from forcing you to search for information, instead delivering that information before you think to need it. We see that in Google Now, and in the leaked shots of Microsoft's Cortana digital assistant. Office will take that concept yet further.
Work like a network
Just months ago, Microsoft was suggesting that documents could be improved through live data. Now Microsoft seems to be exploiting is its overabundance of social and communication tools, including Yammer, Lync, and Skype.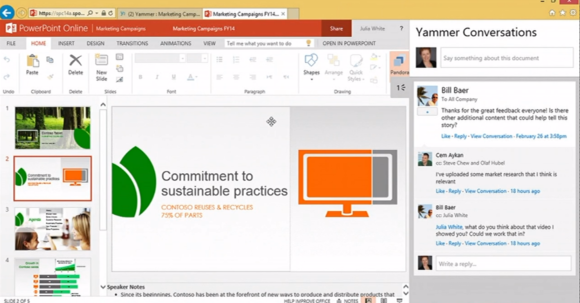 "We believe the future of work is all about working like a network," Jeff Teper, the corporate vice president of Microsoft's Office Service and Servers Group, wrote in a blog post accompanying the announcements. "It's about how we build relationships, share information, and respond to ever-changing conditions."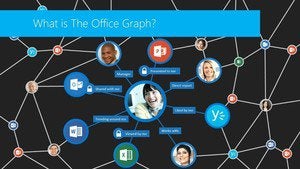 The first incarnation of that is the Office Graph, similar, at least in concept, to the Facebook Graph, which exploits the relationships Facebook users have forged. Facebook, though, adopts a pretty basic approach: Yes, you can find restaurants in your area that your friends have liked, but that information is tucked away inside the search box at the top of the screen.
Microsoft, on the other hand, hopes to take data—including relationships between people, groups, files and conversations—from Exchange Online, SharePoint Online, and Yammer to provide contextual information as you need it.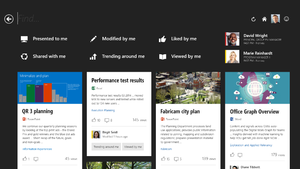 The first incarnation of that is "Oslo," named for the location of the FAST search team Microsoft purchased for $1.2 billion in 2008. Oslo, according to Microsoft, will "surface," or highlight, key conversations, content, and the people you care about most, in Microsoft's words. Microsoft characterizes Oslo as a standalone app, so apparently it will serve as a sort of meta-tool pulling together the three separate products. At this point, as some of my colleagues noted, it's basically two things: an organizational tool to collect relevant documents, and a glorified org chart.
Is Microsoft Dynamics the next candidate for Office?
Eventually, though, the line Microsoft is drawing outward from the organization looks like it will intersect with LinkedIn. Oslo could well evolve into an improved relationship manager, either as an internal tool or one for interacting with customers and partners.
Interestingly, Microsoft recently posted a testimonial from Trek talking about how the bike company developed a custom solution using SharePoint, Yammer, and Microsoft's own Dynamics customer relationship manager (CRM) tool. While Microsoft probably isn't going to pull in Dynamics into its Office suite, we could see elements of it appear in the future, extending Oslo's showcase of "whom you know" to suggesting "whom you should know".
More data, please
"If you're like me, you can find yourself data-rich but very knowledge-poor," Jared Spataro, a general manager of product marketing for Office, said during the Sharepoint conference this week. More data, please, is essentially the mission statement for the so-called business intelligence industry, which has provided an alternative to the statisticians and Big Data scientists that large corporations have employed. We call it "context," and that can mean anything from showing relevant information alongside an Outlook email to crafting your own "Cortana" knowledge engine for Windows Phone.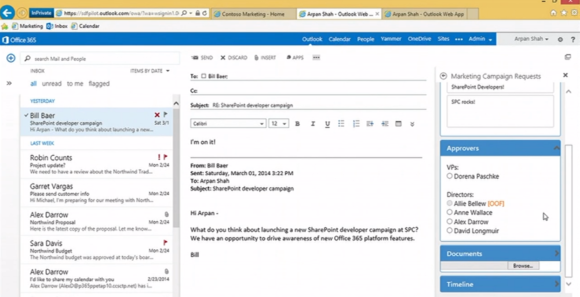 What Microsoft is trying to do, however, contrasts sharply with what other office suites are doing, even Google Apps. Yes, Google pioneered real-time collaborative elements. But most productivity apps simply facilitate document creation. It's up to you to figure out what to do with it.
There's one underlying truth, however: The less data you provide, the less effectively the tools will work. In Office's case, it's enriched by the collective data that you and your coworkers contribute. That's the "network" effect that Teper is talking about, and a step beyond what most of these other digital assistants are asking for.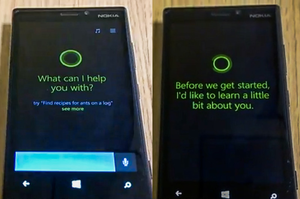 It's too early to tell whether this will be the right approach. Oslo could simply boil down to a pretty search engine for figuring out where that critical PowerPoint presentation is hiding. The Office Graph could end up being little more than a list of suggested colleagues who should receive your presentation. The wisdom of crowds isn't necessarily right. We all know what data-driven approaches have produced in my business, journalism: listicles, cat pictures, and me-too followups.
Over time, however, context-driven, social decisionmaking is going to trickle down to the average worker. Maybe it will work, maybe it won't. But that's the direction next-gen office productivity tools are heading. How to manage them effectively is going to be our challenge.