The traditional PC industry saw its sharpest decline ever in 2013, and the sales drought is expected to continue through 2018, IDC reported Tuesday.
The firm said that PC shipments fell by 9.8 percent overall last year, the sharpest drop on record. While the fourth quarter actually performed better than expected, IDC said that sales dried up in emerging markets, dipping 11.3 percent. This is evidence that tablets and phones are cutting into sales all across the world, IDC said.
In total, IDC reported that 315.1 million PCs shipped in 2013, and that 295.9 million are expected to be sold in 2014, a 6 percent dip. By 2018, IDC said, the PC market should drop to annual sales of 291.7 million units.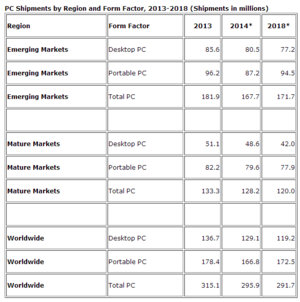 IDC said that its projections are actually rosier than originally predicted—but that's small consolation to companies that have banked their fortunes on selling PCs. Overall, 2013 PC sales were expected to decline by 10.1 percent.
"Emerging markets used to be a core driver of the PC market, as rising penetration among large populations boosted overall growth," said Loren Loverde, vice president of IDC's worldwide PC tracker service, in a statement. "At the moment, however, we're seeing emerging regions more affected by a weak economic environment as well as significant shifts in technology buying priorities. We do expect these regions to recover in the medium term and perform better than mature regions, but growth is expected to stabilize near zero percent, rather than driving increasing volumes as we saw in the past."
Interestingly, Microsoft chief financial officer Amy Hood told analysts that for the fourth quarter, PC sales for emerging markets actually out-paced so-called mature markets like North America. Stacy Smith, Intel's chief financial officer, said at the time that most mature market sales were coming from desktop PCs. Those markets have reached "saturation points on tablet penetration," but that this point hasn't been reached in emerging markets, Smith said.
In making its projections, IDC said it factored in a number of variables, including concerns about the impact of slower economic growth; the culmination of some large projects; and conservative expectations for factors like touch capability, migration off of Windows XP, and continued pressure from tablets and smartphones. IDC's definition of a PC includes desktop, notebooks such as ultrabooks, and other portable PCs that include non-detachable hardware keyboards. Tablets such as the iPad are excluded.
IDC and PCWorld are own by the same parent company, International Data Group.