A mere day after catching our first glimpse of Windows Phone 8.1's incoming "Cortana" digital assistant, a video over two minutes long showcasing Cortana's initial setup has appeared on the web.
The sneak peek comes courtesy of Unleash the Phones, which previously leaked a video showing off the notification center included in Windows Phone 8.1. (Finally.)
After asking what you'd like her to call you—may I suggest Master Chief?—Cortana asks you a series of questions to get to know you better, such as "What are a couple of the most enjoyable parts of your everyday evening?" and "When you think about food, what's most important to you these days?" Those go hand-in-hand with Cortana's reported role as a context-heavy assistant, similar to Google Now, though the bouncy circle's heavy use of first-person identification definitely carries shades of Siri.
Beyond the questions, Cortana asks permission to tap into your location, contacts, voice input, email and text messages, browser history, search history, calendar details and more, as one would expect from an assistant designed with Google Now-style functionality. Cortana can't point you toward tasks and reminders if she doesn't know about them, after all—hence the need for her customizable "Notebook" full of private details.
Cortana's allegedly slated to replace Windows Phone's Bing search completely in Windows Phone 8.1, though she's still powered by data provided by Bing, Foursquare, and possibly others. This video reveals that you'd need to sign in to a Microsoft account to start using the digital assistant, however.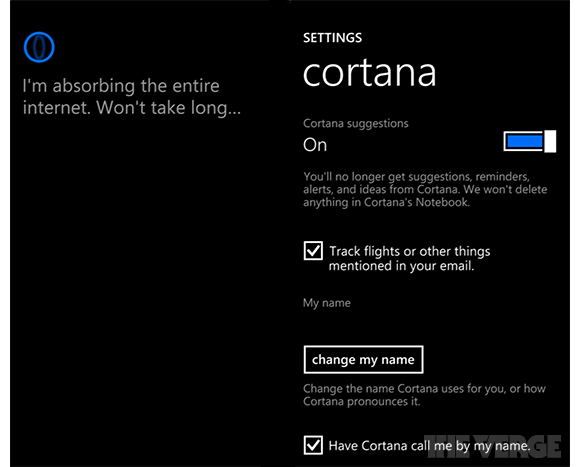 We should hear much, much more about Cortana, the long-awaited notification center, and everything else about Windows 8.1 at Microsoft's Build conference in April. Until then, read up on the killer features Cortana needs to go toe-to-toe with Siri and Google Now.
[Via The Verge]