Evernote is considered the gold standard for note-taking apps, but for all its accolades most people barely tap into its capabilities. Evernote's strength is its versatility: It can function as a digital filing cabinet, a journal, a task manager, and more. Here are four features you should integrate into your workflow now.
Send emails to Evernote
It's inevitable that an important email will go missing when you need it. The search capabilities of most platforms and email clients have improved over the years, but rummaging through multiple inboxes is still tedious. A better solution is to send those emails directly to Evernote, where you can easily organize and access them.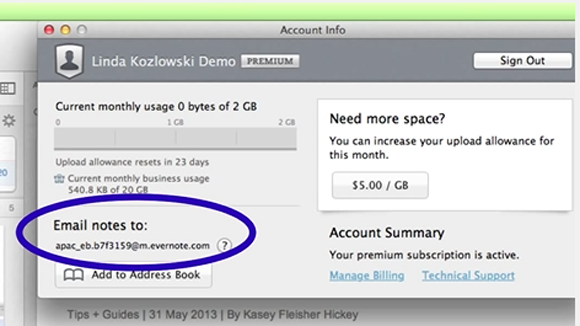 For example, if you have a trip planned, you can email your flight or hotel confirmations to Evernote and organize them all in a notebook dedicated to your trip arrangements. You can add notes for your itinerary and include maps to key locations or links to websites. While you're on your trip, you can use the same Evernote notebook to record thoughts or store photos and videos from the trip as well.
To email something to Evernote, find your Evernote email address in the Tools menu under Account Info.
Capture Post-it Notes
Post-It Notes are a much-loved method of capturing thoughts or jotting down reminders. The problem is you're not likely to carry them around with you. Evernote teamed up with 3M to create a solution.
The Evernote apps for iPhone and iPad can take pictures of physical Post-It Notes, extract the handwriting, and convert it into a digital representation, even matching the color of the Post-It Note paper. Using Evernote, your Post-It Note messages can be synced across platforms.
Taking the concept a step further, Evernote also lets you assign tags or set reminders based on four specific Post-It Note colors: electric yellow, limeade, neon pink, and electric blue. Evernote also created special Post-It Note trays, and there are Evernote-branded Post-It Notes available in stores that come with a free month of Evernote Premium.
Mark-up documents and images
Evernote has fostered a community of apps developed specifically to enhance the way Evernote works. One of the best and most popular Evernote apps is Skitch, which is actually owned by Evernote itself.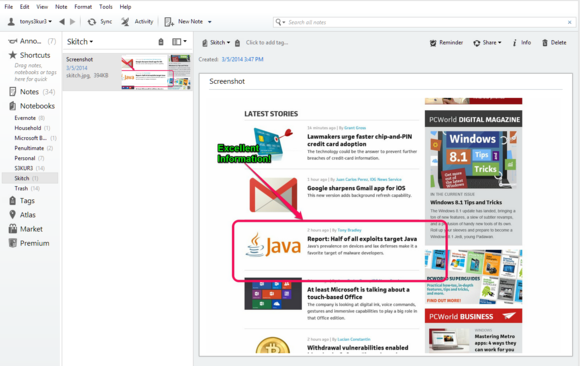 Skitch lets you annotate notes or mark up images using an array of arrows and shapes to highlight information. It also includes a blurring feature to block out sensitive information, such as the license plate on a photo of a car.
Clip Web pages for later
Evernote Web Clipper captures and stores articles and information in Evernote for future reference. You can select just the portion of the Web page that you want to save; mark it up with shapes, drawings, or text; and crop or pixelate your clipped pages. Organize your clippings in an Evernote notebook, and share it with others via email or social networks.
Collaborate and share
Evernote is great for managing notebooks, projects, and to-do lists on your own, but you don't have to be an island. Evernote also provides simple ways to let you collaborate with others on your notebooks, or share them with the world.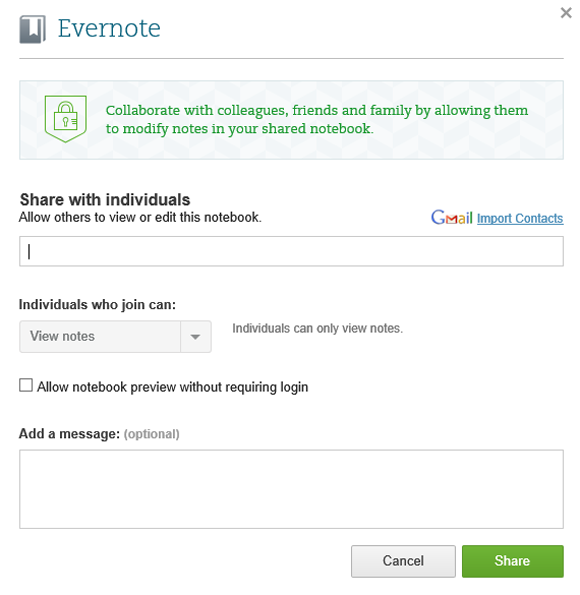 You can right-click on any notebook listed in the left panel and choose "Share Notebook." Evernote allows you share it either with select individuals or as a link that can be posted or shared with the general public. If you opt to share only with certain individuals, you can also configure what type of access each person has—whether they're allowed to modify the notebook, invite additional participants, or just view the contents.
Another way you can share an Evernote notebook is by posting it to your various social networks. At the top right above the notebook is a dropdown list that lets you share it with Facebook, Twitter, or LinkedIn.
If you're just using Evernote to capture your jottings, you're not really using Evernote. Try these features and you'll soon be digging even deeper into the capabilities of this powerful tool.