At a Glance
Expert's Rating
Pros
Extremely powerful for any application from games to content creation
Aesthetically beautiful, inside and out
Incredibly quiet, considering the high-powered components inside
Cons
Front display is a bit over the top
802.11n Wi-Fi? Please!
White internal surfaces require frequent dusting (but you have a housekeeper, right?)
Our Verdict
If you have to ask "how much," you probably can't afford this system. But that doesn't mean the LEET Home Theater PC doesn't earn its lofty price tag.
Microsoft and Sony boast how their latest video-game consoles can form the core of your home-entertainment system, delivering the best in games, movies, and music. But the Xbox One and the PlayStation 4 look like dime-store toys compared to Steiger Dynamics' supremely powerful LEET Home Theater PC (LEET being gamer slang for "elite"). If you can swing the budget, this monster will deliver the best entertainment experience you can imagine, in an elegant enclosure that you'll want to show off.
The system reviewed here is a no-holds-barred, do-everything exercise in excess, featuring one of Intel's most powerful CPUs: the Core i7-4930K, which Steiger Dynamics overclocks to 4.4GHz (from its stock frequency of 3.4GHz). But Steiger Dynamics is a boutique PC manufacturer, so you can have them stuff whichever components you crave inside the LEET's case. And this is no beer-can enclosure: Fabricated from copious amounts of brushed aluminum, its walls are nearly a quarter-inch thick.
Getting back to the Core i7-4930K, this processor is based on Intel's Ivy Bridge-E microarchitecture (which is more powerful—and less fussy about power consumption—than Intel's Haswell architecture). Ivy Bridge-E chips don't have an integrated GPU, but they are outfitted with four memory channels. And the LEET comes with with no less than 32GB of DDR3/2400 RAM (using four 8GB sticks of Kingston HyperX Beast memory to take full advantage of the CPU's interface to memory).
The Core i7-4930K is a six-core chip and it supports hyper-threading, which means it can support 12 execution threads simultaneously. While that feature won't have a big impact on overall gaming performance, it will make a significant difference in other applications. If you like to rip Blu-ray movies and encode them to other formats using HandBrake, for instance; or if you're a heavy-duty Photoshop user; or if you enjoy whiling away the hours creating complex 3D models with Autodesk's Maya; or… well, you get the picture. This is one of Intel's beefiest CPUs, and it's designed specifically for power users.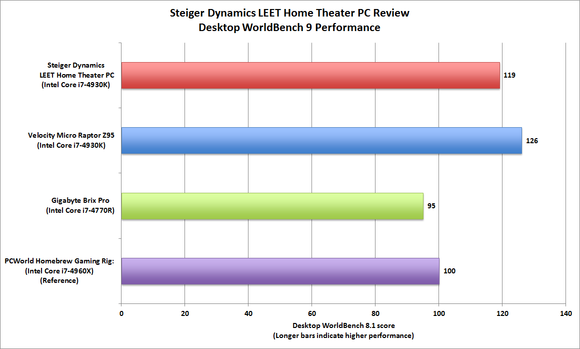 Twin Titans
The LEET's heavy-duty computational horsepower is buttressed by the presence of two Nvidia GeForce GTX Titan video cards running in SLI. Each of the Titan cards—these particular models are manufactured by EVGA—has 6GB of memory all its own.
These massively parallel GPUs will accelerate image-editing tasks, and they can decode just about any video stream (the LEET is equipped with a Blu-ray drive for playing—and ripping—high-definition movies). But their bigger task in this rig is to deliver AAA games like BioShock Infinite and Battlefield 4 at very high resolutions and high frame rates.
How fast is fast? How about churning out BioShock Infinite at a resolution of 2560 by 1600 pixels, with visual quality set to Ultra, at more than 110 frames per second? The LEET delivered Battlefield 4 at more than 66 frames per second at the same resolution. And it's amazingly quiet, even while handling heavy computational loads. I could barely hear the whir of its cooling fans even when my ears were right next to them.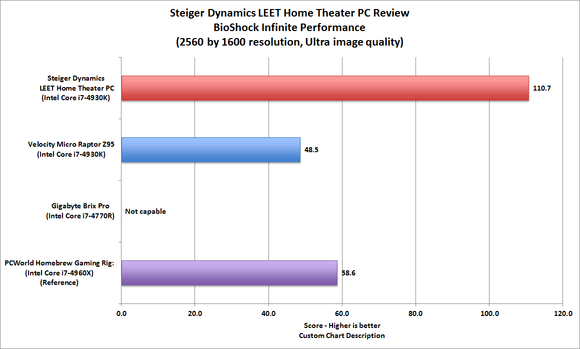 This machine is designed to be the heart of your digital entertainment system, so Steiger Dynamics equipped it with plenty of storage: It boots from a pair of 120GB Kingston HyperX 3K SSDs (operating in RAID 0 for blistering speed). These drives are augmented by four 3TB Western Digital Red-label drives. WD designs its Red drives specifically for network storage applications, so they're an excellent choice for a system like this that could be used to stream music and video all around your home.
The Red drives operate in software-based RAID 5 for data security (if one drive fails, you can recover the data from the remaining three). The system comes with Windows 8 Pro, including Windows Media Center, and a media-center remote control. If you're a cable-TV subscriber, you might want to consider adding one of Ceton's InfiniTV multi-channel tuners to the package (this was not included in the system we reviewed).
This beast is whisper-quiet
With all that power under the hood, you might be worried that the LEET will sound like a kitchen appliance next to the rest of your passively cooled components. Don't worry: Steiger Dynamics liquid-cools the entire system, including the CPU and both video cards. This entails using one large radiator with dual fans inside the left side of the very deep enclosure, and a second radiator with a single fan that exhausts out the rear of the box.
The radiators, CPU water block, Blu-ray drive, and the top grille on the power supply are painted a stark white, delivering an elegant visual counterpoint to the black chassis. The coolant, pumped through clear tubing, is also tinted white, as are all of the interior power and SATA cables. This adds to the system's visual flair. An acrylic ventilation panel on the top of the machine lets you gaze down into the interior system, which is subtly illuminated by an LED rope light tucked into a lip at the top of the case.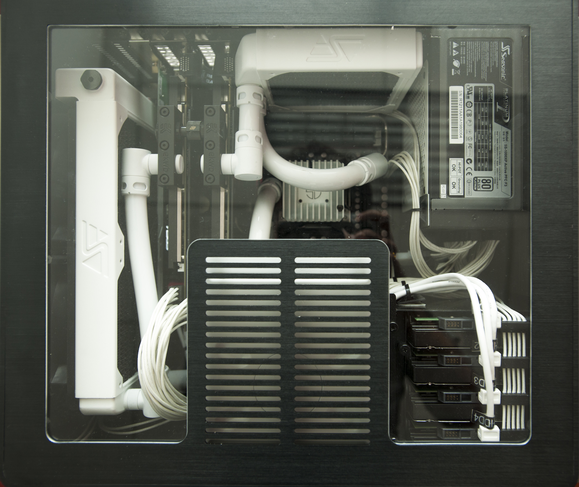 But there is a slight downside to having white components beneath a clear acrylic lid: You'll want to open the case to wipe them down every once in a while, as dust and lint inevitably accumulate and become very visible.
The 1000-watt Seasonic model SS-1000XP power supply Steiger Dynamics selected doesn't add much in the way of noise, either. A thermal sensor keeps the PSU's fan turned off until its internal temperature reaches 25 degrees Celsius, at which point the fan spins up just enough to keep the PSU cool (Seasonic claims it's barely audible at 16 dbA). The fan spins at full speed only when the power supply is carrying a 100-percent load, which never happened in our tests.
Niggling criticisms
Turning to the exterior face of this incredibly robust, yet absolutely beautiful chassis, you'll find a 7-inch LCD panel. This display cycles through screens showing CPU, GPU, and RAM utilization; used and free space on the system's storage devices; model numbers and logos for the components inside the box; system status reports (current date, up time, IP address, ping times, and so on); and the Steiger Dynamics logo.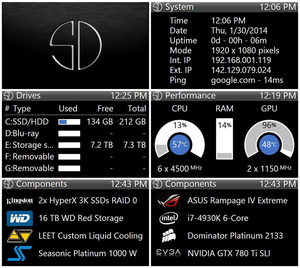 I found this—and the onboard 802.11n Wi-Fi adapter—to be the only minor miscues in the entire system. The display doesn't add a lot of value, and if you're spending this much money on a new PC, you can afford to run gigabit ethernet to your entertainment center.
If that's simply impossible, Steiger Dynamics should have used an 802.11ac Wi-Fi adapter—something like Asus' PCE-AC68, for example. You can order your system with whichever networking component you want, but you're stuck with the display (and the cost it adds to the system). Those are my only real complaints, and I'll admit they're a bit of a stretch.
Pushing the access panel beneath the display exposes a pair of USB 3.0 ports, an SD card slot, and mic and headphone jacks. The LEET features an Asus Rampage IV Formula motherboard, which delivers a superior audio subsystem that includes high-end capacitors to deliver super-clean electrical power, and special shielding to prevent electromagnetic interference from creeping into the analog signal path. Asus claims an audiophile-level signal-to-noise ratio of of 110db.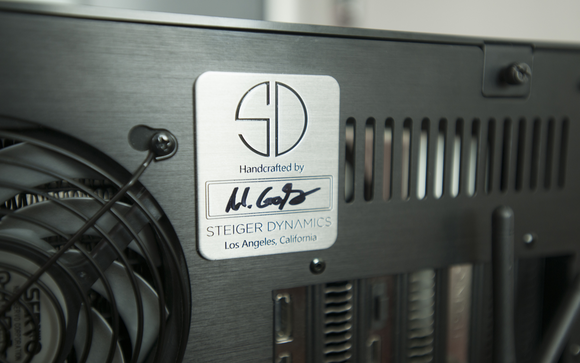 The motherboard delivers a bevy of audio-processing features, too, including Creative's Sound Blaster X-Fi MB2 and EAX Advanced HD 5.0, and THX TruStudio Pro (I'll leave it up to you to decide whether those last bits are pros or cons).
A plate on the rear panel bears the signature of the technician who assembled the system—it's a nice touch, even if you'll rarely see it once you've set up the computer. Rear-panel ports include gigabit ethernet, five USB 2.0 ports, four USB 3.0 ports, two eSATA ports, and analog surround-sound jacks. The Titan cards deliver dual-link DVI, HDMI, and DisplayPort video outputs.
If you can afford a system of this caliber, the only ports you'll be likely to use are video and ethernet (and perhaps USB if you're using a CableCard tuner). If you need even more storage—12TB is enough to store 1,000 Blu-ray movie and tens of thousands of FLAC files—you'll probably buy a separate NAS box.
Oh, and you'll need a $200 lapdesk
You'll need a mouse and keyboard (not included) to play games and surf the web from the comfort of your sofa, and Steiger Dynamics is the sole U.S. distributor of an accessory that makes that easy. The CouchMaster consists of a pair of cushions with a plank that straddles your lap. Since most gamers wouldn't rely on a latency-plagued wireless mouse and keyboard, the CouchMaster includes a four-port USB 3.0 hub and a 16-foot active USB 3.0 cable. It costs $179 plus $29 for shipping.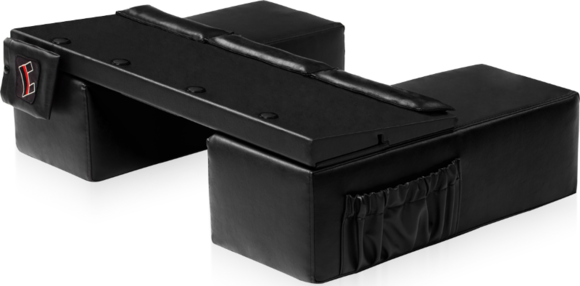 Spending more than seven grand on a PC is a fantasy for most people—this editor included—but the price tag is fully justified by the LEET's components, elegant design, awesome performance, and impeccable build quality. The three-year warranty—augmented by lifetime U.S.-based tech support that Steiger Dynamics provides—is icing on a deliciously ostentatious cake.
Editor's note: The price of the system changed slightly from when the video was recorded. As configured here, the LEET Home Theater PC sells for $7295.