At a Glance
Expert's Rating
Pros
Very thin and light
Great keyboard and trackpad
802.11ac Wi-Fi adapter
Cons
No SD card slot or hard-wired ethernet
Smallish battery
Our Verdict
Dell gets it mostly right with this tiny, tough-as-nails notebook. We dig the high-res touchscreen, but battery life could be better and it costs a bundle.
This third iteration of the Dell XPS 13 is definitely the best. It's a bit pricey at $1299 as configured, but that buys a sharp, nimble, and durable laptop with a fourth-generation Intel Core i5 processor, 8GB of memory, an SSD, and a 13.3-inch touchscreen display. If you're considering an Ultrabook—or a 13-inch MacBook Air—this machine should be on your short list.
Inside the XPS 13's sturdy shell you'll find much the same silicon as in many competing 13-inch Ultrabooks, including a mid-range Haswell-class processor (specifically, a Core i5-4200U, with an integrated Intel HD Graphics 4400 GPU) and a128GB SSD. But this model comes with 8GB DDR3/1600 memory, instead of the more typical 4GB.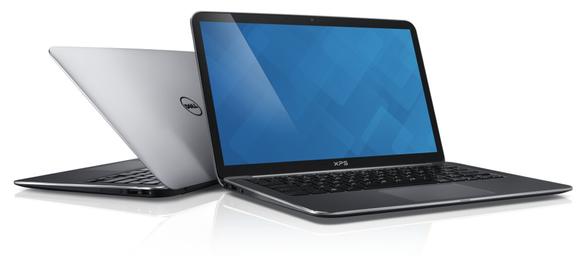 Small notebooks often feel cramped, but the more I use the XPS 13, the more I like it. Let's start with the new touchscreen, a rich 1920-by-1080 panel—protected by Gorilla Glass—that excels in nearly every way. The lid is astonishingly stiff, despite measuring slightly more than 1/8-inch thick. It hardly flexed at all when I gripped both sides and twisted. The same goes for the rest of the chassis, which is constructed from a blend of aluminum, magnesium, and carbon fiber.
When I used apps optimized for touch, such as Word, Excel, and Internet Explorer, touch commands worked smooth as silk even for multi-touch gestures like pinch-zoom. Display graphics and text are lively and crisp and very readable even when I looked at the screen from wide angles, both from the sides and from the top.
The display does have one glaring downside: It's very reflective. I was in a coffee shop one early morning, tapping away on the XPS 13, when the rising sun peeked over the rooftops behind me. The screen reflected so much light I could have used it as a mirror. I quickly changed seats.
Moving down to the island-style keyboard, I found a clean, spare layout in simple matte black trimmed in silver and gray. The backlit keys (with three brightness levels, including off) respond nimbly to the tap, provide adequate tactile feedback, and offer the right amount of friction—neither too slippery nor too tacky. That, plus the shallow dimple in the center of each key helps me land my fingertips on the keys I want, ultimately minimizing typos. Your office- and seat-mates, meanwhile, will appreciate keyboard's soft muted clicks.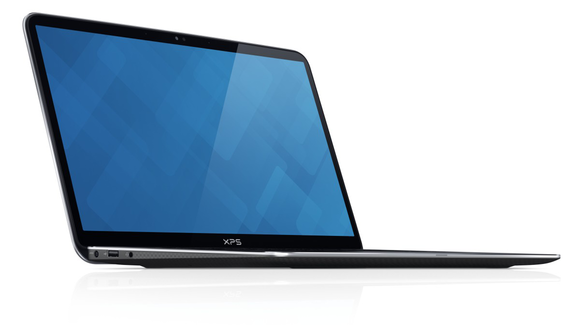 Still, I needed to adjust to this keyboard. Dell scrunched the six rows of keys down into four inches—that's at least a quarter-inch shorter than most. The company's engineers pulled this off by compressing each individual key by one sixteenth of an inch from top to bottom. I also found the Caps Lock key to be wider than typical, and since you don't need to press hard to trigger a keystroke, I found myself unintentionally typing in all caps. Fortunately, Dell embedded a blue LED on the key to alert me when it's been activated. Finally, as a writer I often use the Home and End keys to quickly navigate documents. The XPS 13's keyboard forces me to press three keys at the same time to use those functions.
The XPS 13's trackpad is very responsive, and it exhibits good palm rejection. I found the trackpad a little fiddly only when doing some multi-touch gestures, such as pinch-to-zoom.
Too few ports
Where does the XPS 13 let you down? You can't add or attach much stuff to it. This laptop has just two USB 3.0 ports, and you get nada in the way of slots—not even an SD card slot.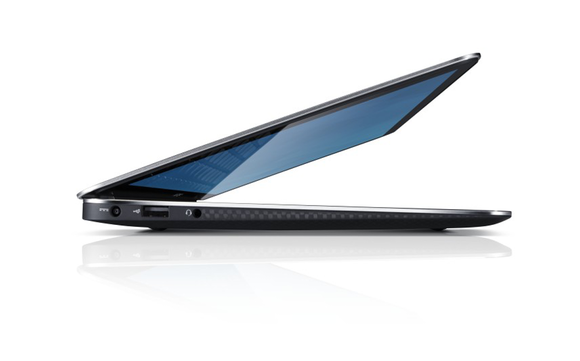 You'll want to carry at least a USB thumb drive with you. And since there's no hardwired ethernet port, a USB-to-ethernet adapter will be essential for those times when your only Internet option is wired. Sony's VAIO Pro 13 is equally small, but its engineers managed to squeeze an SD card slot into its chassis. Dell gives you an LED battery-life indicator, instead. (Come on, Dell, it's simple enough for us to hit Fn+F3 to check battery life.)
On the bright side, both USB ports are the always-on type that let you charge your smartphone or other battery-operated gadgets even when the laptop is otherwise powered down. I'm also happy to report that the XPS 13 is outfitted with Intel's Wireless-AC 7260, a dual-band, 2×2 adapter that supports the 802.11ac networking standard and provides Bluetooth 4.0 connectivity.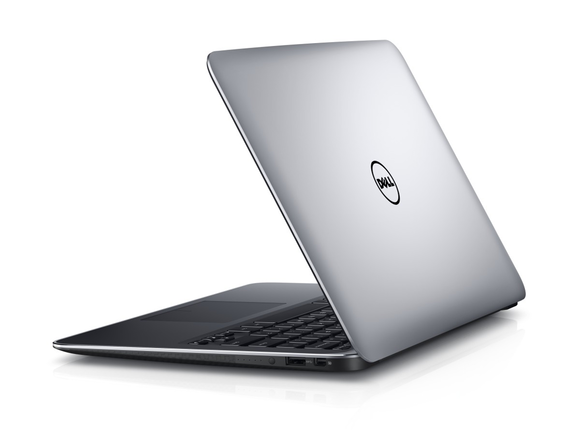 PCWorld's opinion is that DisplayPort is superior to HDMI, and the only video output on the XPS 13 is a mini DisplayPort. But in my personal opinion, HDMI is the more consumer-friendly interface—and XPS is one of Dell's consumer brands. I'll leave you to make up your own mind about that. Dell does offer options to desktop-ize the notebook—including a $140 USB 3.0 docking station with both DVI and HDMI outputs—but I didn't evaluate its performance.
For such a small machine, the XPS 13's speakers delivered remarkably full and rich sound that seemed to emanate from the entire keyboard deck. To get a sense of their dynamic range, I played the William Tell Overture, a widely ranging orchestral piece. In the Prelude, the soft low-register strings sounded surprisingly lush, and the rumble of the tympanis full and almost percussive. The audio experience starts to suffer as you move up the register. In the Storm and Pastorale sections (the latter we know from Bugs Bunny cartoons) the blaring horns and the counterpointing horn, flute, and triangle sound like they're coming out of a can. You won't mistake this Ultrabook for a Bose Wave Radio, but it sounds impressive for its size.
Performance
The system also works well for video chats and shooting selfies. The screen-mounted 1.3-megapixel webcam works better than many 2-megapixel models I've seen, delivering video with few under- and over-exposed areas, natural peach-pink color on face skin instead of the florid reds that some cheaper cams render, and the video plays smooth with few or no jaggy pixels even when displaying over the whole screen. The pair of embedded mics flanking the webcam record clear crisp speech from three feet away, though I had to crack up the volume to hear the playback.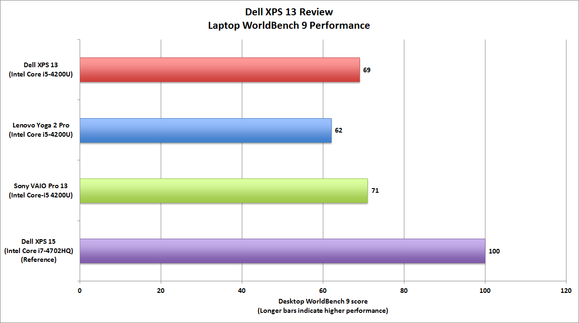 We measured the XPS 13's performance using our all-new Laptop WorldBench 9 test suite. This machine's more-powerful sibling, Dell's XPS 15, is our new comparison system, so it earns a score of 100. The XPS 13's WorldBench 9 score of 69 indicates that it delivers 69 percent of the performance of the XPS 15, which we reviewed in December, 2013.
That's a very good score: It's better than the Lenovo Yoga 2 Pro's score, and it's on par with Sony's VAIO Pro 13. The XPS 15 we're using for reference packs a Core i7-4702HQ, a 512GB SSD, 16GB of DDR3/1600 memory, and a discrete GPU—and it costs a kilobuck more than the XPS 13.
Gaming is another story. The XPS 13, which lacks a discrete graphics processor, falls far short in our Bioshock Infinite test. The reference XPS 15 machine, equipped with an Nvidia GeForce GT 750M, blitzed though the game with an ultra-smooth 44 frame per second (and that's with the game's resolution to 1920 by 1080 pixels with medium visual quality). The XPS 13 limped along at just 11 fps. If you want to play games, you'll need to dial the resolution way down.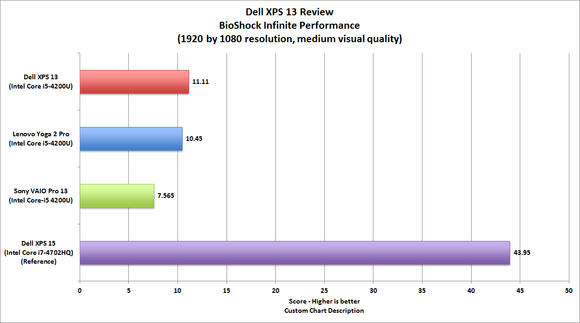 Like most small notebooks, the XPS 13 comes with a non-swappable battery, and it requires more than three hours to fully charge. Several other reviews have published battery-life results of more than 8 hours, but we managed to squeeze only 5 hours and 46 minutes out of ours. When we pinged Dell about this discrepancy and explained our methodology, a company rep said "your test/workload is moderately heavier than the other publications you mentioned early on, and you're testing panel-brightness brighter than they do."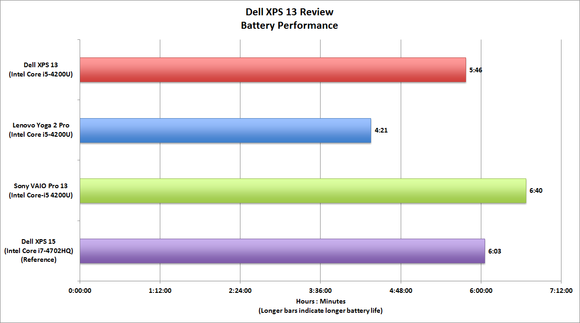 We think XPS 13 should be fine for watching a movie on a cross-country flight if you dial the brightness down a bit, and it should have plenty of juice if you just want to be productive in the air. It's worth noting, however, that Sony's VAIO Pro 13 delivered nearly an hour more battery life under the same test conditions. If you're wondering why the XPS 15 reference system lasted longer despite having a more powerful CPU, a larger SSD, and more memory, it's because our eval unit came with a 90WHr battery (the XPS 13 has a 55WHr battery).
The bottom line
The XPS 13 is thin and tough. When I shove it into my carry-on, I forget it's there until I need it. I don't feel it, and I don't worry about it. The only downsides: I'm casting around for a wall socket more often than I'd like, and its dearth of slots and ports drag it down a wee bit. And if you give a lot of presentations, need hard-wired ethernet, or carry a lot of files, you'll need to load up on dongles and a USB drive. But on the whole, it's a terrific little machine.