Faced with insurmountable piracy of its product, one of the world's foremost image repositories is trying a radical new way to convert pirates into licensees. Getty Images recently launched a new program that allows anyone to embed a wide variety of the stock photo agency's images into their websites for the low, low price of absolutely free.
The new program comes with several caveats, however. Use of Getty's photos online must be for non-commercial use, and the embed code includes credit and a link back to the original source. The company may also one day choose to include ads with its photo embeds. (Hey, photographers need to eat too.)
Getty decided to try out giving away its images for free to non-commercial websites because it simply couldn't stem the tide of infringement, the agency told The British Journal of Photography. Instead of paying for the image, website owners would simply save an image found on a paying customer's site where the Getty watermark would be removed.
So instead of allowing people to use Getty images unfettered, the agency is providing embed codes for more than 35 million images. The embed codes will allow Getty to maintain control over its images since all those embeds ultimately pull their content from Getty's servers.
If you'd like to try embedding a Getty image on your WordPress or Tumblr blog, here's how to do it.
How to use Getty's free images on your website
Visit this Getty Images search page to start looking for a photo you'd like to use. In our example, we searched for a shot of Microsoft co-founder Bill Gates.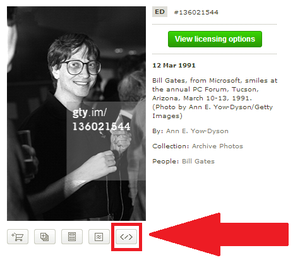 To see whether an image is embeddable—not all are—hover over it and look for an embed symbol at the bottom that looks like this: </>.
Click the embed symbol and a new window will open with the embed code. Simply copy and paste the code and drop it into your blog post's html (like you would with a YouTube video or Twitter embed code) and you're done.
In my tests on Tumblr, I just pretended I was inserting a video embed so the system would recognize the code. Along with the Getty credit and a link, the images also include options to share the photo on Twitter and Tumblr, or to re-embed the image on a different website.
Welcome to the wonderful world of free Getty Images!