At a Glance
Expert's Rating
Pros
Good-enough performance
Four USB 3.0 ports
Compact design, plus mounting bracket
Cons
Desktop design
The Web, but little else
Our Verdict
Although its lack of portability is a bit antiquated, the M004U's performance is perfectly adequate to the task at hand: surfing the Web for less.
Reviewing a Chromebox, any Chromebox, is a challenge. All you get is a small, featureless box. It runs a simple OS based on a web browser. So hunting around for points of differentiation between Chromebox A and Chromebox B is difficult.
At least Chromebooks bear all the hardware features of a typical PC notebook. They include a keyboard and display, and can be evaluated for their weight, shape and overall suitability as travel machines. But a Chromebox just… sits there. It can be a capable, desk-top vehicle for accessing the web via Google Chrome, and not much more.
So how should we compare Chromeboxes? Well, once you determine whether Chrome OS can meet your needs, you have to look at processing power and price.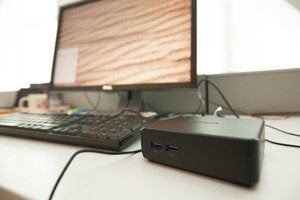 In 2012, Google handed out Core i5-based Samsung 300M Chromeboxes to attendees of its Google I/O conference, and I used the hardware as one of my main "PCs" for months afterward. I don't think I ever challenged its limits from a processor standpoint—and maybe I wasn't alone, as Samsung moved to a lower-performing dual-core Celeron in its Series 3 Chromebox.
Flash forward to the here and now: Asus is in the Chromebox game, and I recommend that if you're going to buy one of these "PCs," you should select the $179 dual-core Celeron version of the new Asus Chromebox instead of the pricier Core i3 and Core i7 options. The price is sweet, and you don't need Core-caliber power to run a web browser.
Physically, the Asus Chromebox is one of the more compact Chromebox options available: It measures just 4.9 inches by 4.9 inches by 1.67 inches. And if that footprint isn't small enough, Asus includes a bracket for mounting it on a wall.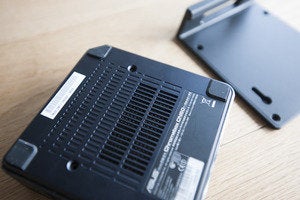 Asus placed two USB 3.0 ports on the front of the box; a MMC/SD slot and a keyboard lock on the side; and power, Ethernet, HDMI, DisplayPort, a headphone/mic jack, and two more USB 3.0 slots on the rear. Dual-band 802.11 a/b/g/n and Bluetooth 4.0 are included as well.
Few real-life applications can stress-test a Chromebox besides a multi-party Google Hangout and a few browser-based applications. In our synthetic benchmarks, however, the Asus Chromebox blew away the Chromebook Series 3 but slightly underperformed the Toshiba CB35-A3120, which we reviewed in February. In our SunSpider test, the Asus Chromebox returned a score of 423 ms, and generated a score of 2,661 in our PeaceKeeper test.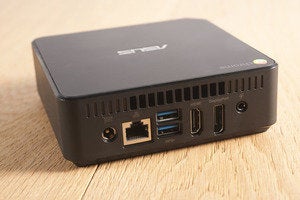 Subjectively, the Asus Chromebox felt snappy, both while browsing the web and playing a few Flash games. (Java and Silverlight remain unsupported, and, remember, the number of ChromeOS packaged apps is still woefully small.)
The M004U comes with either 2GB or 4GB of RAM, plus Intel integrated graphics, but the key spec might be storage: There's 16 GB of internal flash, plus 100GB of Google's Google Drive cloud storage for not one, but two years.
From a productivity standpoint, we're inclined to recommend a Chromebook like the $279 Toshiba CB35-A3120 for people who have their hearts set on Chrome OS hardware. A Chromebook, after all, can be picked up and moved from place to place. But if you already own a modern monitor and keyboard, the Asus CN60's dirt-cheap $179 price point for accessing the Web looks awfully appealing. (Asus plans to sell a "custom designed keyboard and mouse package for Chrome OS" starting in April.)
(Note: The sample Asus provided for review bears a "CN60" product number, but Asus confirmed that it is identical to the M004U.)
Note: When you purchase something after clicking links in our articles, we may earn a small commission. Read our affiliate link policy for more details.
As PCWorld's senior editor, Mark focuses on Microsoft news and chip technology, among other beats. He has formerly written for PCMag, BYTE, Slashdot, eWEEK, and ReadWrite.