With the introduction of Office 365 Home Premium last year, Microsoft radically changed the way it delivers Office to consumers. Instead of just offering an Office suite that includes a varied number of applications priced anywhere from $140-$400, the software maker wagered you'd pay $100 per year to get access to all of the Office apps and the right to install them on up to 5 PCs, plus extra Skype minutes and OneDrive storage.
The addition of Skype and OneDrive isn't just a frill. Driven by competition from Google Apps, Microsoft's new approach to Office focuses on making your documents available to you everywhere and facilitating easy collaboration and file sharing.
So now that we're one year into this new era of Microsoft Office, how is the suite doing? How well do the desktop, Web, and mobile apps work together to keep you productive no matter where you are?
To find out, we adjusted our workflow to rely solely on Office 2013, Office Online and Office Mobile for Android (Office 365 Home Premium subscription required). Here's how we found the current state of Office collaboration for working together in real time, maintaining a canonical version of your collaborative document, and editing files on the go.
Simple sharing and live collaboration
The last time we looked at live collaboration in Office, we said that Microsoft wanted to "empower people to collaborate on documents, but its new Office suites don't make things easy."
Little has changed on this front, although there has been one major improvement. Microsoft's Web apps, recently renamed Office Online, now feature live typing. If both you and your fellow editors are working on a document together, you will see document changes as they happen.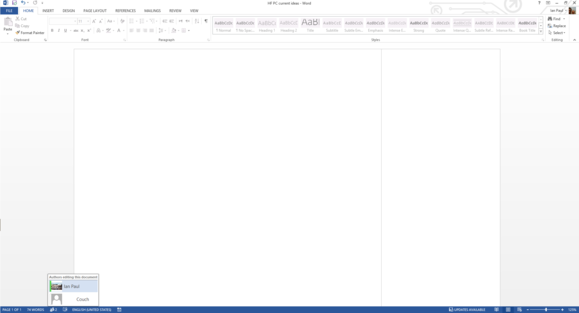 Live collaboration on the desktop, however, is trickier. The main problem is that while Office 2013 desktop apps connect to the cloud, their collaboration features don't behave the same way as the Web-based applications do.
When you start collaborating from the desktop, a pop-up notification appears at the bottom of the app to alert you that someone else is editing the document. But in our tests in Word, Excel, and OneNote, several minutes passed before the desktop user received the notification. In some cases, changes to the document were available before we were notified that another person was editing the document.
Sending and receiving changes is also problematic, because each involves a different method. To send changes to OneDrive where your fellow collaborators can see them, you simply press save, and that automatically pushes your changes to the cloud. But to receive changes made by another editor, you have to wait until an "updates available" notification appears in the bottom right of the window and then click it. Until you do that, not even saving your document will pull down those recent changes from OneDrive.
It's understandable how Microsoft may have come to this decision. Without the cue of live typing, edits that automatically appeared on the desktop app after a save could quickly become confusing. The end result, however, is you have to integrate separate steps into your workflow to send and receive changes to a document during collaboration.
Once you receive changes, they are highlighted so that you can easily see what was added by another editor.
Another persistent quirk of live collaboration is you cannot co-edit an Excel document from the desktop. Everyone must be working in Excel Online for live collaboration on spreadsheets to work.
Chatting
Office provides two ways to chat with collaborators. If you're using the desktop version and you have Skype for desktop open (or Lync for enterprise users) you can chat within that app. On the Web, you can use the built-in messaging client in OneDrive and Outlook.com.
Chatting on the desktop is pretty straightforward. If you hover over an editor's name in the bottom left side of any Office app, you'll see a modern-UI-style contact card with options for text chat, email, and voice and video calls. Click the chat icon and you are immediately pushed over to Skype/Lync.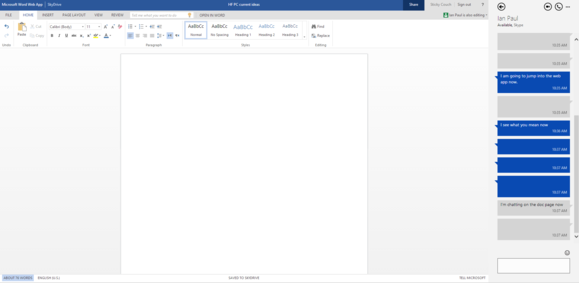 However, you can't initiate a chat directly in the consumer-grade version of Office Online. Instead, you have to go back to your OneDrive dashboard and click the messaging icon in the top-left corner. This automatically opens the chat sidebar in any of the online apps, but it's an unnecessary extra step. One workaround is to always keep your messaging sidebar open in the OneDrive Web app, which forces the messaging feature to appear in any document you open.
Another not-so-obvious issue for both Office Online and the desktop is that you can't chat with a collaborator unless they are already added to your Skype contacts. You would think that simultaneously editing the same document implies the need to have a discussion, but that's not the way it works.
Microsoft's Web-based chat component doesn't have chime notifications to let you know someone has messaged you. Without an audio cue, you'll have to keep your eye on any collaborative browser tabs you have open so you don't miss out on important communications.
Commenting
Commenting is essential in any collaboration tool, but before Word 2013, comments were often messy, poorly laid out, and incredibly confusing to work with.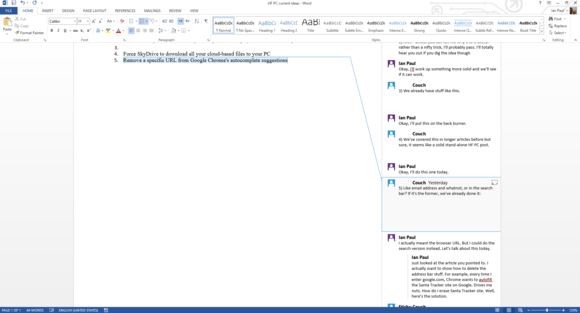 Not so with Office 2013. The modern-UI-inspired commenting system is much clearer and easier to read. Comments are off to the right of the document just like before, but instead of a series of balloons, you get comments organized into blocks. Hover over a comment with your mouse and Word immediately shows you the section it's attached to. If you've avoided using comments in earlier versions of Office, they're well worth reconsidering.
Office on Android
The biggest change to Office over the past year was the introduction of apps for Android phones and iPhones. (The iOS version will install on an iPad, but Android tablet users are out of luck.)
You won't find any live collaboration features, such as the ability to view live typing or to chat with editors, on these apps. Nevertheless, I found the Android app worked well for making quick edits, viewing comments, or monitoring document additions while on the go. If mobile chat is something you absolutely need, there's always the Skype and Lync mobile apps, but switching between Office and Skype/Lync on a smartphone can quickly become a hassle.
Tracked changes are a glaring omission from Office mobile. You also won't be able to differentiate between each editor's contributions on a collaborative document the way you can on the desktop or Web app.
Web apps
The assumption with Office Online is that the apps are deliberately hobbled so they don't undermine the company's desktop business. That may be true, but Microsoft has the fundamentals covered with its Web apps and has slowly been incorporating new features.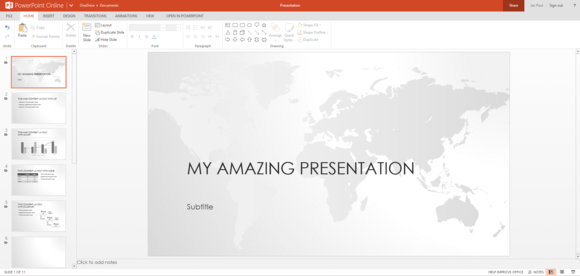 Last summer, Excel Online added the ability to create freeze panes, and Word now auto-saves your document. So if you need basic spreadsheet or word processing functionality or want to see live typing as you collaborate in real-time, Office Online will work for you. Once you need to do something particularly advanced, however, like creating PivotTables or sparklines in Excel, you'll need the desktop apps.
The verdict
More so than any other version of Office, Office 2013 and the new Office 365 service try to try to make collaborating with colleagues a simple, seamless experience. It's moved closer to that goal thanks to gradual improvements to the Web apps and the addition of mobile versions of Office for Android and iOS. Unfortunately, features like chatting and live editing are often unwieldy. Until Microsoft can work out these and other idiosyncrasies, it will be hard to take Office seriously as a collaboration contender.