Between email, Web pages, books and other texts, we each read thousands of words a day. A company called Spritz has spent the last few years in stealth mode, developing a technology to help us read even more, in less time.
Spritz—which is both the name of the technology and the verb for using it—streams text on your screen one word at a time, which, the company claims, allows your brain to comprehend it much more quickly and easily. Their trademarked tagline is "Reading Reimagined," and after playing with the technology a bit I have to agree.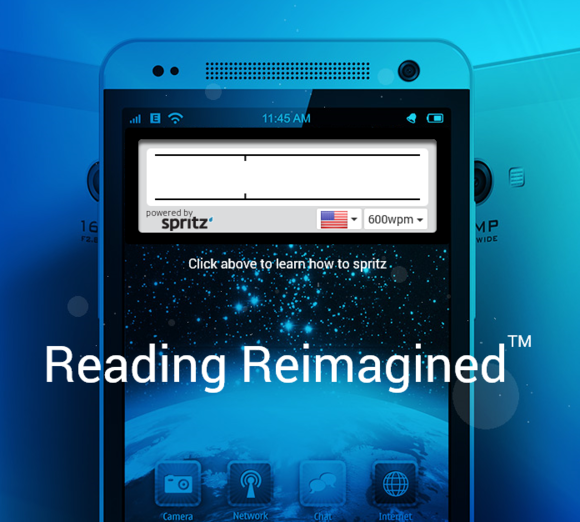 Spritz relies on something the company has dubbed the Optimal Recognition Point (ORP). Spritz claims your brain processes the information it's taking in once your eyes reach the ORP of a given word, and it's trained to process the data as a complete, coherent thought once it reaches punctuation.
According to Spritz, 80 percent of the time you spend reading is devoted to physically moving your eyes from one word to the next in search of the ORP, while only 20 percent is spent actually processing the information. To speed things up, Spritz reformats the text and aligns it based on the ORP so there is essentially no physical eye movement, and almost all of your time is spent taking in data.
The Spritz Web page explains what makes Spritz different from other speed reading systems: "There are lots of other reading techniques out there such as skimming (not reading every word), avoiding sub-vocalization (talking to yourself while reading) and enlarging the peripheral span (reading an entire page at a time by mental "snapshot") that attempt to increase reading speeds. While these methods can be effective, achieving significant improvement requires intensive, continuous training and dedication. By contrast, spritzing can be learned in less than 5 minutes and, if you don't spritz for a month, no practice is needed to return quickly to your previous speed or skill-level."
I am a more voracious reader than most—but not voracious enough to keep up with the pace at which I buy new books. I have tried different traditional speed reading programs over the years with limited success. Spritz seems to work for me.
I wouldn't necessarily want to read fiction using Spritz. When I read a Dan Brown novel, or The Hunger Games, I want to take in the nuance of the dialogue. I want to give my brain time to imagine the scene being described, and I want to use sub-vocalization to "hear" the different character voices in my head.
For other texts, however, Spritz would be helpful. Imagine how much more productive you'd be if you could get through all your email in a fifth of the time it normally takes you. I would love to see Amazon partner with Spritz—or just buy it outright—and incorporate the technology as an option when reading a Kindle book.
I can't wait to take advantage of Spritz, but sadly I'll have to. Spritz will be pre-installed on the new Samsung Galaxy S5 and the Galaxy Gear 2 smartwatch, but as of right now it's not available any other way. Hopefully it will soon be incorporated into iOS, or at least into iOS apps.
If you want to test out Spritz for yourself, visit the Spritz website. At the upper right there is a button labeled "click to spritz," which brings up a box displaying text using Spritz technology. There is a dropdown box at the bottom right that allows you to select how fast, in words per minute, the text zooms by.
Try it out. I think you'll be amazed at how much more effectively and efficiently you can read.