Ubuntu 14.04 "Trusty Tahr" isn't scheduled for final release until April 17, but because it's a Long-Term Support version, its arrival is the focus of considerable anticipation, particularly among business users.
We won't get to see its final form for some time, of course, but there's nothing like a beta version to give us a sneak preview, and that's just what Canonical released last week. The main Ubuntu Linux didn't participate in this first beta, but numerous other spins did, including Kubuntu, Lubuntu, Xubuntu and Ubuntu GNOME.
Though they're just for testing, they can be downloaded now from the Ubuntu Wiki. Alternatively, read on for the "Cliffs Notes" version summarizing some key highlights.
KDE-based Kubuntu
Starting with Kubuntu, the KDE Applications 4.12.2 suite that's included brings with it "dozens of bug fixes," Canonical says. Mozilla Firefox 27 is the software's default Web browser.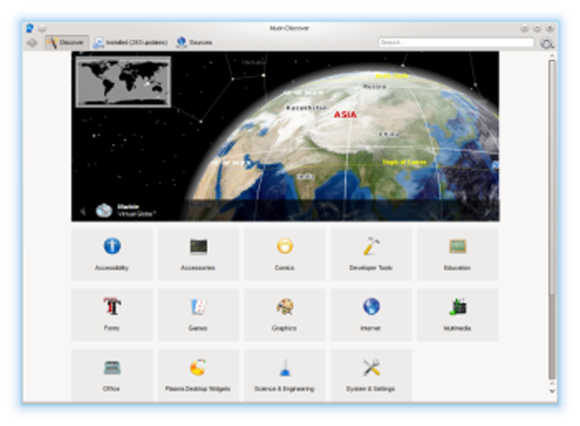 Muon 2.2 Alpha 1, meanwhile, is "the first step towards a new version of Kubuntu's software store," the project team says. Though the interface remains familiar, new tweaks aim to make Muon more robust.
Other Kubuntu improvements in this beta release are an all-new driver manager, new touchpad configuration tools, better localization configuration, automatic crash reporting and an improved USB creator.
LXDE-based Lubuntu
For those of us who prefer Lubuntu with its lightweight LXDE desktop, Lubuntu 14.04's Beta 1 brings a suite of applications including the PCManFM file manager, the Openbox window manager, the LightDM display manager, and Firefox.
The new PCManFM version 1.2.0 offers new features such as folder settings, dual-pane view, and menu editing. Lubuntu 14.04 also offers updated artwork, including new icons and a theme update.
Xfce-based Xubuntu
Xfce is another popular lightweight desktop, and it's the one used in Xubuntu, which has also received a raft of updates. Included among the apps it brings are gmusicbrowser 1.11.1, with "a lot of bug fixes and new features," the project team says; Catfish 1.0.0; Xfwm4; and Xfdesktop, which offers individual wallpapers for each workspace and a chronological wallpaper-sorting option, among other new features.
Light Locker replaces XScreenSaver for screen locking in this new release, Mugshot is included for editing personal preferences, MenuLibre 2.0.1 replaces Alacarte for editing menus, and there's a community wallpapers package.
Also notable is that the gThumb image viewer and organizer has been dropped in this release, but Ristretto is still included for viewing photos.
Ubuntu GNOME
Last but not least, the GNOME-based flavor of Ubuntu has also received a number of updates in this first "Trusty Tahr" beta version, including most notably the inclusion of GNOME Shell 3.10. Many apps have now been updated to GNOME 3.10, and apps for weather, maps, photos, and music are all available for installation.
Also interesting is that a GNOME Classic session is included this time around for those who prefer a more traditional desktop feel reminiscent of the old, well-loved GNOME 2.
Not long ago we learned that Ubuntu will be ditching Unity's global menu and returning to in-app menus instead. I'm hoping we'll see that later this month when the next beta release arrives, since the main, Unity-based Ubuntu version will be participating in that one. Stay tuned for more updates when that happens.