It's no secret that Android is the target for almost all identified mobile malware. Generally speaking, though, if you stick to the official Google Play store your odds of downloading something nefarious are significantly lower than when you download apps from a third-party app store. That isn't always the case, though, as AVAST claims to have discovered an app in the Google Play app store designed to steal your money.
The app is called Cámara Visión Nocturna—which is Spanish for "night vision camera"—and the name seems ironically apropos for an app engineered to rob you blind. As I write this, it's still available for download.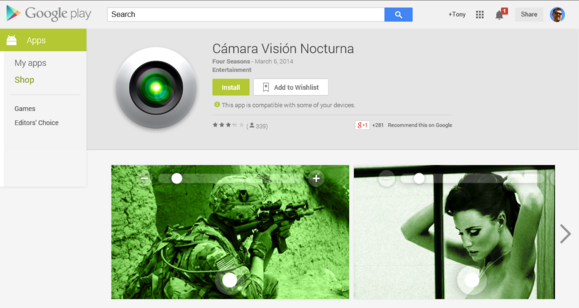 On the Google Play site, the app description reads: "Want to make the most original photos when out at night without having to use the flash? Or you love to take pictures of your neighbor while changing? As the night vision camera will be your favorite app! Finally you can take photos at night without anyone noticing. Make original photos when you go running or your partner while sleeping. The camera night vision application is very easy to use and lets you take pictures at night without having to use external light. Besides the night vision camera app contains no advertising or annoying banners."
According to AVAST the app requests a variety of permissions for functions that are suspicious for a camera app. AVAST engineers determined that it attempts to retrieve phone numbers from apps like WhatsApp or ChatOn and subscribe them to a premium messaging service.
The numbers are sent to a server, and you are billed $2.80 for the privilege of being surreptitiously subscribed to the shady SMS service. But wait, there's more! The app will continue sending messages to the premium SMS service to the tune of about $50 per month.
This doesn't mean you should abandon the Google Play store, or stop using Android. Every operating system and mobile platform has some issues, and depending on how you slice the data Android may actually be safer than others. The most important thing is that you're aware that mobile malware exists and that you don't grant permission to apps without considering why it may want access to certain functions.
In addition, it makes sense to use some sort of mobile security or antimalware solution. AVAST states that its mobile security software will detect and block this threat, so even if you're not paying attention at least your security software can watch your back.