Welcome to Missing Pieces, our weekly games wrap-up where we round up the interesting stories that didn't quite make it through the dastardly news gauntlet on our site as a standalone article.
This week on Missing Pieces: Twitch beats Pokemon, Batman gets his license, and you turned into Jerry Seinfeld. Surprise!
Dragon Age looks pretty
I have no idea what Dragon Age: Inquisition will be like. After the brilliant Origins and its disappointing sequel, this third game is a total crapshoot.
But at least it will look gorgeous. If looking at Ken Burns-esque shots of environment textures is your thing, the below trailer is a real treat.
Titanfall marketing gets 8-bit
For whatever reason, EA has produced crossovers of Titanfall and classic arcade games—Asteroids is already released, with Missile Command and Centipede on the way. As you may have guessed, you control a Titan in each one.
I don't even know.
Twitch beats Pokemon
Yes, the wonderful experience of Twitch Plays Pokemon came to an end earlier this week when, by the power of Lord Helix, the collective hivemind finally beat the Elite Four and bested its rival.
And by "end" I mean "everyone immediately dove into Pokemon Crystal." Head on over to the Twitch Plays Pokemon stream if you want to see people struggle through the second generation, though there's no doubt the zeitgeist has cooled a bit.
Arkham Universe
Another year, another Batman—this one subtitled Arkham Knight. (That's not quite as catchy as Darkham Knight, but I digress.) This time you'll get to cruise around in the Batmobile, hopefully in some sort of Twisted Metal-esque demolition derby.
See below for the official trailer:
Bring out your souls
Brief bit of news here: Dark Souls II will release on PC April 25, after launching on the PlayStation 3 and Xbox 360 on Friday, March 14. Oh, how I hate staggered console/PC releases.
Naughty Dog loses Amy Hennig
Amy Hennig, writer and development lead on the Uncharted series, departed Naughty Dog this week for unknown reasons. Naughty Dog says her departure will not delay development on Uncharted 4. Regardless, it's a real shame. Hennig's knack for characterization is part of what made Uncharted so great to begin with.
…but gains a film
On the flip side of things, Naughty Dog announced a Last of Us movie is in the works, and unlike most video game films, this one will be written by Naughty Dog itself—creative director Neil Druckmann, to be exact.
I'll believe it when I see it.
I want to be the Jerry
This week in all things Oculus Rift: Someone recreated Jerry Seinfeld's apartment in VR.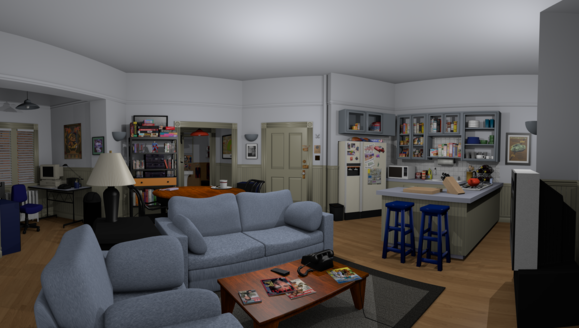 "I tried to be faithful to the show's original props and it's era, but some things were near impossible to Google. I did a lot of research and tried to find images of the original products used in the show, and modeled around those dimensions, rather than relying solely on blurry screen shots," writes Greg Miller, the creator of the project. You can grab it here—you know, provided you have a Rift dev kit to try it out on.
Jack Tretton leaves PlayStation
Sony Computer Entertainment CEO Jack Tretton is leaving at the end of March, after presiding over every PlayStation launch since the dawn of time.
"This is a result of a mutual agreement between Mr. Tretton and SCEA not to renew their contractual relationship," according to a Sony statement. He will be replaced by Shawn Layden, currently COO and VP of Sony Network Entertainment International.
Good luck, Tretton. We'll never forget your smug smile as you point-by-point destroyed Microsoft's Xbox One plans during E3 last year.
The hits keep coming
There were a double helping of layoffs this week. Eidos Montreal cut 27 people in the wake of Thief's release, and Disney Interactive laid off an astounding 700 people (though the Disney Infinity team and Avalanche Software were unaffected).
More reading
Missed anything this week? Here's some light reading: Valve boss Gabe Newell did a Q&A on Reddit, Microsoft's game-slash-dev tool Project Spark entered beta on the Xbox One, we got hands-on with OnLive's revamped service, Microsoft announced that DirectX 12 is on its way, I rounded up a bunch of crazy mods (zombie teletubbies, anyone?) and we've got reviews of both South Park: The Stick of Truth and Shadowrun: Dragonfall.
Whew! That's a lot of gaming news, but there's no rest for the weary. Check back next week for more Missing Pieces.