Deutsche Telekom's T-Systems have along with luggage maker Rimowa developed a line of suitcases with GPS, Wi-Fi and GSM to help users keep track of them.
Machine-to-machine communications in all shapes and sizes is a returning trend at this year's Cebit trade show in Hanover, Germany. The Bag2Go suitcases, which will go on sale worldwide before the end of the year, are among several products being demonstrated at Deutsche Telekom's stand. Aircraft manufacturer Airbus also helped with the development.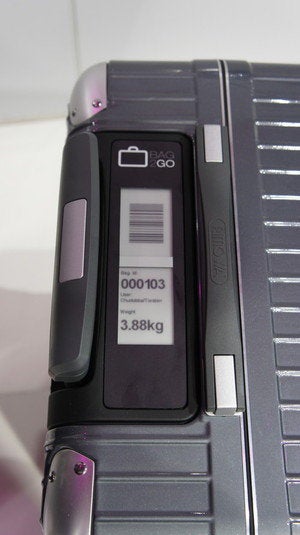 Via a smartphone app, the owner can check the location of their suitcase at any time, regardless of where in the world it happens to be (except when it's on a plane). Also, in the interest of improving security, the traveler is immediately informed whenever the suitcase is opened, according to T-Systems.
Bags and the app are paired by scanning a barcode shown on an e-ink screen that's been integrated on top of the suitcase. The process took less than 30 seconds when demonstrated at Cebit. The app can be used to check in and track multiple suitcases at the same time. To see where they are located, the user clicks on the bag they are interested in and it's shown on a map.
The screen also displays the name of the bag, its owner and how much the bag weighs. The screen is combined with a communications module that integrates a SIM card with GSM, GPS and Wi-Fi. There is also an NFC (near field communication) chip that can be used by staff at the airport or a logistics company to see where the suitcase is going.
Cost of the Bag2Go suitcases hasn't been decided.