Element 14, the company that manufactures Raspberry Pi, just upped the audio chops of the $25 single-board computer. The company recently released a $33 audio card that promises PC-like audio capture capabilities for the Pi.
Element 14's Wolfson Audio Card, created in collaboration with Wolfson Audio, first showed up as a prototype in November and recently became available for purchase worldwide.
Raspberry Pi already had audio capabilities via its HDMI port, but the Wolfson Audio card extends and improves these capabilities. The device uses the Wolfson WM5102 low-power audio system designed for smartphones, tablets, and other small devices.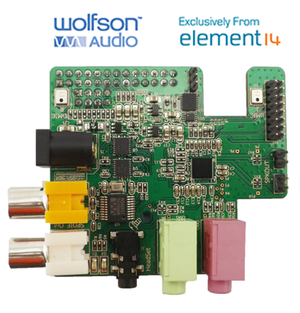 The audio card supports up to a 192kHz sample rate and 8 channel input. The board's inputs include S/PDIF in/out, a 3.5mm headset jack, microphones for direct audio capture, and standard line in and out jacks.
Element 14 and Wolfson are aiming to make it easier to use the Raspberry Pi in a variety of projects thanks to the new sounds card. The companies see the new audio card as being useful to create video capture devices, networked audio receivers, and voice over IP applications.
Those are just some starting ideas, however. With Raspberry Pi hobbyists already cooking up everything from NES emulators to desktop radios that read audiobooks and Dropbox clones, the new audio card is sure to be put to good use.
The Wolfson audio card only works with revision 2 Raspberry Pi boards and up, requiring an 8-pin P5 header.
[via Engadget]