Have an idea for a song, but no keyboard or instruments handy? There's new software launching soon to fix that.
"Imitone" is a desktop app that can convert your own singing—or humming or whistling—into digital notes on your computer. The software acts as a MIDI (musical instrument digital interface) controller, so instead of having to use a USB keyboard, you can sing into your computer's microphone and Imitone's pitch detection figures out what the notes are.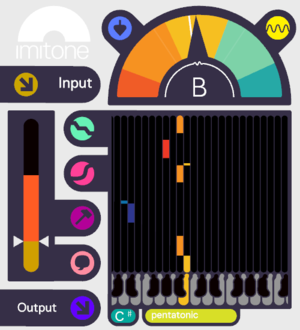 Because the app works as a MIDI keyboard, a range of other music recording programs can detect the notes and use them to create songs, said Evan Balster, the lead developer behind the project. Software like GarageBand can also convert the singing into other instruments like a violin or flute. The app is designed to help people who want to create music, but who may not have the MIDI instruments or keyboards often required.
A Kickstarter campaign for the app started on Tuesday. Balster aims to launch some version of the product regardless of whether the campaign hits its $20,000 goal.
Balster aims to launch Imitone in May for Mac and Windows machines, with early access to the beta version for people who pledge at least $20. A version with more features, such as adjustable tuning and more visualization tools, will be made available for people who pledge at least $60.
There are programs already available that provide some similar functions to Imitone. For smartphone users, there's ScoreCloud Express, which turns people's singing into annotated music. On the desktop, there's Digital Ear, for converting singing and other instruments into MIDI files. And there's also Sibelius and Finale, two of the most popular music notation and composition software products for the desktop.
But Imitone is designed to be easier to use for less advanced musicians who don't want to use a MIDI keyboard, Balster said, and it can connect with major music recording products including GarageBand, Logic and Pro Tools. Another advantage of Imitone, he said, is that it works in real time. A demo on the Kickstarter page shows a singer's wordless "ba bums" being converted into MIDI notes instantly.
Imitone is the first app to come out of Interactopia, a company Balster started to launch other software. Next up is an epic adventure game, he said. Balster previously worked as a software developer for independent games including Crypt of the NecroDancer and SoundSelf.