Nvidia announced a top-to-bottom refresh of its mobile graphics processor line Wednesday, promising chips that deliver more horsepower while consuming less electrical power. The company also announced a number of new design wins with big-name gaming laptop builders such as Alienware and Razer, as well as more mainstream OEMs like Lenovo.
While PC sales in general continue to decline, sales of gaming PCs—particularly notebook gaming PCs—remain strong. According to a DFC/PC Gaming Alliance report, the PC gaming industry as a whole generated $25 billion in revenue in 2013, and those numbers are expected to grow by 8 percent annually.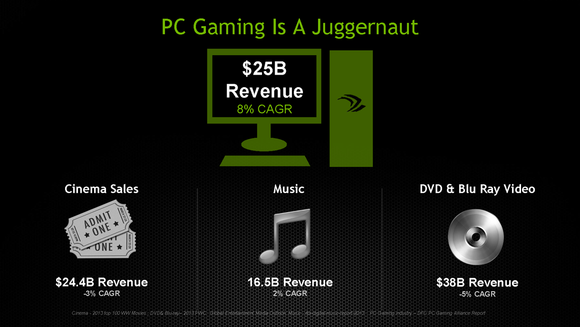 Nvidia expects that sales of gaming notebooks will continue to rise as the systems become thinner, lighter, and more capable. Three years ago, according to Nvidia, the typical notebook that used the company's flagship notebook GPU to achieve playable frame rates with AAA games at a resolution of 1920 by 1080 pixels had to be two inches thick. Today, a notebook using Nvidia's GeForce GTX 850M can be as thin as 0.82 inches, and it will play games at that resolution 30 percent faster.
The most powerful of Nvidia's new GPUs—the GeForce GTX 880M and the GeForce GTX 870M—are based on Nvidia's 28nm Kepler microarchitecture. Kepler also forms the basis of Nvidia's most powerful desktop GPUs, including the GeForce GTX Titan Black. The GeForce GTX 850M is based on Nvidia's newer 28nm microarchitecture, codenamed Maxwell.
A third processor—the GeForce GTX 860M—will be available in either a Kepler or a Maxwell version, depending on what the OEM needs (both GPUs will deliver similar performance, according to Nvidia, but they'll have different power consumption and heat dissipation characteristics). Nvidia also announced three lesser GPUs: the Maxwell-based GeForce 840M and GeForce 830M; and the GeForce 820M, which is based on Nvidia's older 28nm Fermi microarchitecture.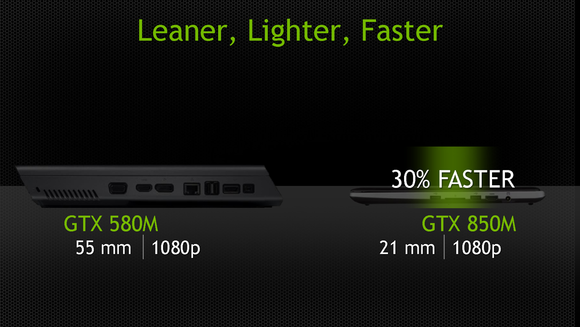 Nvidia says its GeForce GTX 880M and 870M will deliver high-end games such as Metro: Last Light, Assassin's Creed IV: Black Flag, Batman: Arkham Origins, and Call of Duty: Ghosts at 1080p resolution with "ultra" image quality at a minimum of 30 frames per second. The GeForce GTX 860M and 850M will deliver those same games at that resolution with "high" image quality at a minimum of 30 frames per second.
Each of the new GPUs will offer the same set of features: Battery Boost power management, ShadowPlay video capture, GameStream (for streaming games from a host PC to a GameStream-compatible device, such as Nvidia's Shield), and Optimus (for automatically switching between the graphics processor integrated into the laptop's CPU and Nvidia's discrete GPU, depending on the workload). Some of these features currently exist in other Nvidia notebook GPUs, while others are entirely new to the line. The one exception is that processors from the GeForce GTX 850M down will not support Nvidia's SLI dual-GPU technology.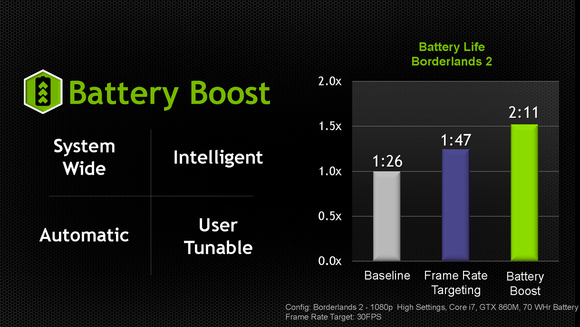 Nvidia's Battery Boost technology is a new driver-level performance governor that automatically kicks in when the notebook is unplugged from an AC power source. Battery Boost takes control of the notebook's CPU, GPU, and memory and automatically reduces screen brightness, resolution, image quality, and frame rate (with a target of 30 frames per second) to reduce the load on its battery, so you can play games longer. Nvidia claims it can as much as double the gaming time while on battery power, compared to gaming without Battery Boost enabled. Users can tune any of its settings, including the target frame rate, or turn off the software altogether if they don't want to use it.
ShadowPlay is a video-capture technology that's already available on Nvidia's desktop GPUs. Now coming to Nvidia's notebook GPUs as well, ShadowPlay allows gamers to record their gaming sessions in real time at up to 1080p resolution. The software automatically captures the most recent 20 minutes of gameplay. When something exciting or brag-worthy happens in the game, hit a hotkey and the computer will write that sequence to storage using the h.264 hardware video encoder in the Kepler architecture, or the h.265 hardware video encoder in the Maxwell architecture. There's also a manual mode that will record an unlimited amount of gameplay.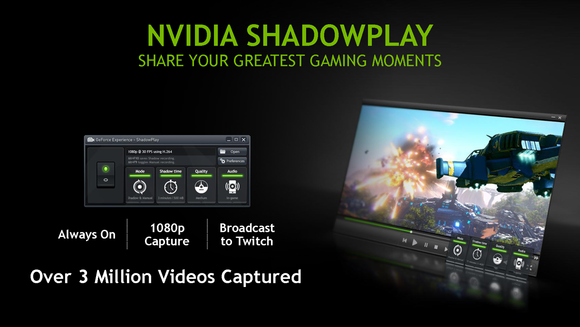 ShadowPlay can also automatically broadcast your gaming sessions on the Twitch video platform for spectators to watch. If you already own a laptop with a GeForce 700M or GeForce 600M-series GPU, ShadowPlay will be backward-compatible. But you'll have to wait until later this month, when Nvidia releases a new version of its GeForce Experience software suite, of which ShadowPlay is a part. Nvidia claims that gamers have already captured more than three million videos using its technology.
Nvidia's GameStream technology allows you to stream a game from a host PC with a GeForce GPU over your wireless network to a compatible GameStream device, such as Nvidia's Shield handheld gaming device. You can control the game using the Shield's joysticks and buttons and watch it on the Shield's display, or output the Shield's video to your HDTV using an HDMI cable.
Since nearly all notebook PCs have CPUs with integrated graphics these days, relying on a discrete graphics processor for every task would waste a lot of battery time. That's where Nvidia's Optimus technology comes into play. When you're running applications that don't require a lot of video or graphics horsepower, Optimus essentially shuts down the GPU and lets the CPU handle the workload. When you switch to a game or some other application that will benefit from running on the GPU, Optimus powers it up and assigns all rendering calls to it. At this point, the CPU's integrated GPU is used as a display controller, so there's no need to reboot. Optimus already exists for all of Nvidia's notebook GPUs.
While Intel has made great strides with its integrated graphics over the years, even the CPUs based on its Haswell microarchitecture struggle when it comes to playing AAA games at high resolution and image quality. Nvidia claims that 85 percent of games are unplayable with the Intel HD Graphics 4400 processor embedded in mainstream fourth-generation Core processors, and that 75 percent of games are unplayable with the Intel Iris 5100 integrated GPU found in Intel's most-expensive fourth-generation Core processors (Nvidia defines "playable" as 30 frames per second at resolution of 1366 by 768, with no significant visual defects).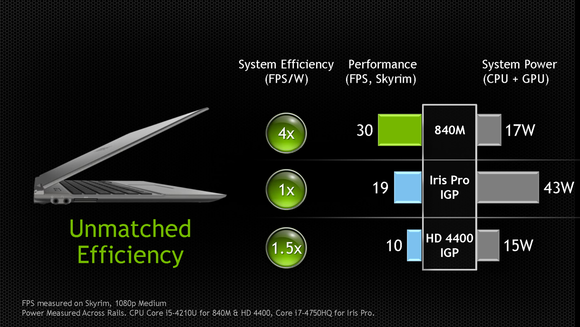 Nvidia claims to have an even bigger competitive advantage when it comes to power consumption—a critical issue when you're talking about a notebook PC running on a battery. According to Nvidia, if you play the epic role-playing game Elder Scrolls at 1080p resolution with medium image quality on a notebook with an Intel Core i5-4210U, you'll get a frame rate of just 10 frames per second, while the CPU and integrated GPU will consume 15 watts of power between the two components. Play the game at the same resolution and image quality on a notebook with the same CPU, but with Nvidia's GeForce GTX 840M processor, and the company claims you'll get 30 frames per second while the two components consume 17 watts—three times the frame rate at an added power cost of just two watts.
Nvidia is making an even more impressive efficiency claim in comparison to Intel's best integrated GPU, the Iris Pro Graphics 5200. According to Nvidia, a notebook equipped with an Intel Core i7-4750HQ processor will consume a massive 43 watts of power while delivering Skyrim at the resolution described above, at just 19 frames per second. We can't independently verify these claims, because the PCWorld lab is not equipped with the test instruments that are capable of isolating power consumption for these two components, but we've asked Intel for comment and will update this story when we hear back.
Nvidia has announced a significant number of design wins for its GeForce 800-series processor, including models from Alienware, Asus, Gigabyte, Lenovo, MSI, and Razer. Boutique PC manufacturer Origin also announced that its Eon series of gaming notebooks will use the new GPU. We imagine there will be more.
Update: You can read our hands-on preview of the all-new Razer Blade and Razer Blade Pro right here.