Another year, another round of vastly improved ultra-thin gaming laptops from Razer. Last week I ventured to an undisclosed office location to check out the 2014 updates to the company's Razer Blade and Razer Blade Pro, and these already drool-worthy devices look even better than before—particularly the Razer Blade, which now packs a display with even higher resolution than Apple's Retina display, and a whole lot more. Read on for my hands-on impressions of both.
Razer Blade
Razer's gone all-in on the diminutive Blade this year, overhauling the screen, the internals, the keyboard—everything, really.
The Blade's screen is their pride and joy. The Blade's press releases are filled with phrases like "ultimate functionality" and "retina-tearing clarity." While the latter sounds more horrifying than appealing, I can assure you that this is one damn fine screen.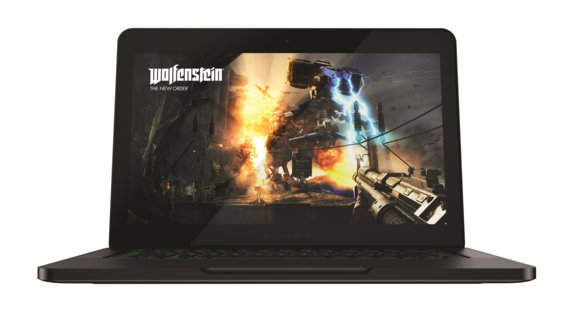 Razer's bumped the 14-inch Blade from last year's 1600-by-900 resolution up to a crisp 3200-by-1800, or 262 pixels per inch—a higher pixel density than even Apple's much-lauded Retina display. This is only possible because the Blade takes advantage of IGZO (indium gallium zinc oxide) technology, which is also what allowed the iPad Air to shed so much of its predecessor's weight. A welcome side effect? The Blade's contrast ratio also receives a significant bump. Razer claims a 250 percent increase.
Oh, and did I mention it's a 10-point capacitive touchscreen? After all, if you're going to use a Windows 8 machine you might as well have access to a touchscreen of some kind.
But a 3200-by-1800 resolution packs a lot of pixels, and a lot of pixels means a higher strain on the GPU. This year's Blade packs a powerful Nvidia GeForce GTX 870M with 3GB of GDDR5 VRAM to account for the new screen, and even then games are only able to run at Medium settings at this new, higher resolution. Or you can bump games back down to 1920-by-1080 and run them at Ultra—your call.
It's a devil of a choice. I played Battlefield 4 on the Blade at 3200-by-1800, Medium preset, and it looks as smooth as you'd expect. The additional pixel density adds clarity to the image and smooths out most aliasing. On the other hand, you're stuck with muddier textures and fewer particle effects, and even at Medium Battlefield ran around 40-50 frames per second. By contrast, Battlefield 4 runs around 35 frames per second on Ultra settings at 1920-by-1080.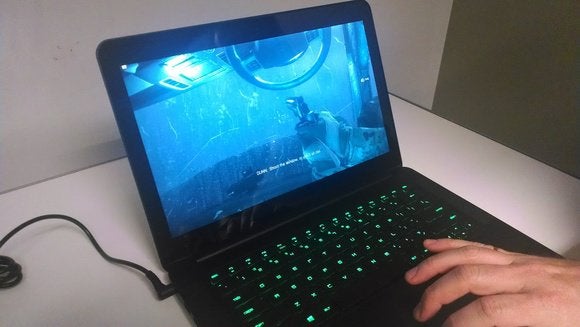 I expect each Blade user will come to a decision on resolution on their own, based on experimentation and a gut reaction.
Regardless, the 870M is a huge increase over the 765M found in last year's Razer Blade. We'll run our own benchmarks when we go to review, but Razer offered a few test results of its own. Most notable? A 3D Mark 2011 score of 4,120 for last year's Blade and a whopping 6,795 for this year's model. I'll hold my verdict for our eventual review, but from my limited time this appears to be one of the most powerful mobile gaming solutions on the market.
Both the Blade and Blade Pro feature Nvidia GameStream and ShadowPlay functionality, which enable behind-the-scenes gameplay broadcasting and recording, respectively. Both also sport Nvidia's Battery Boost tech, which better balances GPU use between power consumption and performance to keep your laptop alive longer even while gaming. I'll see how well all three work with the Blade when we do an actual review—I didn't bust out my streaming credentials in the midst of the demo room.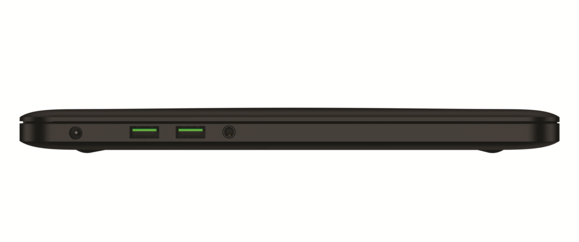 The Blade's housing is a bit larger than last year, but only by a few fractions of an inch. Last year's Blade was .66-inch tall when closed. This year's is .7-inch instead—not shabby, considering the boost in power. The Blade is rated at six hours of battery.
A quick note on the keyboard: Razer custom-designed the keyboards on both the Blade and Blade Pro. They're modified scissor switches, like most laptops. I dedicated some time to testing both—the PR rep laughed when he saw I had Notepad open on $2,000-plus gaming laptops—and found the Blade's a slightly nicer experience. It felt a bit clickier than the Blade Pro, which had a slightly mushy feeling. Both keyboards feature full backlighting and Nkey rollover capabilities.
And speaking of the larger Razer Blade Pro…
Razer Blade Pro
The Blade is clearly where Razer focused this year, and so the Blade Pro suffers a bit as a result. That's not to say that the Blade Pro is a lesser machine, but the changes to Razer's 17-inch machine are less "total overhaul" and more "incremental improvement." Like an "increased 8GB of RAM to 16GB" type of improvement.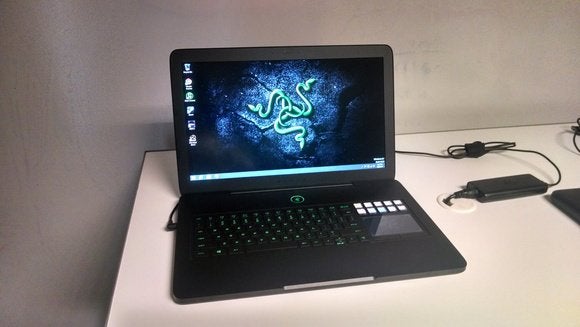 Okay, it's not quite that dire. The Blade Pro also receives a boost in graphics power by switching from last year's Nvidia GeForce GTX 765M to a Nvidia GeForce GTX 860M built using Nvidia's much improved Maxwell architecture. Again, we'll run our own benchmarks when we review the laptop, but Razer's internal tests show a definite increase—Battlefield 4 hits 28 frames per second over last year's 20, for instance. The 2014 Blade Pro scores a 5,210 in 3D Mark 2011, while last year's model only hit 4,212.
It's a difference, but as I said the Blade Pro lags a bit behind the Blade now. It's an interesting dilemma. Obviously the extra graphical horsepower was necessary for the smaller Blade's pixel-dense screen, but the Blade Pro is now put into an awkward spot
This is partially a result of Razer's positioning for the Blade Pro—one part gaming machine, one part productivity behemoth. Both the Blade and Blade Pro feature 4th gen quadcore Intel processors, but the Blade's is a 3.2 GHz i7-4702HQ to the Blade Pro's 3.4 GHz i7-4700HQ. It's not a huge difference, but it's an important distinction to Razer, which is happy if you use your Blade Pro for games, but also designed the Blade Pro as a machine for video and music production, design work, and the like.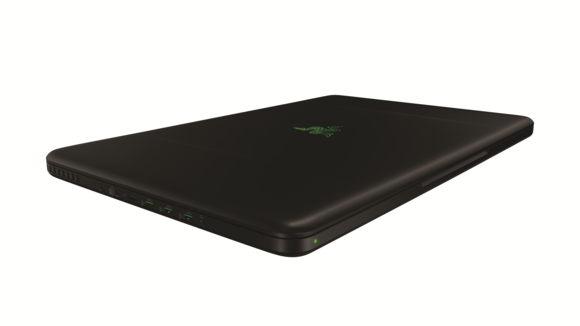 The Blade Pro is definitely still an alluring laptop. It has a larger, 17-inch screen that still looks vibrant and beautiful, despite sporting a lower pixel density than its sibling. Like the Blade, the Blade Pro is thin—only .88″ when closed.
And the Blade Pro also has the wonderful secondary display/trackpad thing. If you've never seen any iteration of the Blade Pro before, let me try and explain: instead of a standard metal trackpad, the Blade Pro basically embeds a smartphone display into the laptop casing.
So you have this 17-inch screen up top, and then underneath your right hand is a smaller, secondary screen (called the Switchblade by Razer) that can display…well, anything really. There are ten keys around the outer edge that you can program with macros or application-specific shortcuts, and then this touch-enabled display.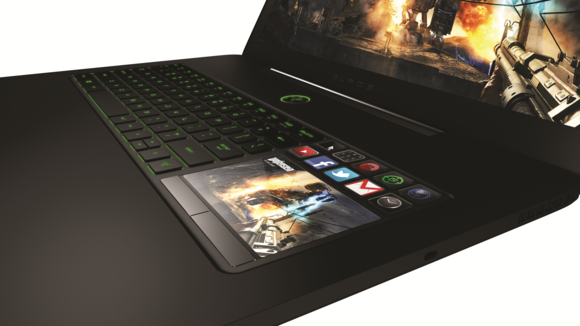 It's a bit weird but also probably the most interesting thing about the Blade Pro nowadays. Razer even has a Twitch app on the way that will tie in with the GPU's GameStream functionality to simplify broadcasting—or you can watch a Twitch stream on the Switchblade screen while playing an entirely different game on your main screen.
It's a cool piece of tech, but if you're primarily buying a gaming laptop that you hope to use for years to come then the frame rate hit on the Blade Pro may be a bit much to stomach.
Both the Razer Blade and the Blade Pro are amazing machines—I can't wait to get my hands on a pair for review—but from this initial showing the Razer Blade ekes out a small but significant victory. Last year's models cost $1800 and $2300, respectively.
Update: For an in-depth look at Nvidia's new GeForce 800M series of notebook GPUs, click here.