Microsoft has added features to the text editor of Outlook Web App to improve its handling of text, tables, images, and hyperlinks.
With the enhancements, Microsoft wants to automate pasting tasks and reduce annoying formatting hiccups in the product, which is the browser-based version of Outlook for businesses that use Office 365 and Exchange server.
"You'll spend less time formatting and more time communicating," wrote Microsoft officials Ef Regalado and Steve Chew in a blog post.
The text editor now gives users three options for pasting in text into an email message: Paste As Is, which retains a "high fidelity" to the original formatting; Paste Simple HTML, which strips out font colors and sizes but preserves a document's "basic layout"; and Paste Text, which turns it into plain text.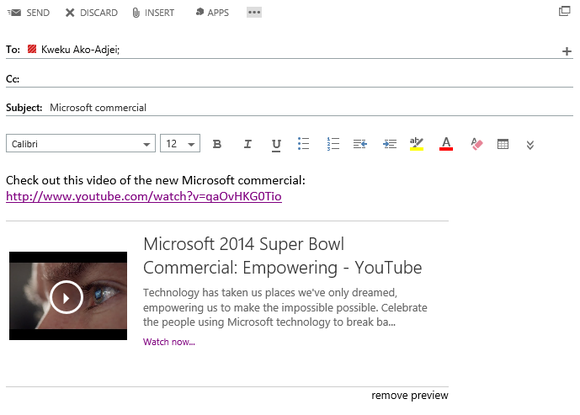 Microsoft has also added rich hyperlink previews to Outlook Web App, so that when a user pastes in a URL a small snapshot with elements from the Web page is displayed to give recipients more concrete, visual information about the site.
Another new capability in the text editor is an "insert table" command for creating tables in messages or modifying the layout and dimension of those the user pasted in.
It's also now possible to paste images directly from the clipboard when using Google's Chrome browser, as well as add descriptive text to images, or what's more commonly known as "alt text." This type of text is useful in certain situations, such as when an image isn't displayed and users at least can read information about it, and when users are visually impaired and a screen reader voices the alt text.