At a Glance
Expert's Rating
Pros
8-megapixel rear camera
Micro-HDMI out
64GB of storage
Cons
Chunky styling
Heavier that competing 8-inch Windows tablets
Our Verdict
Toshiba's Encore 8 packs some nice extras compared to rival 8-inch Windows tablets, but it's thicker and heavier than the competition.
Best Prices Today: Encore 8 (64GB model)
There's a disappointing degree of uniformity in the Windows tablet market. Nearly all the devices use the same processor, feature the same-resolution display, and deliver the same amount of memory and storage. So I'm happy to see Toshiba's differentiating its Encore 8 by providing a mini-HDMI port and boosting the resolution of its rear camera to 8 megapixels. Unfortunately, this 8-inch tablet also stands out by being thicker and heavier than its competition.
Like most Windows tablets, the Encore 8 is powered by an Intel Bay Trail-class processor—an Atom 3740, in this case—and it has 2GB of low-power DDR3/1067 memory. The model reviewed here, however, has 64GB of solid-state storage, a feature that renders it $50 pricier than Toshiba's base Encore 8 model (which has 32GB of memory and goes for $300). Like most tablets in this class, the Encore 8's IPS display delivers native resolution of 1280 by 800 pixels.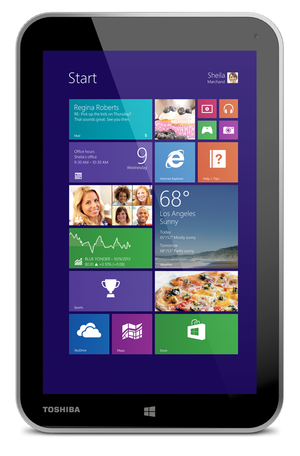 PCWorld's benchmark results illustrate the sameness of Bay Trail tablets. The Encore's performance falls right in between the Asus Transformer Book T100, which uses the same processor, and the Dell Venue 11 Pro, which runs the slightly faster Atom Z3770 processor.
Like those devices, the Encore 8 handled day to day tasks smoothly. My only complaint in regular usage is that its touchscreen was less responsive, sometimes requiring multiple taps to register a click.
The Encore 8's 1280-by-800-pixel screen is standard for the 8-inch Windows set; only Lenovo's ThinkPad 8 will give you more. Like other screens of this size, text and images are clear from a reading distance, and the IPS panel has excellent viewing angles.
Streaming video plays back clearly and smoothly, and the dual speakers got loud enough to wake my toddler, who was napping in another room (oops). Audio is thin at the highest volumes, but it doesn't distort like the Lenovo Miix 2 8 does.
The Encore's micro HDMI port is a major plus. Many of the other small Windows tablets rely on wireless video streaming technology (Miracast or Intel's WiDi) to send video to an external display or TV, which means you'll need a third-party adapter if your display doesn't support one or both of those standards.
The HDMI port is conveniently located on the top of the Encore (when the device is in portrait orientation), along with the micro USB port, which is used for both charging and USB data connections. (The PCWorld Lab has been using SanDisk's handy 64GB Ultra Dual USB Drive to install its benchmark apps and data.) There's a microSD card slot on the left side if you need to add additional storage.
The Encore's 8-megapixel rear camera is another standout feature. Most 8-inch tablets only have a 5-megapixel camera. The Encore takes bright and vivid pictures that are loaded with detail. There is no flash, however, so its low-light performance is not as strong. The front-facing 2-megapixel camera is more typical, and it's fine for video conferencing.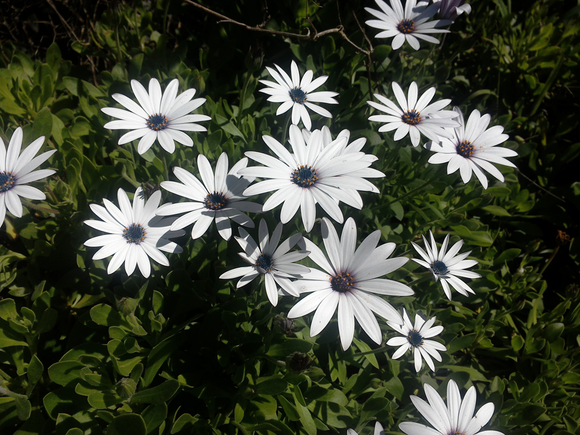 Now for the bad news: the Encore is chunky. It's thicker and heavier than other 8-inch Windows tablets we've tested, and some of Toshiba's design choices—like the silver trim around its edge, and the cheap-feeling, textured plastic back—make it feel even bulkier. The device is one-tenth of an inch thicker and more than 3.5 ounces heavier than the Lenovo Miix 2 8. That might not sound like much, but for a tablet that's designed to be held in one hand, it's too much. The Encore spent much of its time with me propped up on a tablet stand or laying flat on a table. That's a deal breaker for me, but it won't be for everyone.

Some of this extra mass might come from its extra storage, but it certainly is not attributable to a heftier battery. The Encore 8 petered out after only 6 hours and 59 minutes. The Dell Venue 8 Pro lasted 7 hours and 44 minutes, and the aforementioned Miix 2 8 ran for a whopping 10 hours and 10 minutes.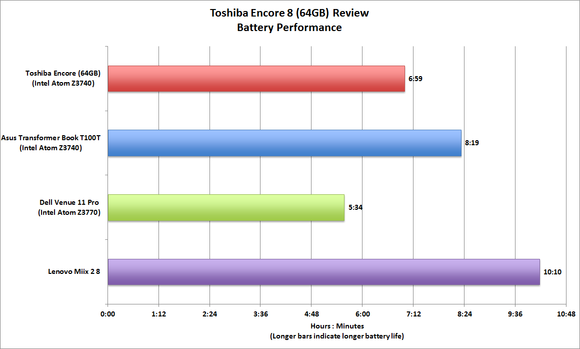 The HDMI-out on Toshiba's Encore 8 sets it apart from other 8-inch Windows tablets. If you don't need that feature, Dell's Venue 8 Pro and Lenovo's Miix 2 8 deliver about the same performance in slimmer, lighter packages. Either way, I predict you'll be happier with a model that provides 64GB of storage.
Best Prices Today: Encore 8 (64GB model)