Connected cars are big at this year's Cebit trade show, with driverless cars and products to communicate with the vehicle' onboard computers on display, but cooler apps are needed for the sector to really take off.
The first step on the connected car journey is getting cars hooked up to the Internet. While manufacturers have started integrating 4G mobile broadband, it will take a long time before a majority of cars have integrated mobile broadband connections.
Retrofitting dumb cars
For people who can't or don't want to use their smartphone as a hotspot, Vodafone Germany has launched an LTE and Wi-Fi hotspot that's powered by the car's cigarette lighter. The operator has started an endurance test in Berlin, where selected taxi drivers are using the product, Vodafone said.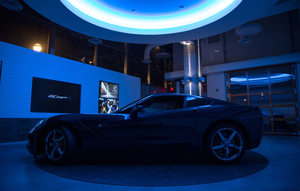 The next step is to use the connection. At Cebit, Deutsche Telekom presented a retrofit kit for cars that transmits vehicle status information to the driver's smartphone as well as to his or her car dealer. An adapter is plugged into the on-board diagnostics system to access data such as mileage, battery voltage and brake status via Bluetooth to an app on the driver's smartphone.
The app also sends the data to servers hosted by Deutsche Telekom's T-Systems unit, which analyzes the information and transmits relevant results to dealers. They can, in turn, use the app's message function to send tailored offerings.
It isn't just big car manufacturers and telecom operators that are into this burgeoning sector. German Augmentation Industries participated in the Code_n startup contest at Cebit, where the company showed its Mobile Assisted Driving system, which aims to take advantage of data from on-board computers.
Startups, too
The company has also developed a unit that can be plugged into the on-board diagnostics system and collect information from the the 50 to 60 small computers that produce data. The information is sent to a back-end system or an app via Wi-Fi and the cellular connection on a smartphone or a mobile hotspot, CEO and founder Alexander Marten said.
The system would be a good fit for fleet management, used by leasing companies and logistics companies to keep track of cars, according to Marten. For the ordinary car owner it becomes easier to keep track of the car's status, thanks to the app's ability to translate complex error codes into something that's easy to understand, he said.
Europe plans eCalls to summon assistance
Next year Augmentation Industries is aiming to add the ability to make so-called eCalls, which are intended to bring rapid help to cars anywhere in the European Union after an accident.
The system comprises open APIs and an SDK that will allow developers to use data from the car in their apps. Just like popular apps have helped sell hundreds of millions of smartphones, Marten hopes developers will do the same for connected cars, he said.
The product will start shipping in June and cost between €60 ($83) to €70. The app will be available for Android and iOS. The company is also hoping to someday put out a version with 3G as well, a product that today would be too expensive, according to its estimates.
These days every trade show also needs a demonstration of a driverless car. At the Cebit opening ceremony, Volkswagen CEO Martin Winterkorn demonstrated a prototype dubbed James 2025. The demonstration showed how the driver can take part in a video conference while travelling on a smart highway. The driver hands over control to the car by simultaneously pushing two buttons on the steering wheel.
Getting driverless cars on the road is a big technical and marketing challenge. A new survey commissioned by the Institution of Mechanical Engineers in the U.K. reveals that 56 percent of those polled don't want to relinquish the controls of their car, compared to just 20 percent of those who would.
Older people were the most skeptical—only 13 percent of 55- to 64-year-olds backed the idea, compared to 31 percent of people aged 25 to 34.
Manufacturers also must convince car buyers they or partners aren't invading their privacy. Winterkorn expressed his concerns, saying that manufacturers need to be as responsible about the use of personal data as they are about driver and passenger safety.
Winterkorn called for self-regulation based on common standards on data privacy used by all manufacturers.