Is this the end of a tragic tale or the start of an exciting new chapter for the partnership between Microsoft and Nook?
Nearly two years back, Microsoft gave Barnes & Noble subsidiary Nook Media a whopping $300 million in exchange for a 17-ish percent stake in the company. Since then, things haven't been pretty for Nook: Sales of both Nook tablets and digital sales have utterly plummeted. Thus far, pretty much all Microsoft has to show for its investment is the Nook Windows 8 app.
Actually, scratch that.
In March, Microsoft and Nook updated their agreement to allow Nook to kill its Windows 8 app and stop production of the Windows Phone app entirely, according to an SEC filing first reported by ZDNet's Mary Jo Foley.
While the news seems disastrous at first blush, don't expect newly appointed Microsoft CEO Satya Nadella to start staring forlornly into a beer mug just yet. The Nook app may be dying, but it look like Nook's content could be sticking around in as-yet-unannounced Microsoft e-reading apps.
Good-bye Nook, hello readers?
The lack of a native book, magazine, and comic store is a glaring hole in Microsoft's ecosystem right now, but coaxing the disparate companies in the publishing world to work with you is no small task. Enter Nook… or at least, Nook's catalog.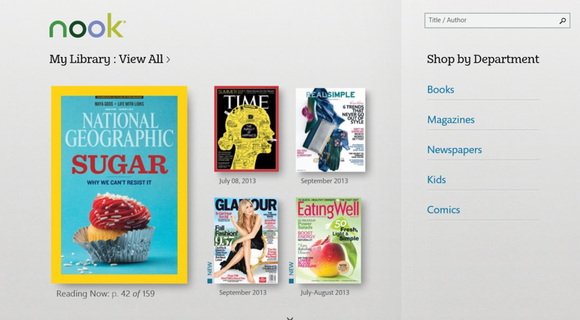 The timing of the dissolution occurred just after whispers of a Microsoft-made "Xbox Reading" app began floating around, prompted by a Microsoft job posting and independently confirmed by The Verge's sources. The Reading app's widely expected to be a literary-focused, modern UI-styled complement to the Video and Music apps baked into Windows 8.
"It appears that Microsoft is looking for a content partner brand that they can use to help develop content opportunities beyond the movies and music they provide today through Xbox Live," Stephen Baker, vice president of industry analysis at market research firm NPD, told PCWorld last year.
The SEC filing itself suggests that a Nook-boosted, Microsoft-made reading app may indeed be on the way. The death of the Nook apps has some pretty big strings attached:
NOOK Media would be permitted to discontinue distributing the NOOK Windows app and will cooperate in good faith with Microsoft to transition users to the Microsoft Consumer Reader. Microsoft and NOOK Media also agreed to updated revenue sharing to address this possibility. The Amendment also permits NOOK Media to cease efforts with respect to a Windows phone app.
The what? Foley says Microsoft Consumer Reader is the clunky name for a Microsoft e-reading app, which may or may not be separate from Xbox Reading.
At the time the Xbox Reading rumors first started swirling, we speculated that the app may leverage Barnes & Noble's vast content library and the stated "accelerate e-reading innovation across a broad range of Windows devices" goal of the Microsoft/Nook partnership to kick-start Microsoft's native e-reading app. Releasing a native e-reading app rather than relying on third parties makes a lot of sense, especially given the recent flood of small-screen Windows tablets.
Those questions, unfortunately, remain to be answered. Microsoft's staying mum on Consumer Reader and the portents of the revised Nook deal alike.