Since 2010, Google Apps for Enterprise has offered third-party app integration, and on Tuesday Google finally rolled out a similar add-ons store for the rest of us.
The basic premise of Drive's new offering is that third-party services can create add-ons that add extra functionality to Google's web-based word processing (Docs) and spreadsheet (Sheets) apps.
Microsoft launched its own Apps for Office program in 2013, and some third-parties, such as Avery, have offered Office desktop integration via Microsoft's add-in program for years.
For Google Docs users, the new third-party add-on system promises to add extra functionality such as easy bibliography formatting, label creation, and integration with popular services such as UberConference and HelloFax.
If you're already using Google Drive's Docs and Sheets the add-ons should be available to you automatically. Installing add-ons is pretty straightforward, but spreadsheet users will run into one tricky roadbump: You need to update to the Sheets refresh introduced in December to use add-ons, if you haven't already done so.
Adding on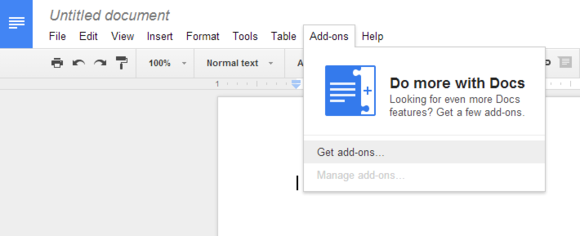 Start by clicking on the Add-ons menu item at the top of the page and select Get add-ons from the drop-down menu. Whether you're in a word processing document or a spreadsheet, the process is exactly the same.
A pop-up window appears showing all the add-ons available (pictured above). The design of the add-ons store is very similar to Google's Chrome Web Store.

Just select the app you want to add and click the blue [price] button to install. Right now, most apps appear to be free, but perhaps that will change in the future.
After you click the installation button, a permissions window appears showing you all the data the app will have access to. If you're okay with the permissions the app needs click Accept.
Finally, you'll be kicked back to the word processing or spreadsheet app where you began and in a few seconds the app will be installed. Once it's ready, a balloon will drop down notifying you that the app is ready to use.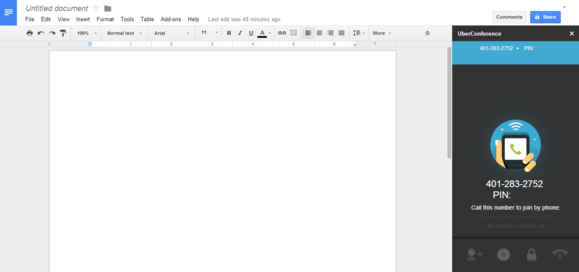 Any time you need to tweak an installed app, just select Manage Add-ons from the Add-ons drop-down menu. Since Drive is web-based any apps you install will be available in Google Drive across all your PCs.