With the clock ticking down until Windows XP goes end-of-life on April 8, Microsoft's dangling $50 gift cards to coax people into buying new PCs and fleeing the threat of perpetual zero-day attacks.
A new Microsoft Store offer entices holdouts with a $50 gift card, 90 days of free support, and free data transfer (using Laplink's software) to their new PC. The free support is par for the course for Microsoft, while the Laplink data transfer off is open to all Windows XP users, so the $50 is the only truly unique part of the offer. The deal, which has been going since the beginning of the month and noticed by The Next Web this weekend, persists until April 30.
The $50 gift card has a few strings attached, however. You'll only receive the bonus if you buy one of the 16 devices profiled on the offer page: There are four laptops, four tablets, four hybrids, and four all-in-ones to choose from, all running Windows 8.1. The simply superb Dell Venue 8 Pro tablet is the cheapest option, ringing in at $230, though the $50 discount can't be applied to the purchase of the new device; it's only good for future Microsoft Store purchases.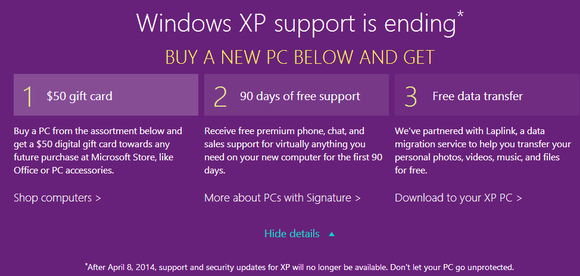 A $50 gift card might not be as tempting to stubborn Windows XP lovers as a $50 discount might be, but it's a nice touch for folks already looking to jump ship from the soon-to-be-sunk operating system. And hey: Grabbing a new PC means never having to see Microsoft's annoying "Run from Windows XP!" pop-ups again.
Buying a new PC isn't the only option for Windows XP owners, though. If you don't have the cash or desire to buy a whole new PC but don't mind trying something new, these three free Linux operating systems make it easy to migrate from Windows XP and they work just fine on older hardware. And if you absolutely, positively can't break loose from the operating system—like, say, because you have a critical program that only works on Windows XP—be sure to check out PCWorld's guide to staying secure after the Windows XPocalypse hits.
Either way, you should be thinking about how you're going to get away from Windows XP: Sticking with the operating system past April 8 is a security risk. Every single bulletin in this month's Patch Tuesday touched Windows XP in some way, and after the OS goes end-of-life, those exploits will be wide-open "hit me!" signs for hungry hackers.