Unify has set a timetable for the launch of its Project Ansible unified communications product, with beta testing scheduled for May.
Project Ansible is the name Unify has given to a product through which it aims to combine communications channels such as audio, video, messaging or screensharing with archives of audio and video calls and their transcripts, email, chat and social media, all on a single screen.
Unify said Monday that it has already conducted trials of the software with users, and beta testing, internally and with customers, will begin in May. It now expects to begin selling it, initially as a hosted service, from October under the name "Ansible".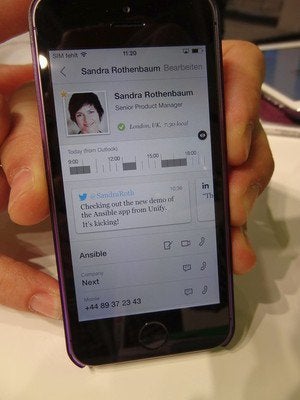 Project Ansible, announced in June, has survived the arrival of a new chief executive: it has been a central focus of CEO Dean Douglas's reviews of the company's product portfolio since his arrival on Jan. 16, the company said.
Last week, the company invited visitors to the Cebit trade show in Hanover, Germany, to participate in a demonstration of Project Ansible's capabilities. This week it's showing it at Enterprise Connect in Orlando, Florida.
Presence plus video
During the tightly scripted demo at Cebit, Unify employees identified whether a colleague was online using the service's presence indicators, placed a video call from an iPhone, and transferred the call to an iPad with one tap and a pause of only a second or two. On the iPad, the larger screen permitted simultaneous viewing of documents related to the discussion, while a subsequent transfer to a PC allowed the conversation to continue with screen sharing. The software clients allowed access to all functions in a single window, sliding between screens to access different features in a way that will be familiar to users of modern smartphone operating systems or Windows 8, but that distinguishes the interface markedly from the pop-ups and multiple windows of legacy desktop unified communications applications.
Communications are clustered into conversations around projects, determined by the persons involved and an analysis of the topics discussed. Conversations are a cross between a non-stop chatroom and an archive, in which it is possible to pass from audio or video conferences to chats or the exchange of documents and emails. All are searchable, because the system analyzes conference recordings to generate transcripts and extract keywords.
Employees joining the service can choose to subscribe to any number of these conversations, "favoriting" the ones most important to their work for which they want to receive all updates, and temporarily "muting" less useful or more frivolous ones by which they no longer wish to be disturbed. In the demo, that was the fate of the "sushi for lunch" thread.
Names become links
In a conversation or project, names become hotlinks to contact details, while keywords can be linked to other resources, such as a glossary of project terms or an automatically generated directory of colleagues with relevant related knowledge.
The demo was slick, but there are a number of search usability challenges the developers will have to resolve, including the effect spelling mistakes or poor transcriptions will have on the ability to retrieve documents. Some information may even become too easy to find, if conference call participants make personal remarks about an absent colleague, forgetting that the transcript of the call will be archived and accessible to all project members.
At Cebit, Unify also demonstrated its OpenScape Voice conferencing and messaging platform, showing how the latest version of the software includes design elements from Project Ansible such as the single-window interface and some of the icons.
Unify, previously known as Siemens Enterprise Communications, announced on Monday that by the end of the year users of the Ansible hosted service and OpenScape Voice on-premise systems will be able to exchange data and calls between the two thanks to a series of intelligent connectors, making collaboration or migration simpler. By mid-2015 it plans to roll out similar connectors for users of its OpenScape Business and OpenScape 4000 products.
The company said Ansible will be able to make calls from a webpage in Google Chrome and other WebRTC-enabled browsers. Apps will be available for Apple devices from the initial release in October, with Android apps following soon after. It will be possible to schedule conferences, or create them on the fly, searching across conversations, people and files. All files, conversations and collaboration tools will be available from all devices, the company said.