Game Developers Conference, San Francisco— Zero hour, day one: We've found shelter. Here amongst the burned out husks of a hundred people's lives, hiding in this war-torn, graffiti-ridden apartment building, the three of us have found a place to call home.
Our country, at war. Our city, besieged. Our pockets, empty. This is where we make a new start—where we build a new beginning as best we can in a land ravaged.
At GDC this week I got a chance to look at This War of Mine, a game developed by 11bit Studios, a small team in Poland. It's a war game, but not in your standard "Uncle Sam, rah-rah, shoot the bad guys, hear the call of duty" way.
This War of Mine is a game about the civilians—the people trapped between two sets of soldiers, trying merely to survive. This is a game about every nameless victim, every single casualty whose sole sin was living in the wrong place at the wrong time.
Scrappy survival
This War of Mine is a 2D side-scroller in which you direct your crew of civilians to hunt for resources amidst the rubble and (hopefully) craft enough tools to survive. The game's senior writer, Pawel Miechowski, tells me that the team did extensive research on war-torn areas when constructing game behaviors.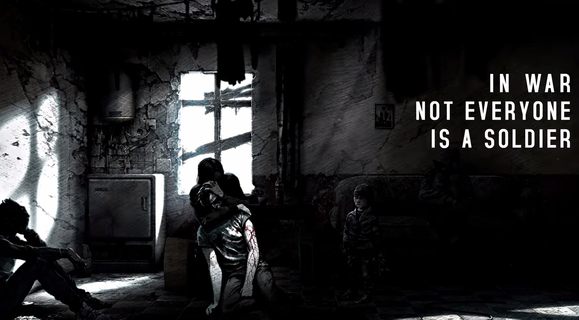 "What we found out is there's a common pattern. My grandmother actually remembers World War II, which was devastating for Poland, and the rules were pretty similar—stay together, stay with your family, support each other. You will need hygiene items, soap, food for trading."
The game is divided into two sections. During the day, you live inside your procedurally-generated shelter: reinforcing your defenses, crafting your items, or digging through the rubble to find more materials. "During the day people don't leave their shelters [in real wars]," says Miechowski, "because they can be either hit by snipers or bandits." Our first day in the procedurally-generated shelter, we find nothing. My team goes hungry, and they complain about how hard it is to dig without a shovel, their hands scraped and bleeding.
"The moment when you can actually scavenge is the night," says Miechowski. Once the sun sets, one of our crew leaves to investigate a distant building. He opens the front door… and there's footsteps in the next room. He peers through the keyhole and sees a man carrying a gun. We've got nothing except our fists, so stealth seems prudent. After an eternity, the man leaves. We walk through the door and rifle through some cabinets. Canned food and some mechanical gears are our reward.
While distracted, the man from before walks back into the room, sees us, and freezes. The gun stays at his side. Rather than firing, he runs away.
All victims, no heroes
With this one act, this cowardly mercy, I'm forced to wonder about the man I stole from. My crew will eat well tomorrow, but at what cost? Does this man have a family? Will they starve? Who is he? Was he guilty of anything? Did he deserve to have his food stolen, just because I have to look out for my own interests?
Is there any morality in a war-zone?
Maybe I've now turned this man into a criminal, continuing the chain. Perhaps by stealing his food, he'll now be forced to steal from someone else. The next time someone breaks into his sanctuary, maybe he pulls the trigger instead of letting the person go. Maybe I've now indirectly murdered some other civilian by taking what little this man has.
"There are victims on both sides, and if you're a civilian it really doesn't matter if you're seen as an invader or as someone who needs to defend," says Miechowski.
Nothing in This War of Mine seems right. Nothing seems wrong. It's just survival. My life over the lives of others—a very real and scary result of desperation.
Living the war
Yes, in This War of Mine, where the war is tangible, spelled out in bombed remnants and hardscrabble survivalism, you're truly forced to consider the lives of innocents.
It's all part of a growing set of experiential games—witness Papers Please, Dys4ia, Depression Quest—that allow people to inhabit and understand others and their circumstances, if only for a brief time and on a basic level.
"You can see war and read about war in books. You can see it in movies. But then you're just a spectator. We just give you tools in game mechanics to perceive everything yourself and judge yourself," says Miechowski. "In this way, games are the best way to speak about war because they give you the chance to see everything from your perspective"
Like the man with the gun… and how he ran away rather than fire at the stranger standing in his living room.