Every company suffers from the same problem: Key documents are emailed, buried, and then forgotten about—until they're needed. Then the cycle repeats again. But a pair of ex-Microsoft execs say they have the solution.
Their new startup, Highspot, actually looks very Google-y: Users can sign up to follow and funnel their own data into "spots," but can also search for what they want using natural language via a search box. And the service also "bubbles up" relevant information, so that if a co-worker finds a relevant news story, for example, Highspot will push that to your attention.
Highspot CEO Robert Wahbe, formerly the corporate vice president of product management for the Server and Tools Division at Microsoft, says that too much time is already spent hunting down information that simply gets misplaced, using cobbled-together systems that don't necessarily work. At Parallels Inc., for example, the company used a system of folders within Dropbox to store marketing documentation, John Zanni, the company's chief marketing officer, said in an interview.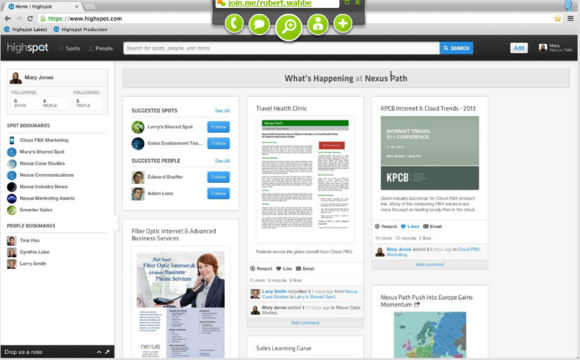 "People are spending time looking for content they're not going to find," Wahbe told PCWorld. "They're also spending time recreating content that already exists, and on the other side they're creating content that's not going to be found."
Social networking meets collaboration
Highspot doesn't exist in a vacuum. Microsoft might argue, for example, that Yammer serves the same purpose by allowing employees to "follow" one another, share documents, and collaborate on projects. But Wahbe said the Highspot technology goes a step further, mining documents for their internal content and better assessing whether they'll in fact be relevant to the user. That, in turn, eliminates the need to "tag" documents with user-created metadata, which can grow stale and out of date the longer a document lives within a system.
So how does it work? When users sign up for Highspot, their companies have one of two options: a free service that allows unlimited Web links, five "spots," 500 files, and five downloads per month; and a $20 user/month business option, which allows unlimited use of the service plus spot editors, administration tools, help getting started, and premier support.
A user then updates his information and elects to create "spots," which on the surface feel a lot like a Google+ circles. These spots can be collections of content: people or documents, either created by the user himself, the company, or by others. Users can also elect to "follow" other people, such as a team leader. A particular document can also be "re-spotted," or liked.

Basically, corporate knowledge floats to the user in one of three ways: automatically, via the machine learning algorithm; via spots; or through a dynamic search. Not surprisingly perhaps for Microsoft veterans, the system appears to work best when documents are maintained and updated rather than constantly being revised and discarded. But an out-of-date marketing document can be marked as such or it will also trickle down out of sight as co-workers continue to migrate to newer versions.
Highspot mines Office documents, all image formats, PDF documents, and Web links, including Web links to video, Wahbe said.
Share and share alike
Highspot doesn't hope to replace existing systems and workflows like Office 365, but supplement them, Wahbe said. In fact, Highspot created its own Knowledge Graph, similar to the Office Graph Microsoft recently announced. And the similarities don't end there: the Highspot Knowledge Graph was architected by Paul Viola, the company's chief scientist and former distinguished engineer and general manager of the group that monetized Microsoft's Bing search engine.
Microsoft recently released "Oslo," a prototype app that in concept looks a lot like Highspot. But Highspot executives say that they two are different—but not mutually incompatible.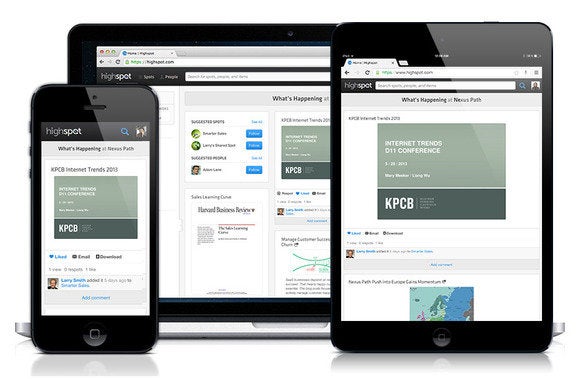 "We're not attempting to compete with the Office Graph… as they [Microsoft] take their Yammer asset and they try to create this uber feed across all of their assets. We're trying to make a very easy-to-use—taking a page from Pinterest, Amazon, Spotify and others—an easy-to-use knowledge sharing service that uses machine learning to surface that. And we will in fact use the Office Graph as they put that into that into their platform."
Does the Highspot technology work? Parallels' John Zanni said that it does. The virtualization company has been using it for four or five months, with a total of about 150 users, and Zanni said he saw it as an answer to the problem of quickly searching for and providing access to marketing collateral. Neither the CMS system the company used nor its Dropbox methodology proved effective, he said. And in certain cases, Highspot has pushed relevant, valuable content he wouldn't have othewise seen. "I'm a big believer," Zanni said.
Spots can be shared outside of the company, but the next step is to move from sharing knowledge inside the company to sharing it with partners, Wahbe said.
"From the vendors' point of view and the resellers' point of view, it would be great if you could easily publish a spot, and then have the reseller find the materials they want. One of the challenges a reseller has [is] they might support 5,000 products, and they get flooded with all this vendor information and they can't find a thing. On the other side, the vendor feels really bad because they keep publishing new versions and they never get to the right people."
Likewise, partner communities would naturally benefit from similar information sharing, Wahbe said.
In 2004, a study by TalentKeepers found that the most catastrophic effect of a worker departing the company was lost knowledge, an argument for mining and storing that knowledge for future use. But such knowledge is useless if it can't be found again. Highspot sounds like a solution to solve that problem.