At a Glance
Expert's Rating
Pros
FIPS 140-2 Level 2 validated
Good performance (for an encrypted drive)
Super portable
Cons
No battery
Stubby USB cable
Our Verdict
More secure portable storage than a thumb drive can provide, and the on-device keypad provides easy access. It's pricey, but so is the competition.
Apricorn's Aegis Padlock SSD offers a number of advantages over rival secure storage solutions. It delivers more capacity than the ubiquitous secure thumb drive, being available in capacities of 120-, 240-, and even 480GB, while remaining considerably smaller than the usual 2.5-inch portable SSD. It also has an on-board keypad that you can use to access the data stored inside it. Finally, you can use it with any device that can connect to USB mass storage, not just computers.
The only issue is price: The drive sells for $329, $499, and $799 for the capacities listed above. That's not a lot more than competing encrypted drives, but it's a lot of cash.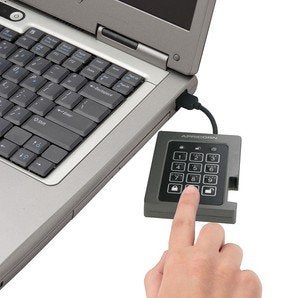 The Aegis Padlock measures 2.5-inches wide, by 3.3-inches long, by 0.55 inches thick. That's about half the size of your average portable hard drive drive.
The two halves of its case are screwed together, but the screws are tamper-resistant and epoxied in place. The drive is certified Level 2 FIPS 140-2, and that standard specifies only that any tampering must be rendered evident, not that the internals be wiped or destroyed.
You lock and unlock the Padlock using a keypad on the top of the device. The drive ships locked, requiring the definition of an administrative PIN (multiple users are allowed). Subsequently you simply press the unlock key and enter the PIN to access the drive. Unlock, held simultaneously with various numbers, allows you to perform admin chores such as adding secondary users.
My only gripe with the Aeigis Padlock SSD is that it doesn't have a battery–it requires USB power and its stubby cable renders it slightly ungainly to unlock if, for instance, it's hanging off the side of your display.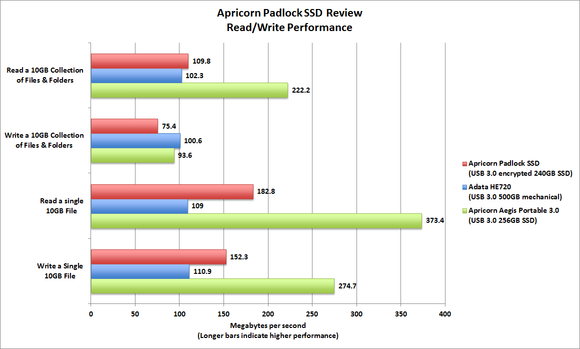 You won't get state-of-the-art performance with any secure drive, as it takes time to encrypt during writes and decrypt it during reads. But being an SSD with a USB 3.0 interface, the Padlock performed quite well, reading our 10GB mix of files and folders at 109MBps and writing them at 75MBps. Speeds jumped to 182MBps and 152MBps respectively with a single large 10GB file. Crystal DiskMark ranked the drive slightly faster than that.
The Aegis Padlock SSD offers unique blend of security, capacity, small size, performance, and ease of use. But at more than twice the cost of a secure mechanical hard drive, such as Apricorn's own Padlock Fortress, it's not an impulse buy.