Chips designed for graphics, gaming, and diminutive desktops that practically disappear: Intel vice president Lisa Graff announced all that and more at a press event Wednesday night in San Francisco. The new chips include an "unlocked" fourth-generation Core processor, code-named Devil's Canyon; a new Extreme Edition part; and an "anniversary edition" Pentium processor. Graff also showed off Intel's next generation of the Core architecture, code-named Broadwell.
Intel is continuing to invest in new form factors, said Graff, including Black Brook, a portable all-in-one PC that will use the upcoming, next-generation Broadwell processor.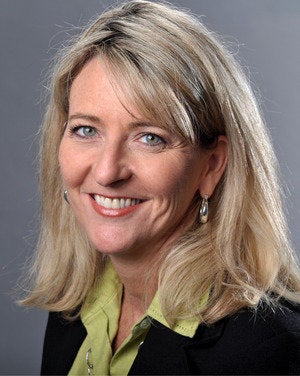 As computing's focus has shifted from the desktop to the laptop and on to smartphones, tablets, and now wearable devices, Intel's Graff has made it clear the desktop isn't going away. However, Intel is rethinking the desktop to make it portable, either through new iterations of its Next Unit of Computing (the NUC) or portable AIOs like Black Brook. And while it hasn't forgotten about the legions of PC gamers that have driven its enthusiast chips, Intel is also trying to shoehorn performance into cheaper alternatives. Intel, Graff said, wants to "reinvent" the desktop PC.
The idea is that eventually the desktop "will get so small that it disappears," Graff said. "We're reinventing the home theater PC, it tucks behind your TV… you just won't see it anymore," she said.
Black Brook, by contrast, is essentially a large all-in-one PC, but it can be taken back and forth from room to room. That PC will include a handle, Graff said. Intel showed off Black Brook at the press conference (top), which includes its new RealSense 3D camera and dual microphones for improved audio. Graff also said that Intel has worked to enable hundreds of touch-centric applications that can run on top of a touchscreen interface.
The bottom line is that the desktop PC market has evolved into something far different than what it was just five years ago, as towers evolve into mini PCs and all-in-ones, and business PCs gain influence.
"I think that's what you're going to get — all these interesting subcategories that would have been called niches in the past," said Bob O'Donnell, chief analyst at Technalysis Research. "Instead of thinking about one large monolithic PC market, "it's a market of verticals, it's a market of niches."
A new Core lineup
Likewise, Intel's new lineup of Core chips have bifurcated, pushing ahead with a new Extreme Edition chip for gamers, but also beefing up the capabilities of its low and mid-range chips. All three of the new chips Graff announced are unlocked, meaning Intel will allow buyers of the chips to dial up their clock frequency to gain extra performance, provided that the processors themselves are adequately cooled.
At the low end, Intel plans to announce an "Anniversary Edition" Pentium chip, an unlocked dual-core Haswell processor that celebrates the twenty-first anniversary of the Pentium, launched on Mar. 22, 1993. Although the chip became famous for a floating-point error that forced a widespread recall, the Pentium also put Intel on the map with the American consumer, together with the five-tone jingle that accompanied its "Intel Inside" slogan. It will launch in mid-2014, Graff said.
Intel will also unveil an improved fourth-generation Haswell Core processor, with an improved thermal interface and packaging. The Devil's Canyon chip will be launched in mid-2014, Graff said.
Devil's Canyon is significant in that it disrupts Intel's methodical "tick-tock" roadmap of improvements in the architecture, then a move to a new manufacturing process, and so on. Six to seven months ago, Intel created a "tiger team" of senior engineers to upgrade the Core lineup, Graff said, holding up the first samples of the new chip.
All of the Haswell parts will be enhanced with a new low-power mode, known as Intel Ready Mode, which will be enabled either with Intel's own software or software supplied by an OEM. But the PC will remain on, and connected. "That will keep the desktop PC in active mode, but at less than 10 watts," Graff said. That's less power than a light bulb consumes, she said.
At the high end, Intel will announce a new Extreme Edition chip, its first with 8 cores, running in conjunction with a new X99 chipset, that will launch in the second half of 2014. The chip will use next-generation DDR4 memory.
Finally, there's Broadwell, the code name for the fifth-generation Core architecture. Broadwell's production was delayed until this quarter, due to a manufacturing glitch. But Graff offered a sneak peek of the chip, complete with its new, advanced Iris Pro Graphics capabilities. Intel first began talking up those parts last year, claiming that its integrated Iris Pro chips would offer the graphics performance of mid-range mobile discrete parts. Graff declined to say when Broadwell would ship.
Updated at 6:56 PM PT with additional details.