Best Buy and Walmart have begun selling the Xbox One console bundled with a copy of Titanfall for $450, a $50 discount that arguably makes the Microsoft Xbox One cheaper than the PlayStation 4 from Sony.
Nick Wingfield of The New York Times noted the bundle deal, which is revealed after one selects the bundle and clicks all the way through to checkout. Essentially, Microsoft is giving away Titanfall for free.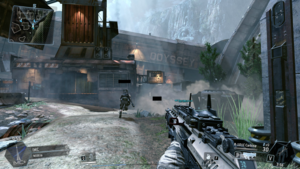 Making the argument that the Xbox One is actually cheaper than the PlayStation 4 requires a bit of finesse, however. Titanfall is an Xbox exclusive. Best Buy prices the 500GB PlayStation 4 at $400, a PS4/PS Plus bundle at $450, and a game bundled with a PlayStation-exclusive game, Infamous: Second Son, at $460. So, when one compares a PS4 bundle with an Xbox One bundle, the Xbox One bundle is indeed $10 cheaper.
The Xbox One originally launched at $499, compared to the $399 price Sony charged for the PlayStation 4. That led many to think Xbox One sales would suffer as a result. But Microsoft has previously dabbled in discounting games to bring down the total price of the Xbox One.
That's probably because, even though both consoles have been well regarded, Sony continues to outsell the Xbox One within the United States. For the month of February, Microsoft sold 258,000 Xbox Ones. That figure represented 90 percent of the sales of the PlayStation 4, according to NPD, although NPD's numbers do not include online sales. In any event, lowering the price of a product, including a game console, usually results in a corresponding increase in sales.
The Xbox One/Titanfall bundle being sold at Best Buy and Walmart includes the Xbox One console, Kinect sensor, wireless controller, chat headset, HDMI cable, 1-month Xbox Live Gold membership and a Titanfall game download—note that it's a download, so you'll have to wait before you can jump in and play.
Nevertheless, companies like IDC predicted, largely correctly, that the PlayStation 4 would outsell the Xbox One early on, if only because of the price difference between both consoles. Putting each console on a par with the other, price-wise, will make for a much more interesting race.