At a Glance
Expert's Rating
Pros
Six programmable macro keys
26-key rollover
Dedicated media-player control keys
Dual-zone backlighting
Cons
Slightly cramped keys
Awkwardly placed USB pass-through
Overly stiff cable
Our Verdict
If you can get over the G710+'s cramped key layout, you'll find an exceptional mechanical gaming keyboard.
Logitech has a long history of building great gaming keyboards. Its G710+ is a behemoth that's loaded with features. The G710+ is backlit with white LEDs, and that lighting is divided into two independently controlled zones. One button manages the brightness of the WASD and Arrow keys, while the other button controls the rest of the keyboard. Each zone can be set to any of five brightness levels, including off. At lower levels, some of the larger keys (namely Shift, Tab, and Enter) are lit a bit unevenly, but that's a minor quibble.
The G710+ has a column of six macro keys stacked on its left side. You can store three different macros in each of these and switch between them on the fly by pressing a companion button, much as you would change stations on your car radio. Unfortunately, the key you press to switch between the three collections of macros isn't backlit, which makes it hard to locate in the dark (when you'll need it most).
Logitech didn't build any onboard memory into the G710+, so you'll have to install Logitech's software onto the host PC before you can program those macros. The software looks clean and professional, but it's annoying to have to install it on any computer that uses the keyboard.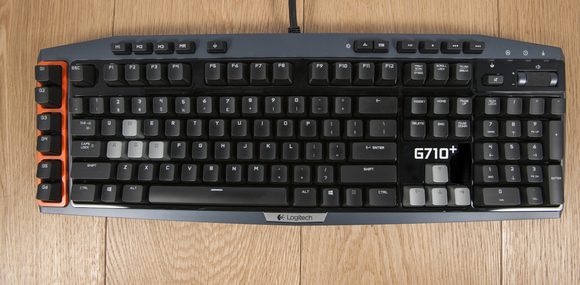 The G710+ has a row of dedicated media-player control keys—Play, Stop, Skip Forward, and Skip Back—on its top right size, along with a broad roller for volume control and a mute button above the numeric keypad. I wish more manufacturers would adopt this feature. A "game mode" button at the center-top of the keyboard disables the Windows key, so you'll never get dumped back to the desktop in the middle of a game.
Logitech uses Cherry MX Brown keyswitches, so it's relatively quiet for a mechanical keyboard. Yet despite its large size, the G710+'s keys feel just a little too close together. I continued to make inadvertent typing errors even after prolonged use.
I also think the G710+'s cord is terrible. It attaches to the keyboard with a stiff rubber collar that doesn't like to bend. It will also consume two of your computer's USB ports. You gain one back in the form of a USB pass-through on the board itself, but it's located behind the keyboard next to the cord. Plug a wired device into it—a headset, for instance—and that wire will drape awkwardly across the keys.
For all my complaints, I'm surprised by how much I liked the G710+. I lean toward minimalist designs, and the G710+ is anything but. On the other hand, it is one of the most restrained and attractive of the macro-key-enabled gaming keyboards I've tested.