Making good on a Chrome beta feature released in February, Google is now rolling out its Google Now cards platform to the general-release versions of the Chrome desktop browser. The roll-out begins today and will continue to seed browser versions for the next few weeks, Google announced in a Monday update to an earlier blog post.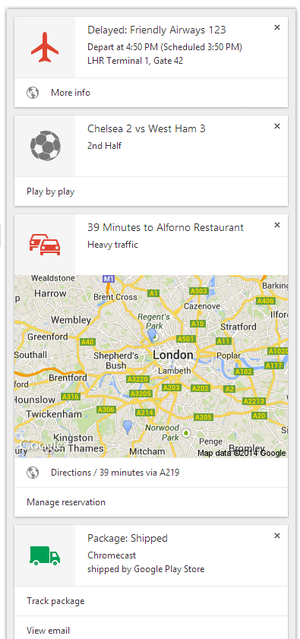 The new desktop feature applies to the PC, Mac and Chrome OS versions of the browser, and can be enabled by signing into desktop Chrome with the same Google account you use for Google Now in Android or iOS.
You may have already discovered the feature by serendipity. In a nutshell, all the contextual-information cards that already appear—as if by magic!—on Android phones can now appear on your desktop browser. The cards can reveal anything from sports scores to weather updates to package delivery alerts. And much, much more. It all depends on what you search for (be it on your phone or desktop), and which signals Google pays attention to when you fully opt into its information services.
But here's the most interesting feature of Google Now's latest quest for world domination: When you search for something on the desktop, it can spawn a card on your phone. To wit: Mere moments before writing this story, I was surprised to discover that a restaraunt search on my PC triggered a Google Now "Time to…" navigation card on my HTC One.
Yet strangely, no Google Now card appeared on my desktop. At any rate…
Google Now often feels somewhat magical. The feature is location- and time-aware, and has an uncanny ability to serve up helpful bits of information even before you realize you need them. You simply need to be an active Google search and ecosystem user, and opt into Google's services.
First our phones. Now our desktops. And very soon, our wrists. Google Now says all your base are belong to us.