Software developers were among the first in the world to get their hands on Sony's futuristic Project Morpheus headset on Wednesday, and they liked what they saw.
The device, unveiled on Tuesday evening in San Francisco, is a prototype virtual-reality headset that might one day replace the living room TV as the main display for gaming. It's getting its first public outing at the Game Developers Conference, which is currently taking place in the city.
A queue began forming at Sony's booth on Wednesday morning for the few hundred tickets that would guarantee a chance to try out the headset.
One of the first in line was David Klingler, a software developer with Solanimus.
"It was much more impressive than what I've done with the Oculus Rift," he said, referring to a rival headset from startup Oculus. "The resolution is not an issue at all with this, like I've had with the Oculus."
Sony has packed a 1080p high-definition screen into the Morpheus. The Oculus Rift's resolution is lower, but on Wednesday Oculus launched a new version of its headset that offers the same 1080p resolution.
Sony had several virtual worlds and games for people to try out, including an underwater world and a crossbow game that utilized two PlayStation Move controllers.
"The depth was very good, it was fantastic," said Klingler. "That was the most important thing. I think what makes the difference is that you can focus very close, like there were the bubbles in the deep demo, but you can also see very far away, like the wreck."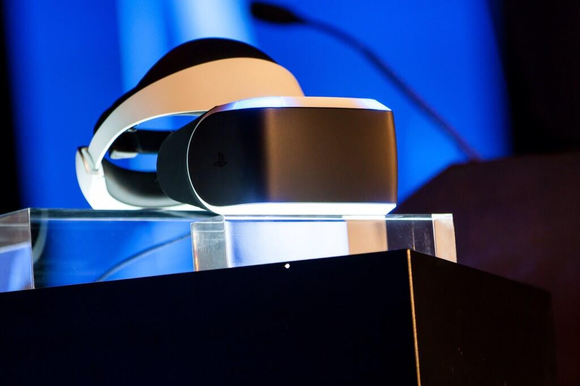 Another developer, Andrew Willans, of the U.K. studio Reflections, appeared even more impressed.
"Absolutely phenomenal," he said when asked about the demo. "I just lost myself in there."
"I felt genuine fear when I was in the deep, because I was looking around for the shark," he said. "Just amazing. Really, really good. The second one, the crossbow and the sword, the sensation of having something tactile in your hands … is just phenomenal."
Both Klingler and Willans said they are interested in developing virtual reality games.
"I've been waiting for this for years. It's one of the reasons I got into the industry," Willans said.
Sony hasn't said when developers will be able to get their hands on the prototype headsets. They will have to get access before a consumer version is released.