Last week, Microsoft said it would offer a $50 discount for users upgrading from Windows XP. Now, it has upped the ante.
On Friday, a representative from Microsoft said that the company will now offer $100 off for those customers upgrading from older PCs running Windows XP. "Now through June 15, XP users looking to upgrade their hardware can save $100 and get free data transfer at MicrosoftStore.com or by bringing their old XP devices to their local Microsoft retail store," the representative said.
A representative for Microsoft said the deal won't even appear unless a user visits the Microsoft Store site via a Windows XP machine, however. And the $100 discount will only apply to certain PCs priced at over $599.
People can also physically bring in their old XP device to one of the more than 80 Microsoft retail store locations and instantly save $100 on the purchase of a qualifying PC priced at $599 or above, the Microsoft representative said, as well as receive free online data migration services to the new PC.
Last week, Microsoft said that a new Microsoft Store offer would entice holdouts with a $50 gift card, 90 days of free support, and free data transfer (using Laplink's software) to their new PC. The old deal covered four laptops, four tablets, four hybrids, and four all-in-ones to choose from, all running Windows 8.1.
The free support is par for the course for Microsoft, while the Laplink data transfer is open to all Windows XP users.
Microsoft's Windows Store page continues to offer discounts on select hardware for those running Windows 8 or another modern OS. (which, to be fair, are often replicated on sites like Amazon). Microsoft lists several inexpensive PCs on its Windows XP page, each designed to lure XP holdouts over to Windows 8.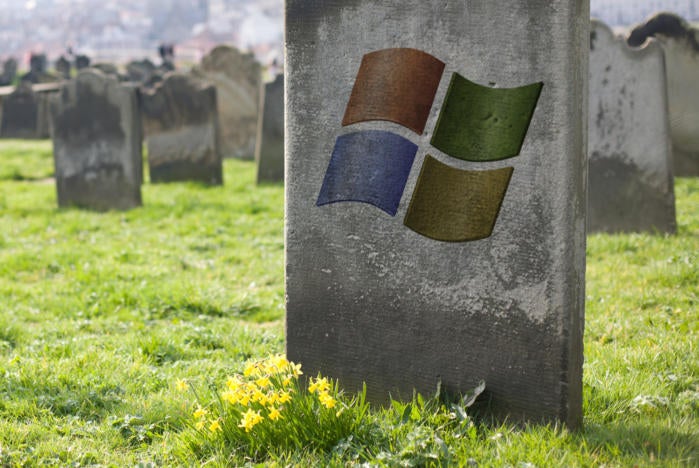 As Microsoft is increasingly trying to make clear, the days of Windows XP are ending. Microsoft is ending support for its ancient operating system on April 8, after which the company will refuse to patch the operating system itself. That doesn't mean your PC will cease working after that date, but the safest route is to upgrade, and the gap between Windows XP and Windows 7 or Windows 8 basically demands new hardware.
Microsoft may be playing a dangerous game here, enticing holdouts to wait for even sweeter enticements, rather than upgrade their PCs before the support deadline expires. But if you own a Windows XP machine, at least you're getting some help. We also have some tips on how to keep your PC secure if you miss the deadline.
Additional reporting by Brad Chacos. Updated at 12:04 PM PT with additional details supplied by Microsoft.