This printer is meant to sit in an office and churn out pages all day. It's got supercheap consumables. It's really fast. But it's not a color laser—it's a color inkjet that can knock the trays off any like-priced laser product, if our preliminary tests are any indication.
HP announced Monday morning the Officejet Enterprise Color X555 single-function color inkjet, and the Officejet Enterprise Color MFP X585, a four-function cousin (print/scan/copy/fax) with even more high-end features. Scoff if you wish, but ignoring these corporate inkjets means ignoring one of the few innovations in printing today—one that could work well in an office near you.
Anyone who still thinks inkjets are bad printers hasn't kept up with the category. While you can still buy a crummy $50 inkjet—and if you have, I'm sorry—the quality at prices of $180 and up improves markedly. Smart small offices spend $400 on a high-end business inkjet, which has speed, cheap ink, and image quality to spare, instead of a like-priced color laser, which is just a box full of compromises.
With the HP Officejet Enterprise products, the inkjet-vs.-laser fight moves to the ruthless corporate jungle, where we may print less, but we want to print in color, and we still want it fast and cheap. Oh, and we have mobile users passing through who want to print, too.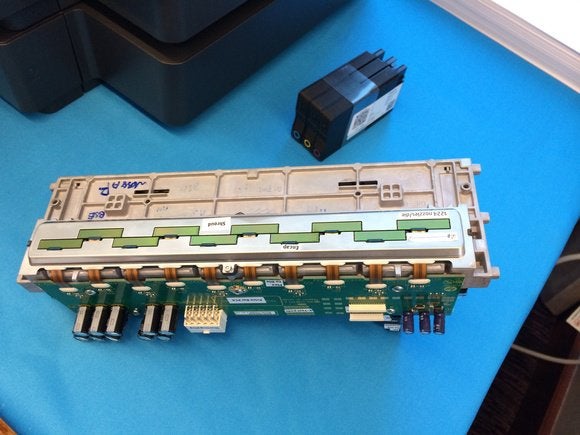 The key feature of both Officejet Enterprise models is the PageWide printhead. As its name indicates, HP spreads multiple printheads all the way across the paper path—whereas a traditional inkjet has to move a smaller printhead up and down and back and forth, losing precious seconds with each pass.
HP introduced this technology many years ago on a $23,000 enterprise MFP that was bigger than six of me. Whew. It reappeared last year in the much more approachable form of the $799 Officejet Pro x576dw, and that was an awfully nice printer.
This new generation adds some more office-ready features, including touchscreen control panels, hard drive storage, and NFC connectivity for easier printing from mobile devices, as well as a bunch of enterprise-level controls to keep the IT staff happy. The Color MFP X585 includes HP's Flow technology for scanning and printing through the cloud.
The ink cartridges are huge and cheap. The 980 black cartridge costs $109 and lasts 10,000 pages, or a penny per page. Each 980 color cartridge costs $97 and lasts 6,600 pages, or just under 1.5 cents per color, per page. Those prices are competitive with a like-priced color laser's.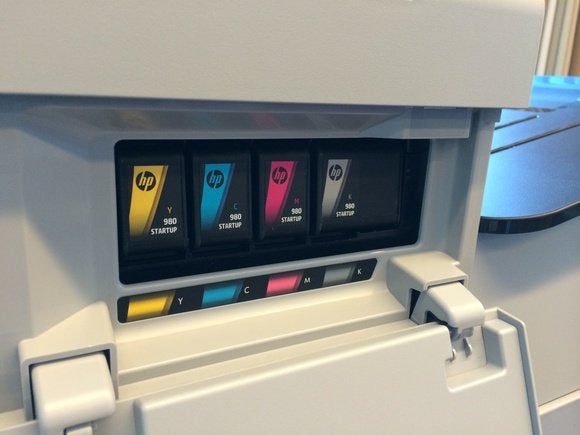 But is it fast? Sure seems like it. We're in the process of testing the Officejet Enterprise Color MFP X585z, which is the highest-end model. On our test printing a ten-page, plain-text document, it's clocking in at about 30 pages per minute (ppm), which is far below the 72-ppm spec but still way ahead of any other office printer we've tested. We'll update you with a full review in the near future.
The Officejet Enterprise Color X555 will be available April 1st, priced from $749 to $1199. The Officejet Enterprise Color MFP X585 ships at the same time and will cost from $1999 to $2799.