At a Glance
Expert's Rating
Pros
Sturdy construction
Sharp high-res display
Passively cooled
Cons
Bulky and heavy
So-so battery life in both modes
Gets very warm under heavy workloads
Our Verdict
The Spectre 13 x2's performance doesn't measure up to that of dedicated notebooks and tablets, but it can be useful in some scenarios.
HP's latest 2-in-1 detachable hybrid breaks some new ground: It's a notebook PC with a spacious, high-res 13.3-inch screen you can pull off its keyboard base. Once separated, the Spectre x2 becomes a thin and light tablet—at least for its size. But the whole is less than the sum of its parts.
The Spectre x2's dark, matte-gray and brushed-aluminum case, minimal buttons, and gently rounded edges lend this convertible a quiet elegance. It'll slip easily into any bag, and it's built tough enough to survive the rigors of travel. Unlike Dell's Atom-powered Venue 11 Pro, this machine has a fourth-generation Core processor under the hood. More on that in a bit.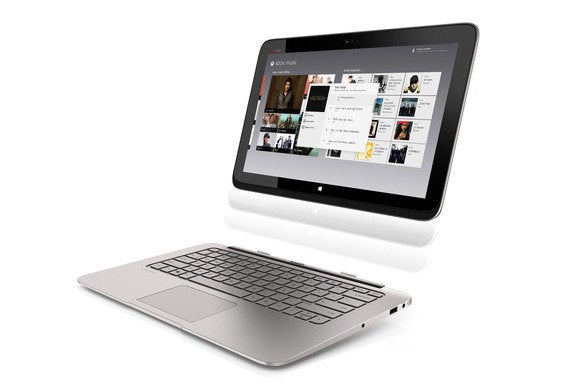 But don't toss your iPad on Craigslist just yet. Both elements of the Spectre x2 are heavy, and it underperforms compared to straight-ahead notebooks in the same price range. Add intermittent input problems (its trackpad and touchscreen sometimes respond slowly) and a fan-less design that can leave its chassis seriously warm, and you're left with a very imperfect computer.
The Spectre x2 delivers a tablet that's much bigger than any iPad, and it runs all the same software as any other Windows PC. Since HP designed this machine for consumers and small businesses, they omitted enterprise options such as a fingerprint reader or remote-management options. But I can see this machine fitting very well in certain workplace environments.
For example, an architect working on a design wants to show it to his team leader a few doors down the hall. With this hybrid, he can pop the big 13.3-inch screen off the keyboard deck—voilà, instant tablet!—and trot down to his colleague's office. The slate element is heavy at 2.2 pounds, and its battery conks out all too soon, but you won't feel much pain during quick interoffice visits.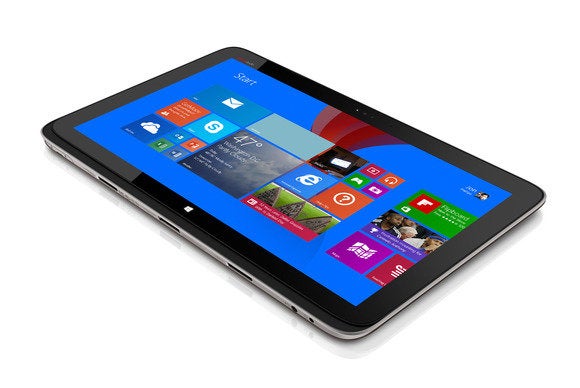 Hybrid hypesters drone on about flexibility and ease of use. My hands-on experience with this relatively large model indicates otherwise. The moment the PCWorld Lab analyst handed me the 4.3-pound Spectre x2 to take home, my arm dropped a bit. The good news is that it feels very solid and hardly flexed at all when I gripped it by its sides and tried to give it a little twist. Even the screen panel feels solid, with little flex. The bad news is this is a small device to weigh so much.
Hands on
Once I settled into my seat for the train ride home, I pulled out the slab to get down to work. This being a hybrid, HP sensibly moved the power button from its usual spot on the keyboard deck onto the upper back-right corner of the screen panel. HP designed this button well: It's easy to reach, but you need to hold the button for a few moments until you feel a quick vibration that informs you the machine is firing up. This thoughtful bit of engineering keeps you from booting up your Spectre while it's bumping around in your briefcase, so you don't waste precious battery life.
I got down to business, screen-tapping and typing—and too often re-tapping and -typing. The screen sometimes responded very nimbly to my touch; at other times, it went maddeningly numb. I tried using the trackpad and found that it would also intermittently become numb to taps, forcing me to push the trackpad buttons. The keyboard provided adequate tactile feedback, but I found I dropped characters anyway. When I increased my typing force to try to minimize that problem, the keyboard began clattering loudly.
What about using the Spectre as a tablet? The spacious touchscreen, with a resolution of 1920 by 1080 pixels, delivers crisp, sharp images with rich colors, but it's highly reflective. Its size makes the panel heavy and a little awkward to hold for more than a few minutes. As with most Windows tablets, you must wait a second or two for the display to catch up when you rotate or flip it. That's a pain when you shift your arm a lot, which can cause the image to rotate unexpectedly. And you'll find yourself shifting this mass frequently just to rest and flex your muscles.
Components
The Spectre 13 x2 consists mostly of notebook-class parts, including a 128GB SSD and 4GB of DDR3/1600 memory. But you can't put a typical notebook CPU into a tablet, because you'd need a fan to cool it. That's why HP chose Intel's current-sipping Core i5-4202Y for the job. This chip has a thermal design profile of 11.5 watts (compared to a TDP of 15 watts for the Core i5-4200U used in many 13-inch notebooks), but Intel claims the Core i5-4202Y has a scenario design power of just 4.5 watts.
TDP indicates the maximum amount of electrical power a computer must be able to dissipate while the CPU is running full bore for a sustained period. SDP—an Intel-only spec—indicates the maximum amount of electrical power the computer must be able to dissipate while the CPU for media consumption (applications such as music and video streaming) and light content creation (simple photo- and video-editing tasks that don't require a lot of horsepower).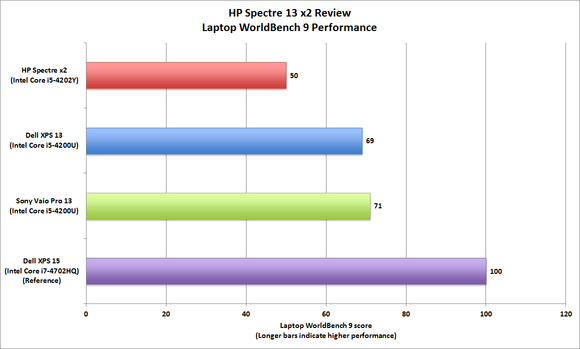 You'll need to rely on the keyboard dock for HDMI output and USB connectivity (it has two USB 3.0 ports). There are headset jacks on both the keyboard and the tablet. Our eval unit was equipped with an Intel Dual Band Wireless-AC 7260 adapter that supports the 802.11ac Wi-Fi standard. There's Bluetooth support, too, but HP ditched hardwired ethernet.
Performance
Nearly any new notebook can juggle basic day-to-day tasks such as web browsing and email, word processing, editing and presenting slideshows, and even cranking through light spreadsheet work. But the Spectre 13 x2 bogged down under the load of our benchmark suite, which includes these tasks (as measured by PCMark 8: Office) as well as Photoshop editing, Cinebench (to evaluate a machine's prowess at 3D content creation), video encoding, and other CPU- and GPU-intensive applications.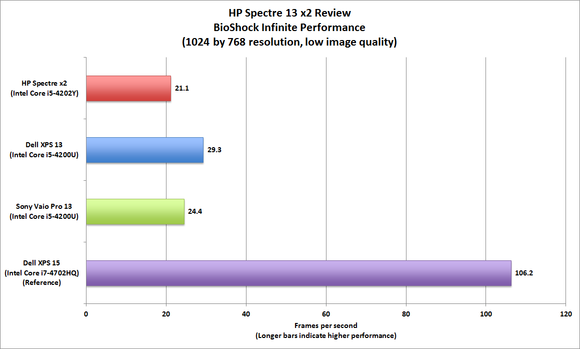 The Spectre 13 x2 produced a WorldBench 9.0 score of just 50—that's 28 percent lower than Dell's XPS 13 and 30 percent lower than Sony's VAIO Pro 13, both of which are powered by Intel's Core i5-4200U. Gaming performance was similarly poor, with the Spectre producing BioShock Infinite at just 21 frames per second (with resolution set to 1024-by-768 and low image quality), but the Dell and Sony machines aren't strong on that front, either. And while neither of those machines are 2-in-1s, the touchscreen XPS 13 is about a pound lighter than HP's machine, and the VAIO Pro is nearly two pounds lighter.
HP tucked two battery packs in the Spectre 13 x2, one in the keyboard and a second behind the display panel. When you use the machine as a notebook, you draw power from both. The Lab recorded slightly more than five hours of battery life from the combo. They didn't formally test the tablet's battery life, but I got less than four hours in my day-to-day use. You won't want to stray too far from an AC outlet in either mode.
Final thoughts
In my view, 2-in-1s as large as HP's Spectre 13 x2 fall short of the goal of delivering tablet and notebook functionality in a single device. They're bulky, they don't deliver enough battery life, and this particular model gets too hot when you take full advantage of its beefier processor (which is weaker than what you'd get in a conventional notebook).
And then there's the value proposition to consider. Sure, you can save $300 or more by buying a 2-in-1 instead of a notebook and a tablet. But what if your dog decides to gnaw on your display, or you forget the keyboard dock at your hotel and can't recover it? You can't buy either component separately, so you'll need to shell out for a whole new system. Keyboard-optional tablets aren't as powerful, but they're smaller, lighter, and deliver longer battery life. And since the accessories are optional, you can buy replacements should the need arise.
I'm not saying the detachable 2-in-1 concept is completely without merit. The architect scenario I described above is a compelling use case, and I'm sure HP can list others. I just think most people will be happier with separate devices, or a smaller tablet with optional accessories.